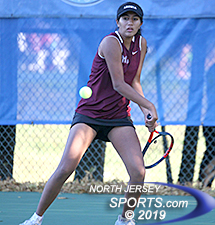 Sophomore Aryu Ramalingan won the first three games to start the third set at first singles to take control of the deciding match of Leonia's 3-2 win over Glen Rock in the Group 1 state final.
WEST WINDSOR – Aryu Ramalingan realized how important her match was as her teammates from Leonia and from her opponent's team, Glen Rock, gravitated toward her court to watch her match. It could have been a moment for Ramalingan, a sophomore, to cave under the pressure of playing for a state championship. Instead of buckling, however, she thrived in the spotlight.
Playing at first singles, Ramalingan ripped off three straight games to start the third set and never looked back to score the deciding point as Leonia won its first Group 1 state title since 2002 with a 3-2 triumph over Glen Rock on Friday at Mercer County Park in West Windsor.
"This is what we've been working the entire year, we had to be all-in and go for it," said Leonia's Reanna Radu. 
The match marked the first time in the 44-year history of the state tournament when two teams from Bergen County faced one another in a Group final.
Leonia took a quick lead thanks to a consistent effort from Radu at third singles. She took control early and cruised to a straight-set win but Glen Rock answered back. Puja Parikh and Rachel Kuhsid also won in two sets at second doubles to tie the score at 1.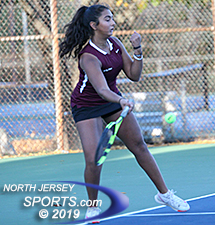 Maya Naik won at second singles for Leonia, which will play East Brunswick in the Tournament of Champions on Sunday.
Maya Naik was locked in a tight battle at second singles and came up big late in both sets. She controlled play from the baseline and kept her emotions in check, winning five of the final six points for a hard-fought 6-4, 7-6 (7-3) win over Glen Rock's Maya Doyle that gave Leonia a 2-1 lead.
"Our team is really supportive and I just had to play for them," said Naik. "I couldn't get in my own head and I had to be able to overcome that. I couldn't let one mistake or one bad shot define my match."
Glen Rock's Allie Eisenberg won the second set to even the match at first singles. As the crowd gathered around the court, Ramalingan knew she had to keep her focus inside of hers. As the third set began, Ramalingan limited her unforced errors and kept the ball in play. The longer the point, the better she played. She broke serve twice surrounded by a hold to race out to a 3-0 lead. Eisenberg battled to overcome the deficit but Ramalingan held serve the rest of the way and won 6-2 in the third set to lock up a state title for Leonia.
"After losing the second set I wanted to get an early break in the third set," said Ramalingan. "I knew if I got that break than I would win if I just held serve. I wanted to keep the ball deep in the court and go for my shots when I had the chance to do it."
Despite an undefeated record (22-0), Leonia was given the No. 6 seed in the Tournament of Champions. The Lions will take on fellow unbeaten and Group 4 state champ East Brunswick on Sunday with the winner playing Kent Place on Tuesday. With five of the seven starters being underclassmen, the Lions were expected to be a year away from this type of dominance. With that timeline sped up, the Lions want to show that they can play with any team regardless of the size of the school.
"We've never had this opportunity and it's a special one," said Radu. "We have nothing to lose and we are excited that we get to keep playing. Never would we have thought we could get this far when the season started. But we worked really hard and it's a great feeling to be state champs."
FOR MORE PHOTOS FROM THIS EVENT PLEASE CLICK HERE. TO BUY A COLLECTOR'S PRINT OF THIS STORY PLEASE VISIT 4-FeetGrafix.com.