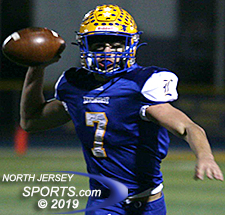 Anthony Lembo rushed for 87 yards in the second half for Lyndhurst, which ended a 36-year state title drought with a 26-7 victory over Parsippany in the North 1, Group 2 state sectional final on Friday.
LYNDHURST – Football is the ultimate team sport, but sometimes the importance of all 11 players working together can get lost in the shuffle when a team has a great weapon at its disposal. Lyndhurst senior running back Piotr Partyla is that weapon, leading the state in both rushing yards and touchdowns, but Partyla would not be successful if not for his offensive line giving him holes to run through and a defense adept at putting the team in positions to score.
Facing Parsippany in the North 1, Group 2 section final, it was the program's biggest game in decades. The Golden Bears showed that they are much more than a one-man team as a variety of players came up clutch to help end a long-standing drought.
Partyla ran for two touchdowns and threw for another to give Lyndhurst an early lead before exiting with an injury on the first series of the third quarter. His absence was barely noticeable as the Golden Bears dominated the line of scrimmage on both sides of the ball and senior quarterback Anthony Lembo took control in the second half as top-seeded Lyndhurst won its first section title since 1983 with a 26-7 triumph over second-seeded Parsippany on Friday night in front of an overflow crowd at Lyndhurst High School.
"We knew whether or not (Partyla) was in that we could execute by dominating up front," said Lyndhurst two-way lineman James Blake. "After the loss last year to Rutherford, the seniors this year knew this was our last shot to get the job done. The last time we won a section title was a 1983. It was a long time coming."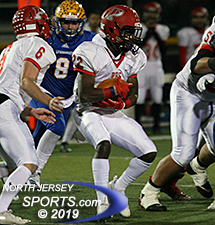 Nana Agyemang had Parsippany's lone score, an 88-yard run.
The crowd was buzzing from well before kickoff and it did not take long for the home crowd to have something to cheer about. On the opening kickoff, the Golden Bears forced a fumble and recovered it to get great field position. It looked like they were destined for the end zone when Partyla had a rare miscue, fumbling at the five-yard line with Parsippany recovering.
The momentum shift did not last long as Lyndhurst forced a three-and-out, then put an all-out rush on the ensuing punt. They did not get there for the block but it was enough to rush the punter into a shank, giving the Golden Bears great field position again. This time they cashed in with Partyla following a big block by right tackle Tarik Askin all the way into the end zone with Mike Failace booting the PAT for a 7-0 lead.
"After the fumble I had to get past it and keep doing my thing," said Partyla. "It's football. Mistakes happen and you're going to face adversity, it's about how you handle it. I have to give credit to the O-line, they have been awesome all year for us and the defense stepped up again tonight."
With Parsippany stacking the box to try to slow down Partyla, the Golden Bears took advantage of the hole in the secondary. Partyla pulled back in the pocket and hit John Rodriguez for a 43-yard gain to get back into Red Hawk territory. Partyla once again ripped through a big a hole and ran it in from 23 yards out to make it 14-0.
The Red Hawks' offense was stifled time and time again. Midway through the second quarter, James Blake broke through for a huge sack that forced three-and-out and led to another short punt. It was the third time in the Golden Bears' first four offensive series that they started inside the Parsippany 35-yard line. This time it took just one play to reach paydirt. Partyla lofted a deep ball down the middle that Rodriguez outleaped a defender to come down with it in the end zone to make it 20-0.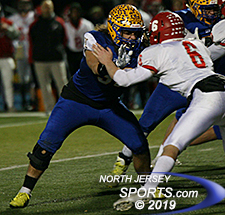 Tarik Askin and the Lyndhurst big boys controlled the line of scrimmage on both sides of the ball.
Parsippany (10-2) has been on a meteoric rise. In 2017, the Red Hawks finished 0-10. In that season, they never held a lead and were outscored by a whopping 404-33 margin. A testament to the coaching staff is that the younger players never quit and banded together to build what turned out to be a special season. On the kickoff following the Rodriguez TD, Nana Agyemang showed why he is one of New Jersey's fastest players. He burst through a hole and went 88 yards untouched to the end zone to cut the deficit to 20-7 and give Parsippany some momentum heading into the second half.
That only grew when Partyla came off the field on the first series of the third quarter and a promising Lyndhurst drive stalled. Parsippany quarterback James Riedinger then threw a 16-yard strike to Anthony Colasuonno to get the Red Hawks into Lyndhurst territory for the first time in the game but that drive also ended in a punt.
Anthony Lembo started his senior year as the Lyndhurst quarterback until a switch late in the year to the wildcat offense turned him into a part-time player or a decoy. While it could have been a crushing blow mentally, Lembo kept his team-first attitude going and showed his leadership when his team needed him most. He ran hard throughout the second half, highlighted by a fourth-quarter drive. He ran for three straight nine-yard gains, all of which he did not go down on first contact and used a a second effort to gain extra yardage. The latter of those runs resulted in a touchdown that put the game away and started the countdown to a celebration of a section championship that was long overdue.
"This whole team is family, I knew when Piotr went down that I had to pick my brother up," said Lembo. "We worked too hard for this to let anything get in our path. This set a goal for ourselves and we were too close to let it slip away from us."
Partyla had 216 yards of total offense (139 rushing, 77 throwing) for Lyndhurst (11-0). Lembo added 87 yards rushing in the second half alone. The defense also shined with solid play from Blake on the D-line, Chris McLaughlin stuffing run plays all over the place, and Aaron Alvarez finishing off the game with a pair of huge hits on Riedinger on the final drive. To show how dominant the defense was, they allowed just 44 yards on the Red Hawks' first six drives of the game.
Lyndhurst will continue their journey into the bowl season with one highly anticipated final game against North 2 Group 2 champion Verona, which cruised to a 43-2 victory over Lenape Valley on Friday night. Of all the playoff bowl games in New Jersey this season, the game between Lyndhurst and Verona will be the only one in which both teams will come into the game undefeated.
"We set a goal from January and that was to be state champions," said Lyndhurst head coach Rich Tuero. "It's not just one guy, it's 11 guys on both sides that get it done. We controlled the line all game. You want to have big people on your team and big guys win games. These kids weren't happy until this moment. We finished the job that we set out to do and now we can just let it all hang out."
FOR MORE PHOTOS FROM THIS EVENT PLEASE CLICK HERE. TO BUY A COLLECTOR'S PRINT OF THIS STORY PLEASE VISIT 4-FeetGrafix.com.