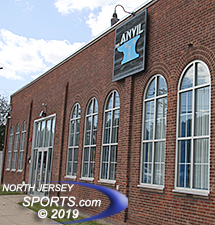 The Anvil, housed in a repurposed saw mill, is located at 21-05 Morlot Avenue in Fair Lawn.
FAIR LAWN -- The vision was always there, it just was not that easy to see with a big ol' pipe sticking up through the middle of the floor at the former industrial property located at 21-05 Morlot Avenue in Fair Lawn. The pipe was a reminder of the space's former use as a sawmill, and it was also a symbol of just how far Dan Kinnally had to go to turn a forgotten structure into a vibrant community asset.
"That pipe used to carry away the saw dust and that was a huge job just to get it out of there. It ran right through there," said Kinnally, pointing out the door from a now comfortable conference room at the back of the revamped facility. "We had to touch every piece of this place to get it to be what we wanted it to be."
The reconstruction is now complete, and standing on the site of the old saw mill is The Anvil, a cutting-edge, brick-and-mortar fitness shop, now open to the public. The Anvil offers an array of services that run the gamut from those just looking to get back in shape, to individualized fitness plans, and the personal training of the elite athlete. And all services are done in-house in the beautifully reconfigured space that includes cushy turf for sprinting, open space to allow for group functions, and top-of-the-line fitness equipment housed under high ceilings perfect for launching medicine balls skyward with no ill effects on the building or the thrower.
There is also a juice bar in the airy front foyer that sells smoothies, fitness bars and the newest craze for the health conscious…CBD.
To be successful, however, The Anvil needs to be more than just a cool place to do push-ups. To that end, the Anvil boasts a staff that can not only conceptualize the best practices for each individual or group, but also put them into an actionable plan that maximizes sweat equity.
The Anvil has versatile and ample space that can be used for a variety of purposes in the health and fitness arena.
Dan Kinnally, a 2009 graduate of St. Joseph Regional High School and a standout two-way lineman for the Green Knights, is the Facility Manager. Bergen Catholic High School lacrosse coach Rich Robinson, who is also the founder and proprietor of World Class Training Camp, has been brought aboard to be The Anvil's Director of Training.
Robinson's goal is to mold enthusiastic athletes that strive to compete with relentlessness, toughness, and intelligence. While implementing the latest in sports performance and functional training, Robinson empowers athletes during their journey of self-improvement by prioritizing character development, injury prevention, and performance enhancement. For the 2019-2020 season, athletes coached by Robinson are competing in such schools as Yale, Harvard, UPenn, Lehigh, Bucknell, St. Joseph's (PA), Lafayette, Holy Cross, Mount Saint Mary's, Manhattan College, Jacksonville, Fairfield, Providence College, Ithaca, Bates, Trinity and Babson.
"I believe that positive energy is the core component of any successful operation. There has to be a level of comfort and the availability to grow not only physically but also mentally," said Robinson, also an SJR alum and a former Division 1 decathlete that competed for both Boston College and Villanova University where he trained under USA Olympian Irving "Moon" Mondschien. "We have an incredible staff working with us here, all top-notch athletes in their own right, that really want to help anyone that walks through these doors get to their own next level, whatever that level might be."
Others trainers on staff all bring impressive CVs with them. Orion Woodard was a standout at Pompton Lakes who went on to play football at the University of Cincinnati. Anthony DiSanzo was a Don Bosco Prep lacrosse standout who went on to play at the University of Delaware. Kenta Umezaki was a former wrestler and football player at Pearl River High School who earned his Kinesiology degree at SUNY Cortland.
With an elite staff assembled and a state of the art facility with room to grow, The Anvil is going to push the envelope as far as what a facility of its type can be. There will be sports performance training for teams and individuals, but there is a lot more on offer. Personal training, semi-personal training in small groups, and classes for adults (35 of them per week that will be accessible through The Anvil app, which is under construction), are all services on offer, but there are other creative options also on the menu.
GolfReady, a program designed to strengthen the core muscle groups used most in golf, is ready to go and there will also be availability for corporate team building functions and a dodge ball league in which northjerseysports.com will field a competitive side. Those types of activities, along with the money spent to repurpose a forgotten but historic structure in Fair Lawn, should make The Anvil an integral part of the community. It has also chosen to support local sports through its sponsorship of northjerseysports.com.
It's been a long road to get to this point for Tom Kinnally, who left Morgan Stanley after 16 years and even longer in the Wall Street rat race, to get this venture off the ground. Now that it is, Kinnally and his team are all in making The Anvil a leader in the fitness space.
"I wanted to get into a brick-and-mortar business with a physical presence in the community. This is a real business with real people, real human beings in a neighborhood. We talk to and connect with people through face-to-face dialogue," said Tom Kinnally, who promised to go back to his role as silent partner after The Anvil's initial publicity blitz. "It is a very different thing than Wall Street and it is a lot of fun."
TO BUY A COLLECTOR'S PRINT OF THIS STORY PLEASE VISIT 4-FeetGrafix.com.