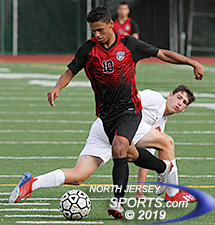 Edson Almeida scored the last of Cliffside Park's goals in a 4-0 victory over Tenafly in the season opener for both teams.
CLIFFSIDE PARK – Tenafly was so close to equalizing. Less than two minutes into the second half of the season opener on the road at Cliffside Park, Takuto Kashio took possession in a chaotic sequence inside the 18 yard box and if he had had the time to pick a corner it might have turned out in the Tigers' favor.
Instead, Cristian Argueta, Cliffside Park's sophomore keeper, had the play read and was closing fast. He came out big, got enough to Kashio's initial shot to slow it down and then scramble after and corralled the loose ball before it could trickle into the empty net.
The game then turned in Cliffside's favor for good soon after at the other end of the field. While Tenafly was trying to reorganize itself, Argueta launched a punt that sparked a lightning counter attack finished by Erik Moreira whose second goal of the game was the backbreaker just 1:11 into the second half. Cliffside Park went on to a 4-0 victory in the season opener for both teams.
"Coach [Carmine Cambareri] always tells me to play fast and trying to catch the other team while they are still going up [the field]," said Argueta, continuing the family tradition set by his older brother Edwin, who was an all-county keeper for the Red Raiders. "I played fast and we got a goal off of it and going up 2-0 right after halftime was really big for us."
Tenafly head coach Bill Jaeger could not have agreed more.
"After they scored their second goal our team put their heads down. We have, pretty much, a brand new team. We have a couple of guys back, but we are rebuilding, we are real young out there and this was a first time experience," said Jaeger. "We have to build the character to fight through this stuff. Cliffside Park is going to take advantage if you don't step to balls, win balls and we have to build to be able to do that. It is the learning process."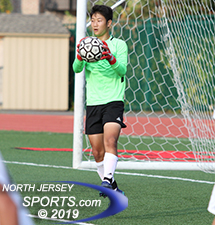 Despite the goal against, Frank Kim was outstanding in net for Tenafly.
There was no time to ease into the new season for either side as the old rivals got after it right from Day 1 and although the final score looked lop-sided, the game itself was not 80 minutes of one-way traffic. There were plenty of chances both ways in the first 38 minutes with none coming to fruition. Some attempts missed by mere inches, some hit the woodwork and others fell victim to the duel of outstanding goalkeepers between Argueta and Tenafly's Frank Kim.
Kim stoned Edson Almeida on 1-v-1 situation after the Cliffside midfielder made a nifty move through two defenders in the 21st minute and Argueta dove to his left to pull in Takuto's flick with just over 12 minutes to play in the opening half. Cliffside missed a sitter set up by Almeida's endline run and drop pass and Tenafly's Eita Nakagawa had a first try blocked by the defense and a second try finish just wide late in the first half.
Tenafly (0-1) was less than two minutes away from getting into halftime in a scoreless draw with a chance to make adjustments, but a pin-point pass by Cliffside Kerry Quevedo changed those arrangements. Quevedo split the channel with a perfectly-weighted ball, Moreira, just on-side, ran on and put the first goal of the game over the on-rushing Kim and into the roof for the first goal of the season. In game clock time, Moreira's second goal came just 2:35 later and tipped the balance in Cliffside's favor for good.
The Raiders got goal No. 3 in the 48th minute when Gerson Gonzalez pulled the keeper out and dribbled around before passing the ball into the open net and every Tenafly attempt to get back in the game was thwarted in a variety of ways.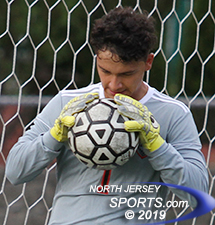 Cristian Argueta kept a clean sheet for Cliffside, which will be a contender for every title it can play for.
With just under 25 minutes to play, Constantine Vaimakis set himself up by taking a free kick down with his chest and then volleying on frame, but Argueta made it look easy. Jack Hughes got onto a second ball off a restart in 56th minute, but his shot bounced off the inside of the left post and out. Omer Magen rang the crossbar in the 67th minute Kashio's header off a corner kick with 10 minutes to play got through, but was cleared off the line by a properly positioned Johnny Vivar.
Almeida had the game's final goal as he used the near post to score from the left side in the 68th minute.
"I don't think we played up to our potential. We played all right for the first game of the season, but we have to be consistent. We can't start bad in the first half and then just think we are going to pick it up in the second half," said Almeida, one of just two seniors in the Cliffside Park starting lineup. "It's got to be the whole game, pass and move because sometimes we force things too much over the top. We have to keep the ball on the ground and be consistent the whole time."
Cliffside (1-0) is a contender for every trophy that it is eligible to play for this season – league, county, state – and plays the attractive brand of soccer that has been its trademark since Jim Fucci got the program rolling in the early 2000s and Cambareri reinvigorated when he took over last season.
"The goal of our team and what we harp on a lot is less touches for the guy on the ball. The more the ball is moving the better we are. It confuses teams, everybody is involved in the game and, hopefully in the end, you get less injuries, too. The more you hold the ball the more you give the other team the chance to take you out," said Cambareri. "We know we have skillful kids on the ball, but they are also smart kids that know that they can be dangerous even without the ball."
Tenafly is going to be fine, too. The Tigers, and their rebuilt back end, walked into a buzz saw on opening day on Cliffside's turf, but the seeds will sprout when all is said and done. Despite ending with four goals against his ledger, Kim was outstanding between the pipes and is the steadying influence that will allow a defense to grow up around him. Not only is he a quality shot-stopper, but he also plays like a sweeper as he comes out hard to clear away trouble before it can materialize.
"Frank is a great goalkeeper; just an incredible goalkeeper and he kept us in the game today. He is in charge, he has a lot of experience," said Jaeger. "Our two centerbacks, Karmel Segui and Rody Adar, a sophomore, are new and both outside backs – sophomore Noam Mermelstein and switching on and off with Ryan Weiss and Alex Vardy on the right hand side – are also new. It is going to take us a while to figure out when to step and when not to step. Through the first half and through much of the game we were OK, but that second goal made us doubt ourselves a little bit. We have to recover and learn from this."
FOR MORE PHOTOS FROM THIS EVENT PLEASE CLICK HERE. TO BUY A COLLECTOR'S PRINT OF THIS STORY PLEASE VISIT 4-FeetGrafix.com.