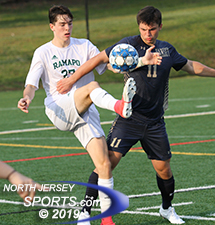 Aidan Bennet-Jones flicked in a header with 24:30 left in regulation to get Ramapo on the board in a 2-0 win over Ramsey on Monday afternoon.
RAMSEY – Still scoreless on the road on Monday afternoon with 24 minutes left to play in regulation Ramapo needed to find a way through a stingy Ramsey defense. The Green Raiders' navigation skills, however, are by no means in question.
During the preseason the Ramapo soccer team took a trip to the Green Mountain State where it scrimmaged two of Vermont's best teams on consecutive days. The excursion was not only about soccer, however, as there was some team building that included a trip into the woods behind Champlain Valley Union High School where the Raiders were introduced to the great game of disc golf.
The Raiders were met in the woods by an experienced and knowledgeable guide so there was no chance of getting lost, and they were free to deepen their team bond with a little competition. With a cow penned up in a clearing that was still on the high school's campus and with the blue tubing of an advanced maple syrup operation crisscrossing the disc golf course, Ramapo used the shared experience of new knowledge acquired together to create a lasting memory.
"Not only was [disc golf] enjoyable, but the sense of competition made it even better. We got a free Moe's guarantee [to the winning] team from Coach [Evan Baumgarten] and that whole event, being out there in a different environment as a team and as friends was really a great experience," said Ramapo striker Aidan Bennet-Jones. "Those types of outing help build the culture of a team and that helps in a game like today when you need a goal late to pull out a win."
It took a set piece played in by Ian Chesney from about 30 yards out on the right side. Ramapo has some size that can wreak havoc on set-piece situations and with Colin McKenna and Bennet-Jones positioning themselves properly, the seal on the Ramsey goal was finally punctured in the 56th minute. Bennet-Jones got to Chesney's service in traffic and knocked the game-winner home just inside the right post. Griffin Reda added an empty-netter with just over one minute to play to give Ramapo its second straight win to start the season, 2-0, in Ramsey on Monday afternoon.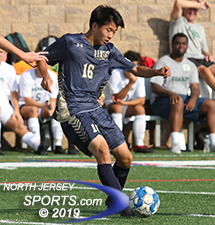 Edward Ko was dangerous for Ramsey all game long and rang the crossbar with just over one minute to play.
"We practiced in training that me and Colin McKenna should run across for a header. We had the timing right. I gave Ches[ney] the signal to start the play and he crossed a perfect ball," said Bennet-Jones. "As soon as I saw it in the air I knew it was in the right spot and I headed it into the back of the net just like we practiced."
Goals were always going to be tough to come by on Creamer Field, the smaller of the two turf pitches behind Ramsey High School. The installation of a new surface on the main field is not scheduled for completion until September 15, so the game was played in tighter confines that did not allow for the kind of free-flowing movement that both sides probably would have preferred.
"This was not a game where we were going to be able to string passes together because of the narrowness of the field," said Baumgarten. "That worked against both sides and we said to the kids at halftime that it could be a set piece, offensively or defensively, that could decide the game. We had to be on our toes."
While there were not a lot quality chances on net for either side there were enough to keep it interesting until Ramapo could finally make the breakthrough. Alim Lita's rip from the left side in the 23rd minute forced Ryan Haskell, Ramsey's sophomore keeper, to parry over the bar and Edward Ko's corner kick in the 35th minute sent Ramapo keeper Carlos Chachin into scramble mode before covering up.
Scoreless through halftime and without much room to operate, it became a physical contest after the intermission. Ramsey was shown the game's first yellow card just over 10 minutes into the second half and then nearly took the lead one minute later. Mir Ishaq won the endline on the right, cutback to gain an angle and hit a hard roller that would have gone in had Chachin not gotten down in its path. Three minutes after that, Ramapo took the lead on Bennet-Jones' flicked in header.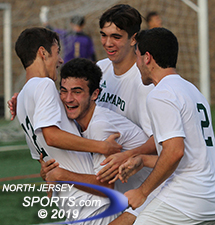 Ramapo celebrating its second goal and its 2-0 start to the season.
"Ramapo is well-coached, they are comfortable in the style that they play and they took advantage of a set piece, but I think my boys are on the right track, though," said Cesar Blacido, the Ramsey alum who is now in his first season as the Rams' head coach. "It is only our third game in, so we can build on this, but we definitely have some things to work on."
Ramsey (1-2) had a goal disallowed in the 70th minute when it was still just down by one. George Haskell won the endline and set up Jack Schneider, whose second touch, the one that was deposited into the net, came after he had interfered with Chachin, who had gotten his hands on the original service.
Ramsey's last-gasp effort to equalizer could not have come closer to paying off as, with all 11 players pushed up, Ko saw his crackling shot hit the crossbar flush and bounce back into play. Ishaq took an adventurous try at a bicycle kick in traffic, but when Ramapo had cleared away the last bit of trouble, Reda was running free with possession with no defenders between himself and the goal. Reda beat Haskell the keeper back down the field and passed the insurance goal into the next with 1:08 left on the clock.
Ramapo (2-0) has now played 160 minutes of soccer without allowing a goal and has to be one of the teams in consideration for a deep county tournament run. The boys soccer landscape looks like it is wide open this season and the Green Raiders have just as good a shot as any other team.
Senior Liam Nelson, a four-year varsity player who was a part of the second two championships in Ramapo's 4-year county title streak from 2014-2017 hopes to help get the Raiders back to the high perch they reluctantly relinquished to Glen Rock last season.
"It's definitely a different role being the senior, but it is everything that I could hope for to go through this season with this group of guys. I always looked up to guys like Sebastian [Varela], Billy Collins, Andrew Furman, Connor Finn, and I now I am trying to use what I learned from those guys and use it in my position as a leader," said Nelson. "I just want to make the most out of this season with this group. We all get along so well and I think we can do great things."
Blacido has done great things as a player at Ramsey. A 2008 graduate, Blacido was a key piece on the Rams' last state championship team during the 2007 season. Back now as a coach, he hopes to provide his players with the same type of positive feelings he took from his time in the blue and gold.
"I loved the four years that I played here and even after that I always stayed in contact through either coaching the JV team or working the summer camps. I am really excited to work with these boys. They are really buying into what I am telling them even beyond soccer," said Blacido. "This is a family environment. We've brought in older players that used to play here to talk to them about what a positive life experience high school sports can be. I want them to use soccer as a medium to work on those qualities like communication, hard work and dealing with adversity. I think we are a good team, I think can compete. We just need to get a little better at certain parts of the game and we will be all right."
FOR MORE PHOTOS FROM THIS EVENT PLEASE CLICK HERE. TO BUY A COLLECTOR'S PRINT OF THIS STORY PLEASE VISIT 4-FeetGrafix.com.