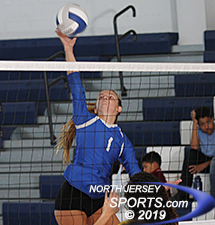 Senior Madilyn Marino had 7 kills, 10 digs and three assists for Wood-Ridge in its win over Paterson Charter.
WOOD-RIDGE -- "All heart, all game, all season." "Protect the program." "Refuse to lose." Such phrases used to be called cliches. Now they are called hashtags and they are propelling the Wood-Ridge volleyball team, which has built a winning tradition and does not want to take even a single step backward even with the changed landscape of small school volleyball in Bergen County.
The Blue Devils won the NJIC Tournament last season, but will not get a chance to defend their title. The NJIC has put the conference specific tournament in moth balls, so Wood-Ridge has no choice but to step up into the Bergen County Tournament proper where not only the best local teams, but also the best teams in the state's best volleyball county by miles.
"We are a small school and we are relatively well known, so we want to continue to succeed when we go up against those bigger programs. You don't want to take on that challenge and then get embarrassed," said Wood-Ridge head coach Andrea Marino. "That's why my saying is 'Protect the program,' because we have built something and we want to keep it going."
Keeping it going is partly the responsibility of Maddy Marino, the coach's daughter and the senior outside hitter who is the focus of the Blue Devils' offense. With graduation losses thinning the ranks of experienced players, Madlyn Marino knows that she and her teammates have to play with "All heart, all game, all season," to repeat past successes.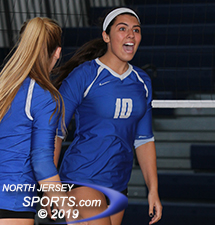 Senior Skylar Basich has given Wood-Ridge a strong presence at the net.
"I played with a lot of these girls when we were in eighth grade and all of them have just improved so much. From the first week of June we have worked hard on getting a bond as a team and now we are all on the same page. We all want it," said Madylin Marino, who drawn interest from some NJAC collegiate programs. "Skylar Basich and Amanda DiMase and then also Brook Geis, she is my opposite outside hitter, all of them have improved so much. I love being involved in everything, I love running around and being ready every time the ball is in the air, but we have just as much confidence with any of the other girls hitting because of all of the work that they have put in."
After Thursday's two-set sweep of Paterson Charter, Wood-Ridge stood at 6-1 on the season. In that match, Madlyin Marino, or 'Mad dog' as she is also called, led the Blue Devils with match highs of 10 digs, 7 kills and 3 aces. DiMase finished with three kills and Erica DiMarco, who finished with a team and match-high six aces, added a pair of kills. Setter Melissa Acosta handed out 10 assists for the Blue Devils, who took care of business on their own home court against league competition while hoping that a preseason full of big name competition and some powerhouses sprinkled in the regular season schedule will be enough to keep them sharp straight through into the state playoffs.
"During the scrimmage season we played the best of the best and we played Demarest, Tenafly, Northern Highlands, Paramus Catholic and we were just in the Old Tappan Tournament this past weekend and we held our own," said Andrea Marino. "We are working with 10 girls who are going in and out and giving it their all. We are just trying to play volleyball and get better every day."
With Demarest on the schedule this Friday and the county tournament on the horizon, the season is about to really kick into gear for Wood-Ridge.
"That is why we are saying, 'Protect the program' because that part of our schedule is coming up," said Andrea Marino, whose team finished last season with a 20-4 record. "Every game is a big game because it is another chance to improve. We want to play at a high level no matter what the final score is."
FOR MORE PHOTO OF THIS EVENT PLEASE CLICK HERE. TO BUY A COLLECTOR'S PRINT OF THIS STORY PLEASE VISIT 4-FeetGrafix.com.