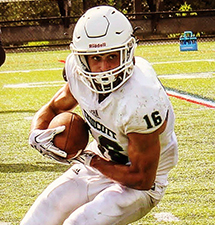 Old Tappan's Zach DeNike is getting ready for his senior season playing football for Endicott College in Massachusetts.
OLD TAPPAN – Four years ago at this time Zach DeNike was getting ready for his senior year at Old Tappan High School. DeNike had worked all summer to improve individually and was focused on helping his football team redeem what had been a disappointing season.
"My junior year we (lost) to Pascack Valley (in the North 1, Group 4 semifinal) and they were are rivals," DeNike said. "We just fell short. We didn't come ready to play.
"Going into my senior year, my mindset was to win everything; to get to MetLife. It was my last chance."
DeNike and Old Tappan did just that going undefeated (12-0) for the first time in school history and capturing the Knights' first state title since 1985 with a 17-0 win over Wayne Hills.
"Everybody was on the same page, everybody had the same work ethic and wanted to get to the big stage," DeNike said. "It was pretty crazy to be a part of that (championship) game."
For DeNike, who has gone on to play football at Division III Endicott College in Massachusetts, this summer has had a distinctly similar feel to it.
"We fell short (last) year," DeNike said of Endicott's 47-34 loss to Salve Regina (RI) in the Commonwealth Coast Conference championship game. "We should have won the championship but we came up short."
With a new head coach and a high flying offense DeNike's junior year started out at a blistering pace. He caught 10 passes in the first game of the year and hauled in eight more in the second. But halfway through the first quarter of the third game, on his fifth reception, DeNike went down with a separated shoulder.
"It was just a normal hit that I have probably taken 100 times but I guess just the way I hit the kid it was a little bit awkward and I separated my shoulder," DeNike said. "It was super frustrating and insanely painful."
But the hard-working DeNike only missed three games and on his first play from scrimmage in his first game back, against the University of New England, he took a jet sweep in for a touchdown.
Endicott took a six-game winning streak, the last three of which DeNike played in, before losing to Salve Regina in the CCC championship.
"I just wanted to be part of the season," said DeNike."I'm the type of person that doesn't want to miss anything."
Despite the bitterness of the championship loss, which was followed by a loss to the United States Merchant Marine Academy in the New England Bowl, DeNike is more focused than he's ever been for the upcoming season.
DeNike has rigorous offseason training schedule, working out with three different coaches every week. He lifts and works on speed and agility in addition to doing receiver specific training with Bergen Catholic assistant coach Anthony Galella.
"Zach has incredible work ethic," Galella said. "He's always willing to put in the work to get better.
"He's a young kid. He could be going to the beach with his friends or hanging out but he always makes the tough decisions and puts in the work."
But for DeNike, the decision is easy.
"I have this amazing opportunity to play college football and I don't want to waste it," DeNike said. "If I'm going to play a sport and put a lot of hard work and time into it I might as well go as hard as I can.
"I want to be the best football player I can be."
After college DeNike plans on pursuing a career in music. He released his first single in early August, Messin' With My Head, but he's not so sure that playing professional football is out of the question. He's looked into trying out for some Canadian Football League teams and would love the opportunity to keep playing.
"If I can stay healthy then hopefully I can play professional football for a little bit in the CFL," said DeNike. "Why not try to keep doing something I love. You don't know until you try."
For now, however, there's only one thing on his mind, the upcoming season and bringing a championship to his school his senior year, again.
"If you want something bad enough, you got to chase it," DeNike added. "I want this. We want this. And we're going go out there this year and try to get it."
FOR MORE PHOTOS FROM THIS EVENT PLEASE CLICK HERE. TO BUY A COLLECTOR'S PRINT OF THIS STORY PLEASE VISIT 4-FeetGrafix.com.