Tom Quinn is in his 27th year as a geometry and calculus teacher at Northern Valley/Old Tappan High School. He was the Golden Knights' girls soccer coach for 23 years and is in his ninth season as the boys golf coach. Looking to fill some time after leaving the soccer sidelines where he compiled a 271-162-24 career record, he took his first steps on the Appalachian Trail on January 1, 2019.
Quinn has now completed 173 miles from Fox Gap, PA to Gaylordsville, CT. He has walked the entire New Jersey and New York sections of the AT and will share some of his experiences, tips and tricks in our semi-regular Down The Trail feature.
---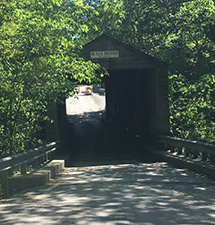 Bulls Bridge on the Appalachian Trail is one of the two covered bridges still in use in the state of Connecticut.
I decided it was time to get into Connecticut and add to my Appalachian Trail hike.  No better time than the present, I decided to complete a 10 mile hike from the state line heading north.  I was rewarded with both a scenic river walk and a rigorous, healthy hike that was difficult at times and rewarding throughout.
I started at a parking lot in Gaylordsville, CT on Route 55 and headed north.  The trail crosses Rt. 55 early; be careful when you cross this road.  The trail continues as a flat walk for a little, then immediately climbs about 500 feet up Ten Mile Hill.  Don't worry; the hike isn't 10 miles up!  The Ten Mile River is nearby and this mountain is named after it.
After a comfortable decent down Ten Mile Hill, you pass a shelter and come to the Housatonic River.  From what I have read, I will come to know this river very well as I hike in CT because the AT hugs the river several times throughout the state.  I walked across the Ned Anderson Bridge here; apparently he was one of the founding people of the AT in CT.  Awesome views at this point!
After a mile of flat hiking along the river, I arrived at the town of Bulls Bridge.  There is a covered bridge here (one of two that is still used in CT – think "The Bridges of Madison County"), and again, awesome views of the Housatonic River.  I saw emergency workers practicing rescue missions by the river here.  This place gets very crowded on the weekends, and the rapids (I was told) are extremely dangerous.  I was asked to relay the message to visitors: hike all you want and see the sights, but do not venture into the river!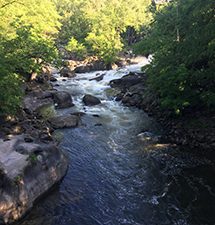 The Husatonic River is a constat feature on the Appalachian Trail in CT.
Walking past Bulls Bridge, the hike continued to remain flat and included some road walking.  Sometimes on the AT the trail winds along a road.  Get your rest in at this point because the remainder of the hike was very challenging.
The trail heads north up Schaghticoke Mountain (Shaggigote).  The trail actually ducks back into NY for a little before entering CT again.  After 2-3 miles of generally uphill climbing there is an awesome view on a place called the Indian Rocks.  You get a great view of where you hiked previously.  An additional view at the top of "Mt. Shag" awaits after the Indian Rocks.
After that, simply put, the hike became very tough (if it wasn't tough already!).  Maybe it was because I was pretty tired at this point, but I still had to endure a couple more ups and downs, followed by two huge downs (and one up in between) from Mt. Algo, the next mountain after Mt. Shag.  Compared to recent hikes in NY and NJ, this part was hard.  Rewarding and enjoyable, yes, but tough nonetheless.  Both descents at the end required careful walking over huge rocks.  My legs are still sore! 
I was very tired at the end when I reached Rt 341 near Kent, CT.  It certainly was a great start to the state.  I am looking forward to adding mileage through the Nutmeg state in the future.
TO BUY A COLLECTOR'S PRINT OF THIS STORY PLEASE VISIT 4-FeetGrafix.com.