Tom Quinn is in his 27th year as a geometry and calculus teacher at Northern Valley/Old Tappan High School. He was the Golden Knights' girls soccer coach for 23 years and is in his ninth season as the boys golf coach. Looking to fill some time after leaving the soccer sidelines where he compiled a 271-162-24 career record, he took his first steps on the Appalachian Trail on January 1, 2019.
Quinn has now completed 173 miles from Fox Gap, PA to Gaylordsville, CT. He has walked the entire New Jersey and New York sections of the AT and will share some of his experiences, tips and tricks in our semi-regular Down The Trail feature.
---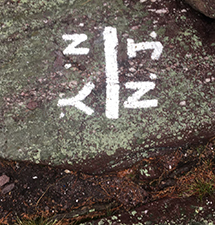 You can knock out a couple of states on the Appalachian Trail with just a couple of steps.
A really cool Appalachian Trail (AT) hike, and one that can be (at times) more difficult than the others in the area, starts in Greenwood Lake NJ (NY) and ends on Lakes Rd in Greenwood Lake NY.  I say Greenwood Lake (NJ/NY) because the start of the hike is smack-dab on the border.  If you wish to include a longer hike from NJ, you can start on Longhouse Rd in West Milford, NJ (N 41 11.736 W 74 22.292).  If you take that longer route you will enter the AT about 2 miles before the state line. 
If you are looking for a slightly shorter hike, park one car at the Greenwood Lake Marina parking lot (left side of road) in Greenwood Lake NJ(NY).  Either way, park your second car on Lakes Road in Greenwood Lake, NY (N 41 16.420  W 74 15.252).  This is a two-car, one-way hike that is about 10 miles.
From the Greenwood Lake Marina, hike the State Line trail for about 0.7 miles up the mountain.  The AT runs right along the top of the ridge, so the State Line trail is a tough, uphill start.  The State Line Trail meets the AT right at the NJ/NY border.  Turn right and head North on the AT, following those familiar white blazes.
It's a great hike from here; you are walking on top of rocks for the first part of the hike.  Views of Greenwood Lake to the right, and the surrounding mountains in all directions await.  You will pass Prospect Rock, which is the highest point on the AT in NY (there is a USA flag here).  Several rock climbs await with one where you need assistance from a ladder that is built right into the rocks.  A couple of these climbs require a little more focus than normal.
After a couple of miles, the path smooths for 2-3 miles.  The change of pace is welcoming.  Eventually, you cross Route 17A (this is not like the Rt. 17 in Bergen County!).  The hike continues as a smooth walk through various types of mountain laurel.  The hike becomes very tranquil.
Around a mile-and-a-half after Rt. 17A, you will exit the woods to a large outcropping of rocks with an awesome view of what lies ahead.  This rock group is called the Eastern Pinnacles.  Be careful as you climb up and down rocks; follow the white markings!  After another small walk through the woods, you come to even a larger rock area to climb.  This part is called the Cat Rocks and it requires more focus as you end up walking on top of many rocks with 360 views throughout.  Please be even more careful at this point; there is a blue trail that goes around the Cat Rocks should you wish to avoid this part of the trail.  You can pick up the AT after the Cat Rocks using this blue trail.
The remainder of the hike includes a short "up" to the top of a mountain and a long downhill walk that will put you right next to your car on Lakes Road.
You can shorten this hike by parking your car on Rt. 17A (N 41 14.657  W 74 17.230).  This is a nice parking lot for AT hikers.  There is also an ice cream store (Bellevale Creamery) very close to this parking lot.  Whatever length of hike you choose, you are in for a terrific walk over varied terrain.
TO BUY A COLLECTOR'S PRINT OF THIS STORY PLEASE VISIT 4-FeetGrafix.com.