Tom Quinn is in his 27th year as a geometry and calculus teacher at Northern Valley/Old Tappan High School. He was the Golden Knights' girls soccer coach for 23 years and is in his ninth season as the boys golf coach. Looking to fill some time after leaving the soccer sidelines where he compiled a 271-162-24 career record, he took his first steps on the Appalachian Trail on January 1, 2019.
Quinn has now completed 173 miles from Fox Gap, PA to Gaylordsville, CT. He has walked the entire New Jersey and New York sections of the AT and will share some of his experiences, tips and tricks in our semi-regular Down The Trail feature.
---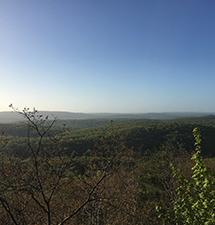 There are plenty of great views from the portion of the Appalachian Trail that runs through Harriman State Park.
Harriman State Park is a tremendous expanse in Orange County NY.  Enormous to say the least, there are dozens of trails to choose for hiking.  I have certainly not hiked them all, but I recommend Reeves Meadow and the Reeves Brook Hike (parking along Seven Lakes Drive), the 1776 trail, and a circular hike starting on Johnsontown Circle (near Reeves Meadow) that includes a rock climb that is "Almost Perpendicular" and a rock formation called Claudius Smith's Den.  This is also a great place to drive around in the fall for "leaf peeping" if you so desire.
The Appalachian Trail (AT) runs right through the northern part of Harriman and boasts a couple of neat viewpoints and landmarks worth viewing.  If you wish to hike the AT through Harriman, you will need several hours; I will include parking spots throughout this trip that can shorten the hike.
The Appalachian Trail meets Harriman State Park at the Elk Pen parking lot on Arden Valley Rd. (N 41 15.921 W 74 09.210).  After a short, flat walk through a meadow, the hike becomes a steady climb for about a mile, moving away from the noise of NY Thruway traffic as you climb.  One highlight on this hike is called the "Lemon Squeezer", about two miles from the Elk Pen Parking Area.  The Lemon Squeezer is a rock formation that requires moving through tight spaces, climbing over rocks (even throwing your slack pack on top of rocks before climbing them!), and above all, PATIENCE!  After the Lemon Squeezer, you will find the usual gradual rises and falls that AT hiking in this area present.  One thing you won't hear are cars and trucks; you are far away from the normal hustle and bustle of this area at this point.
After passing the Fingerboard shelter, and rock-hopping along the top of a ridge, you will pass Lake Tiaroti, another neat part of Harriman.  There is ample parking here to shorten your hike through this State Park, and there are things to do here other than hiking (canoeing, boating, fishing, etc).  Continuing on, the AT moves through the park, past another shelter (The William Brien shelter), and through forests, mountain laurel and short rock climbs.  After a mile or so past the William Brien Shelter, you will get to Black Mountain, a part of the AT I highly recommend climbing.  Black Mountain is a series of three separate rock climbs; one has rock steps (made by AT volunteers) that will assist you while the other two have the usual "patience climbing" that is required here, but has the ease that eventually you will get past.  The views on the top of Black Mountain are outstanding; you can see mountains that you just hiked, and can look to the east and see what awaits.  Looking to the east, you will see West Mountain, Bear Mountain (spoken of in earlier blogs), and if you are lucky, NYC. 
For a shorter hike, I recommend parking at Silver Mine Parking (on Seven Lakes Drive), which is near Lake Tiaroti.  You can park at Silver Mine, hike the Menomine trail (yellow blazes), and hook up with the AT at the William Brien Shelter (turn left) and follow the AT to Black Mountain.  This one car back and forth hike is scenic (as you will pass Silver Mine Lake in the beginning), and can be done in a couple of hours.
If you want to get away from it all, it's easy to find a trail in Harriman State Park and forget about life for a while.  Several good hikes of varied length await.
TO BUY A COLLECTOR'S PRINT OF THIS STORY PLEASE VISIT 4-FeetGrafix.com.