Tom Quinn is in his 27th year as a geometry and calculus teacher at Northern Valley/Old Tappan High School. He was the Golden Knights' girls soccer coach for 23 years and is in his ninth season as the boys golf coach. Looking to fill some time after leaving the soccer sidelines where he compiled a 271-162-24 career record, he took his first steps on the Appalachian Trail on January 1, 2019.
Quinn has now completed 173 miles from Fox Gap, PA to Gaylordsville, CT. He has walked the entire New Jersey and New York sections of the AT and will share some of his experiences, tips and tricks in our semi-regular Down The Trail feature.
---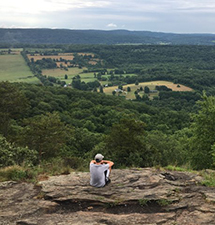 How about that for a view? That's the Appalachian Trail for you.
Let's give a little love to a part of the Appalachian Trail (AT) that you probably never heard of, but one part I would definitely hike again.  Northern New York (on the AT) doesn't boast the biggest climbs or the highest peaks around, but certainly has some neat things to see.
It's a two-car hike that ends up being about 8 miles.  Start on Rt 55 near Poughquag, NY (N 41 35.384 W 73 39.551) and end next to, believe it or not, an Appalachian Trail Metro-North Train Platform on Rt 22 near Pawling, NY (N 41 35.564 W 73 35.255).  This train depot actually runs from NYC on the weekends, and many people from the city use this rail as a way to escape the Big Apple and enjoy a getaway hike.
The parking lot at the start is about the size of a postage stamp; if you blink, you will miss it.  Follow the white markings from the parking lot and head north on the AT.  The first mile-and-a-half is a comfortable, relatively flat walk that is soothing.  The first highlight comes after the 1.5 mile start, and it's a great one. 
You will get to Nuclear Lake, which many thru-hikers believe, is the nicest Lake on the AT.  Great name, huh?  Google "Nuclear Lake": in short, in the 1950's, there were secret research facilities there, allegedly funded by the Rockerfellers, that conducted experiments using uranium and plutonium.  In 1972, there was an explosion near the lake, and plutonium dust was released into the air (it's like something from the TV show LOST).  You can do your own research and come to your own conclusions, but it's an awesome view.  You can circle the lake (Nuclear Loop Trail) and get a vibe as to what may have gone on there 60-70 years ago.
The next couple of miles is an uphill climb, not as large or as difficult as previous climbs in NY, through the same forests as you have seen before in NY and NJ.  Eventually, you will reach the Cat Rocks of West Mountain to yet another really good view.  The Cat Rocks have been seen before (near Greenwood Lake) and West Mountain has been seen before (near Bear Mountain), but I guess names on the AT do not have much variety.  Anyway, from the Cat Rocks on West Mountain, you can see the farmlands and fields of Dutchess County below (by the way, Dutchess County is beautiful), and the mountains of Connecticut that lie to the East.  Connecticut is aptly named, "The Gateway to New England", so the mountains and elevations are higher as you move into CT.
After a good descent down West Mountain, you will cross a road and pass the Dover Oak, which is an oak tree that boasts the largest size on the AT.  After the mighty oak, you will walk along farm fields and open fields that you saw from the top of West Mountain.  This hike really has a lot of variety and provides a little more pizazz than others in the area.
After walking along several fields, and a quick walk through a forest, you will come upon a Boardwalk that crosses over a swamp.  I think the locals have tried to make this look really nice; there are places to sit along the boardwalk and watch the many species of birds that probably live there.  I spoke about a boardwalk earlier on another blog.  The one in NJ is way better than this one, but again, it's something different on a hike that really has some different things to see.
And did I say different?  The end of the hike puts you at a parking lot that is right next to a train platform.  Time it right, and maybe you can jump on a train and head to NYC for another excursion.
TO BUY A COLLECTOR'S PRINT OF THIS STORY PLEASE VISIT 4-FeetGrafix.com.