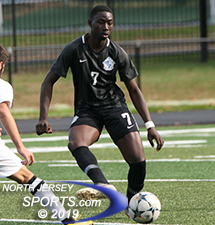 Seydou Camara scored the first goal for Wood-Ridge, which won its first boys soccer trophy of any kind with a 3-1 win over Ridgefield in the NJIC Tournament championship match.
NEW MILFORD – When Alberico DePierro took over as the head coach of Wood-Ridge several years ago he was aware of the task at hand. Building a winning program from the ground up at a small school was going to take years of hard work and determination. DePierro has steadily guided them to successful seasons but, as of Saturday morning, the Blue Devils were still looking for their first championship.
As the top seed in the NJIC Tournament and in the championship match, only Ridgefield, which scored three consecutive road upsets to reach its first final, stood between Wood-Ridge and that elusive first trophy.
Wood-Ridge has leaned on the Camara brothers all year and once again they stepped up big. Seydou Camara opened the scoring and a late goal by Boubou Camara put the finishing touches on the first title of any kind in the history of Wood-Ridge boys' soccer with a 3-1 triumph over Ridgefield in the NJIC Tournament final at New Milford High School.
"We had one job and we weren't going to be happy until that last whistle," said Boubou Camara. "Coach (DePierro) told us that we won't be able to won this game unless we play together and play to feet."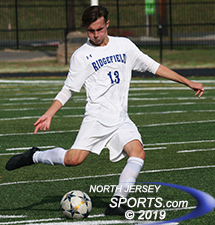 Matthew Lema had the goal for Ridgefield, which pulled three straight road upsets to reach the final.
Both contingents brought raucous crowds and the players fed off that in a battle that was physical, if not chippy, right from the first minute. Ridgefield goalie Alex Perez made several point-blank saves in the first half but could only hold off the Blue Devils for so long.
Seydou Camara took a free kick from just outside the top corner of the box and curved it over a leaping Perez with the ball grazing off the bottom of the crossbar and bouncing in to put the Blue Devils ahead. Minutes later, Boubou Camara bent in a free kick from almost the identical spot with Domenico Petruzzella heading it home at the back post to give Wood-Ridge a 2-0 halftime lead.
Ridgefield went nearly 40 minutes spanning the first and second halves without a shot on net before turning up the pressure and sending numbers forward. In the 66th minute, the Royals finally cashed in on a 25-yard direct kick from Matthew Lema to slice the deficit to 2-1. They had two more scoring opportunities over the next two minutes but both were snuffed out by Wood-Ridge netminder Philip Iacovelli.
"We knew Ridgefield was going to put pressure on us and we had to weather the storm," said DePierro. "In the first half we did just what we saw would work against them on film. At times we knew it was going to be difficult because we've never been in a game like this. Composure won out and we stuck together when we needed to most."
Boubou Camara and Wood-Ridge will look to carry the championship momentum into the state tournament on Tuesday.
With just minutes to play the Blue Devils switched strategies. They focused on playing the ball ahead to the corner and keeping possession. That is exactly how it was drawn up with Boubou Camara was sent a long ball to the corner. But seeing an opening along the end line he made a quick turn before getting off a shot. With just over five minutes remaining in regulation, the ball skipped off the fingertips of Perez and just inside the far post to give the Blue Devils some breathing room on their way to the NJIC title.
First the Blue Devils were looking for the first school title. Now they will be looking for revenge on Tuesday in the North 1, Group 1 state tournament. They will face Park Ridge, who knocked Wood-Ridge out of the states a year ago. After years of hard work the Blue Devils can finally say that they are champions and that they have arrived.
"We are really excited to accomplish this goal and now we have revenge on our minds," said DePierro. "We were nobody when we started. I am so proud of these kids and the effort they've put into this. It is a feeling we want year in and year out. Slowly but surely we're moving towards where we always want to be."
FOR MORE PHOTOS FROM THIS EVENT PLEASE CLICK HERE. TO BUY A COLLECTOR'S PRINT OF THIS STORY PLEASE VISIT 4-FeetGrafix.com.