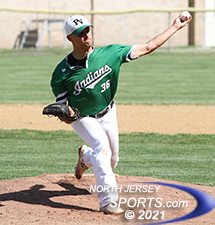 Anthony Sodano threw a complete game three-hitter for Pascack Valley, which advanced to the North 1, Group 3 state sectional semifinals with a 2-1 win over West Milford on Saturday in Hillsdale.
HILLSDALE -- Pascack Valley built a state tournament resume good enough to be the No. 1 seed in the North 1, Group 3 state sectional tournament by bludgeoning opposing pitching staffs. Prior to their state tournament opener, the Indians (soon to be Panthers) had scored 198 runs through their first 24 games for an average of 8.5 runs every time they took the field.
The postseason, where pitching rotations are tightened and the level of play rises accordingly, has been a different kettle of fish entirely. Pascack Valley got a walk-off single by Anthony Rossomondo in the bottom of the seventh inning of a then scoreless game to sneak by Parsippanny Hills in the opening round and then was similarly challenged by West Milford's Kyle Bednarski in Saturday afternoon's quarterfinal.
"Through our first 18 or 19 games everyone was talking about how our lineup just mashes all day long," said Pascack Valley head coach Will Lynch. "Then the other day [against Parsippany Hills] we did not score through six innings and I don't even want to look at what our numbers were like today."
In the end, the only numbers that really counted were 2 and 1, the final score in Pascack Valley's quarterfinal victory that was again of the walk-off variety. Zach Traina was hit by a pitch with one out and the bases loaded and that forced home courtesy runner Jimmy Shea with the game-winner.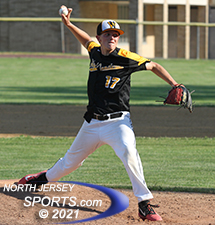 Kyle Bednarski threw 6 1/3 quality innings for West Milford.
"My heart breaks for that kid [Bednarski]. He pitched his heart out and he had us off balance all day, but that is baseball and I have to credit my guys too for hanging in there," said Lynch. "The positives are we pitched, we played defense and we get to play on Tuesday. I just said to [assistant coach] JJ [Moran] that we get to throw batting practice tomorrow and that is what it is all about at this time of year."
Pascack Valley lefty Anthony Sodano did pitch and he was pretty much lights out after a first inning hiccup that forced the home team to play from behind right from the jump. Seamus McGuiness drew a one-out walk in the top of the opening frame, stole second and scored on Joe Palminteri's clean two-out single back up the middle for a 1-0 West Milford lead.
Sodano (7 IP, 1 R, 1 ER, 3 H, 5 K, 3 BB, W, 101 pitches) gave up just two hits and two walks the rest of the way. With the Indians playing error free behind him, Sodano allowed just four baserunners over the final six innings. With Cole Porter's complete game, two-hit shutout in the opening round and Sodano's gem on Saturday, Pascack Valley has needed just two pitchers to get through 14 innings of tournament baseball allowing just five hits in the process.
"I lost the [strike] zone a little bit in that first inning, but then I was able to lock back in and throw some strikes," said Sodano, who retired 8 of the final 9 batters he faced. "I just tried to pitch to contact and let my team do all of the work behind me. They made all of the plays."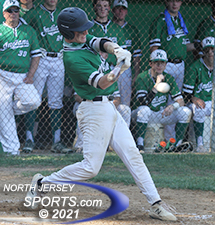 MJ Beiner's single leading off the seventh inning set up the winning rally for Pascack Valley.
Bednarski was a worthy opponent as the West Milford right-hander, shirt-tails hanging out in the blazing sun, battled the potent PV lineup to a near stalemate.
"It was just a great game to be a part of. We prepared all week for how we wanted to pitch them and I did my best to go out and execute what we talked about," said Bednarski, who used a knuckle-curve to keep the ball off the barrel. "It's disappointing to lose, but we have a lot of juniors on this team and this is a great experience that can really help us for next year."
Bednarski worked a 1-2-3 first inning, escaped a one-out, bases loaded jam in the bottom of the second and got the first out of the third before Zach Novakowski got the Indians even with one swing. Novakowski, the left-handed swing No. 2 hitter, hit a laser beam that was still rising when it crashed into the school building beyond the centerfield fence.
"I went 0-for-3 in the last game with three ground balls, so I just wanted to hit the ball hard somewhere," said Novakowski, who went 2-for-3 and his presence in the lineup made him a factor in the game-winning rally in the seventh. "I had to do something to help my team."
The game settled right back into a pitcher's duel after that with Sodano cruising and Bednarski competing to keep up. The lone error of the game put West Milford in a tight spot as Porter reached safely leading off the fifth and Novakowski followed with his second hit of the game. Both runners moved up a base on a passed ball, but Bednarski (6 1/3 IP, 2 R, 2 ER, 6 H, 6 K, 5 BB, 111 pitches), with the infield in against the next two hitters, struck out three in row to keep the game even.
Sodano worked a 1-2-3 seventh, striking out the final hitter he faced with his 101st pitch. Bednarski had thrown 101 entering the bottom of the seventh and, after MJ Biener led off with an infield single, was up against the top of the PV lineup and the pitch count rule with 110 the limit. Porter then really ramped up the pressure with a successful sacrifice that moved Shea, the courtesy runner for Biener, into scoring position. With first base open, West Milford elected to intentionally walk Novakowski before Charlie Saul drew a walk to load the bases.
With 109 pitches thrown, Traina was going to be the last hitter Bednarski faced no matter the outcome, but the Highlanders' bullpen never came into play as Traina wore a fastball for the game-winning RBI.
The loss dropped West Milford to 13-10 in the season with one game left to play. The Highlanders will host Wallkill Valley on Monday in the season finale that will have a special meaning. Eleven players from the 1996 state sectional championship team will be on hand to celebrate that anniversary along with head coach Joe Jordan, who was a player on that team as well.
"This was a tough loss, but our kids really showed the meaning of the word 'team.' We've had some injuries and a couple of other things going on, but we came together, won a game in the state tournament and gave a great effort today," said Jordan. "Monday is going to give us a chance to celebrate the history of the program a little bit with those guys coming back with their families."
There is no time to celebrate for Pascack Valley (21-5) as it will host the semifinals on Tuesday against Roxbury. This time, however, if the Gaels want to knock the Indians out for the third straight time it will have to be with a different starting pitcher. Notre Dame commit Jack Findlay was the winning pitcher against PV as a freshman in 2018 and as a sophomore in 2019, but he was the winning pitcher as Roxbury eliminated Bergenfield on Saturday. Pascack Valley has Porter lined up to make the start.
"A lot of times we go as Cole goes whether it is out of the leadoff spot on offense or with him on the mound," said Lynch, whose team is two wins away from its first sectional title since 2017.  "Today it was that sacrifice bunt in the seventh that was huge for us."
FOR MORE PHOTOS FROM THIS EVENT PLEASE CLICK HERE. TO BUY A COLLECTOR'S PRINT OF THIS STORY PLEASE VISIT 4-FeetGrafix.com.