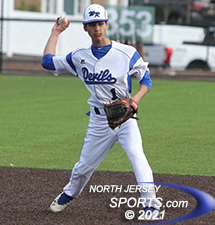 Leo Giancaspro fielded the final out in Wood-Ridge's 6-4 win over Dwight-Englewood that send the Blue Devils into the Bergen County Tournament quarterfinals for the first time since 1972.
WOOD-RIDGE – A little more than a decade ago, the year before Michael Carcich took over as the head coach, the Wood-Ridge baseball program turned down an invitation to participate in the state tournament. The Blue Devils would have been the 16th seed in a 16-team bracket and decided to hand in the uniforms early instead of soaking up what probably would have been one last demoralizing loss.
Boy, how times have changed.
Now, playing in the friendly confines of the newly christened Wood-Ridge Athletic Complex, already one of the best baseball/softball facilities in North Jersey even as it is still not fully completed, the Blue Devils, brought their 14-3 record into Tuesday's home game in the Round of 16 of the Bergen County Baseball Tournament. Coming off a first round bye for the first time in program history, Wood-Ridge had a chance to make it to the quarterfinal round for the first time since winning the whole thing in 1972.
Then Dwight-Englewood, a team rewriting its own baseball record book, came in and did its best to spoil the party. The Bulldogs, the 24th-and lowest seed, have been in the Bergen County Tournament only twice in their history and had never won a game before shocking No. 9 Indian Hills this past Saturday.
The first bater of the game, senior Beau Rottman, came around to score as Dwight-Englewood applied immediate pressure.
"Saturday was the first time we ever won a county game and I thought we had a real good chance to win another one here," said Frank Salvano, Jr., who is now in his fifth year as Dwight-Englewood's head coach and has built the program from the ground up. "We put some pressure on them early, we battled the whole way and it came right down to the last ball we put in play."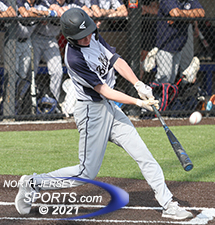 Jacob Wright's RBI groundout in the top of the first inning gave Dwight-Englewood an early lead.
The last ball put in play was a low liner off the bat of Dwight-Englewood freshman JD Collins with two on and two out in the top of the seventh inning. Wood-Ridge second baseman Leo Giancaspro fielded it with one step and a dive to his left than threw to first for the final out of an entertaining 6-4 victory that sends the Blue Devils into the quarterfinals. That final out gave Packen, just back from injury, a two-out save that preserved the win for Nick Rizos, who went 5 1/3 solid innings.
"Trey [Packen] was on the mound and he throws hard, so you kind of know that the ball is going to go the other way. I kind of read the swing and starting moving that way [to my left]," said Giancaspro, who forms the Blue Devils' double play combination with his twin brother Phil. "I know my range, I trusted my instincts, I saw it hit and I made the play."
The teams traded unearned runs in the first inning before the Bulldogs got an RBI groundout from Rottmann that made it 2-1 after an inning-and-a-half.
With senior right-hander David Miller throwing mostly fastballs mostly for strikes, it took some ingenuity to for Wood-Ridge to piece together what turned into the game-deciding rally. Nick Marchitelli's leadoff single in the bottom of the fourth got it started and then two straight sacrifice bunt attempts turned out better than the Blue Devils had hoped. Leo Giancaspro's turned into a base hit and Mike Kaseman's forced a throwing error that allowed Marchitelli to come around and tie the game at 2.
Phil Giancaspro then blooped a single over the drawn in infield to give Wood-Ridge the lead for the first time, Packen knocked in a run when his smoked line drive that was knocked down and turned into a fielder's choice and Rizos made it 5-2 with a two-out RBI single to left.
That big hit came in the midst of a run on the mound in which Rizos retired seven in a row to stabilize the game. He got a ground out to strand two in the top of the third, struck out the side in the fourth and worked a 1-2-3 fifth.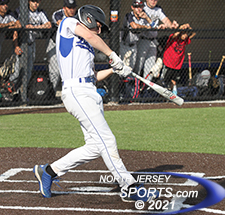 Trey Packen drove in two runs and notched the save for Wood-Ridge, which will visit top-seeded Don Bosco Prep on Saturday.
"I was just trying to do my job, to do the little things right. I was trying to pitch to contact. I wasn't trying to strike everyone out, I was trying to get groundballs and pop-ups," said Rizos. "I struggled a little bit with my control in the first two innings, but I kind of locked in after that. I was focusing on my two-seam [fastball], my change-up was working and my curveball not so much today. I know what I have to work on."
Rizos got the first hitter of the sixth before Dwight-Englewood rose up again. Collins drew a walk and scored all the way from first on George Perez's RBI double that split the rightfield gap. The last batter Rizos faced, Daniel Russell, singled back through the box to make it 5-4. Senior right-hander Stephen Crandall quelled the rally with two strikeouts and Packen pushed the lead up to 6-4 with an RBI groundout in the bottom of the sixth, but Dwight-Englewood got right back at it in its final turn at bat when back-to-back, one-out walks by Drew Alfano and Jacob Wright necessitated the turn to Packen, the Blue Devils' ace, who retired the only two batters he faced to slam the door.
Wood-Ridge, the No. 8 seed, is now 15-3 on the season and will visit top-seeded Don Bosco Prep in the quarterfinals on Saturday.
The Blue Devils go from favorite to decided underdog in the span of four days, but, hey, crazier things have happened. Crazy things like Wood-Ridge playing Dwight-Englewood in the Bergen County Tournament Round of 16 at the Bergen County equivalent of the Field of Dreams.
"This is my first time going to Round 3 and I am very proud of what we have accomplished here, not just the coaches, not just the players but the entire town. This whole community has played a huge part," said Carcich. "The year before I got here they did not even go into the state tournament and since then all we have been doing is building. Every year we get something new, every team adds its own piece to what others before them have accomplished. This is that for this team. We are making a little bit of noise in the county. We never got a bye before in my 10 years here. We have won in the first round before, but this is the first for one of my teams winning a Round 2 game and now everything else is gravy against Don Bosco."
Dwight-Englewood made a little noise in the county as well and is travelling that same upward path. Salvano, Jr. was a part of an elite state-wide program as an assistant at St. Joseph Regional under both his father, Frank Salvano, Sr. who won seven Bergen County Tournament championships, and then Mark Cieslak.
While complete records were not immediately available (going to work on that with athletic director Chris Schmid), this is probably Dwight-Englewood's best-ever season. At 10-4, this might be the most wins in program history with still plenty left to play.
"I want to say that this is the best start in our history, but we have to finish it off.  We still have a league title to go after and then we have states. It's been a great year for us, but we don't want it to just stop here. We want to keep breaking records," said Salvano, Jr. "I was an assistant for 10 years for my Dad and then for Mark and when I came over here I had 18 kids in the whole program. Now we have 36. We put in winter workouts and I have tried to bring the stuff I learned over there [at St. Joes] and use it. We now even have a middle school program in place and I think it is starting to come to fruition. I had three freshmen [Rhys Bowie, Jackson Burke and JD Collins] out there today. Each year the support has gotten better and better. In Mr. Schmid's first year as AD he hired me, so we are in this together. It's been a good run so far. We want to keep the momentum going and each year we want to get better."
FOR MORE PHOTOS FROM THIS EVENT PLEASE CLICK HERE. TO BUY A COLLECTOR'S PRINT OF THIS STORY PLEASE VISIT 4-FeetGrafix.com.