Johnny Jarvie threw a complete-game 6-hitter for 15th-seeded Montville, which eliminated No. 2 Ramapo, 2-1, in the opening round of the North 1, Group 3 state sectional tournament on Wednesday.
FRANKLIN LAKES – The second pitch that Montville senior Johnny Jarvie threw was a mistake and he was not afraid to admit it.
"The first kid [Dean Ferrara], my second pitch of the game, I hung a curveball right down the middle," said Jarvie. "And the kid took me yard."
The next 86 pitches that Jarvie threw? A verifiable masterpiece.
Jarvie, a senior right-hander, locked onto the strike zone and was unrelenting in pounding it for the duration of Wednesday afternoon's North 1, Group 3 state sectional Tournament opener. Montville came as a six-win team, the No. 15 and second lowest seed in the draw, and, courtesy of Jarvie a clutch two-out hit by Zach Goldberg, walked out with a 2-1 upset of second seeded Ramapo in a spot in the quarterfinals.
After Ferrara's leadoff homerun Jarvie (7 IP, 1 R, 1 ER, 5 H, 6 K, 0 BB, 88 pitches) gave up just four more hits and did not walk a single batter. In fact he ran few three ball counts in his complete game gem backed by a defense that did not commit a single error behind him.
"No walks. That is the story. That is Johnny Jarvie all year. He is not overpowering, but he mixes it up great and he throws a lot of strikes," said Montville head coach Ian Schwindel. "He has been a workhorse for us and he is very efficient for sure."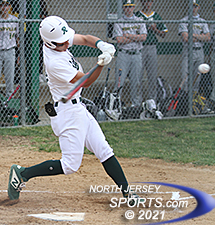 Dean Ferrara about to crush the home run that gave Ramapo a 1-0 lead in the bottom of the first inning.
Montville brought a 6-13 record into the game, but at no time did it play like a 6-13 team. The Mustangs, who played a tough schedule all season, brought their own energy amplified by a boisterous dugout and immediately signaled their intentions as Ian Kaiser lined the first pitch of the game into rightfield. He got as far as third base before Ramapo starter Matt Fais (3 2/3 IP. 2 R, 2 ER, 2 H, 3 K, 5 BB) got a ground ball to wriggle out of first inning trouble.
It looked like the home team had seized the momentum when Ferrara, who will play at Fairfield University next year, got his state-leading 44th hit of the season on the second pitch he saw, the shot that landed well over the left field fence that gave Ramapo the 1-0 lead. Fais worked a 1-2-3 second inning and got the first out of the third before back-to-back walks put Montville in business offensively. Kaiser (2-for-3, R, SB) and Nick Santangelo, the courtesy runner for catcher Brian Lovaglio, then pulled off a double steal in front of Goldberg's two-out, two-run double back through the middle.
Jarvie made his lead stand up by making Ramapo put the ball in play and as the innings flew by the Green Raiders could not piece together even a mini rally that could have gotten the game tied. Christian Cavagnaro singled with one out in the third, but Jarvie got a groundball to the right side and a flyball to center to extinguish that opportunity.
Tyler Cosgrove's leadoff single in the fourth went for naught as Jarvie retired the next three hitters in order and Ramapo saw a chance to pull even flash by in the fifth when it was unable to get a bunt down after Christian Stratis smoked a leadoff single. Had he moved up a base, he likely would have scored on Ferrara's single to the opposite field, instead the runners were stranded on the corners when shortstop Daniel Culmone snagged a well-struck liner off the bat of Richie Sica.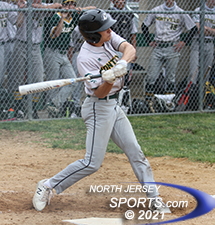 Zach Goldberg drove in both runs for Montville, which will visit NV/Old Tappan in the quarterfinals on Saturday.
Nico Logothetis (3 2/3 IP, 0 R, 0 ER, 3 H, 3 K, 0 BB) gave Ramapo (17-8) exactly what it needed as he threw a 3 2/3 innings of scoreless relief to give the offense the time it needed to mount a comeback, but that never came as the Raiders went down 1-2-3 in the sixth and Jarvie worked around Stratis' (2-for-3) one-out base hit in the seventh. Pinch runner John Pane stole second to get into scoring position, but Culmone gobbled up a groundball for the final out as Ramapo's season came to an end with Ferrara standing in the one deck circle.
Ferrara (2-for-3, HR, RBI, R) and Stratis (2-for-3) had four of the Raiders' six hits with Cosgrove and Christian Cavagnaro accounting for the other two.
"Their pitcher [Jarvie] threw well. He did not walk anybody and that is the key in baseball. Of course it is a disappointing loss when you lose in the first round on your home field. We have higher aspirations," said Garrison Ward, who shares Ramapo's head coaching position with Mike Esposito and the tandem finally got a chance to play a season out after what was supposed to be their first was canceled last year. "We waited a long time to do this and we do have some guys coming back, so that is exciting, but right now we just kind of have to figure out what happened here, pick up the pieces and go from here."
Where Montville (7-13) goes from here is the quarterfinal round of the North 1, Group 3 bracket which has already been turned on its head. Ramapo, the No. 2, Wayne Hills, the Passaic County champion and No. 5 seed, and No. 7 Wayne Valley all went down in the opening round, which means the Mustangs will be on the road at No. 10 Old Tappan, a 6-2 winner over Wayne Valley, on Saturday.
Montville has been hardened by its tough schedule, which includes a win over Delbarton last week, and is as stubborn a No. 15 seed as there is in any bracket in the state.
"We live to die another day," said Schwindel. "I think we can play with pretty much anybody. If we are playing well, if we are playing defense and pitching we can be in any game. If we can find a way to push ourselves a couple runs across we always feel like we have a shot to win."
FOR MORE PHOTOS FROM THIS EVENT PLEASE CLICK HERE. TO BUY A COLLECTOR'S PRINT OF THIS STORY PLEASE VISIT 4-FeetGrafix.com.