Grace Basil had hits from both sides of the plate, finished a perfect 3-for-3 and drove in 3 runs for River Dell in a 16-4 win in Emerson.
EMERSON – Maybe it was not the "right" play according to the fundamentals of softball. River Dell had just gotten back in the game with two runs in the top of the second inning to partially answer the four that Emerson had piled up in its first turn at bat. There were two outs and a runner on first base.
When Natalie Graham smoked a line drive just to the right of the second base bag River Dell centerfielder Stephanie Krasas probably should have let it drop, she probably should have played it on a hop to keep the ball in front and limit the advancement of Graham and Jamie Falotico, who had singled and was moving on contact, to just one base each.
A reckless dive and a miss by Krasas would have let the ball continue on its path toward the outfield fence, would have allowed at least one and maybe even two runs to score and let Emerson seize the momentum right back.
Krasas, on the dead run, left her feet anyway.
"That is my favorite part of centerfield. I just lay myself out and I know my rightfielder [Apollonia Cartelli] and leftfielder [Taylor Troncoso] are always going to back me up," said Krasas, one of River Dell's two senior captains. "Whenever I get a chance like that I am going to go for it."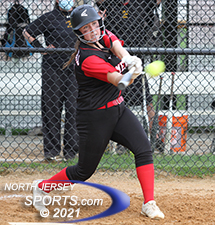 Joya Mattera had two hits and drive in a run for Emerson, which fell to 5-3.
Krasas went for it indeed and the result was a ridiculous grab, a full-speed, full-extension dive in and to her left that was the final out of the bottom of the second inning that turned the game in the Golden Hawks' favor for good.
With Krasas leading off the top of the third with a double River Dell went on to send 14 hitters to the plate, wrapped out 8 hits and scored 9 times in the frame to break the game open.
After a rocky first inning, Caitlyn Nader, River Dell's other senior captain and its starting pitcher, settled in inside the circle. She did not allow another run over the final four innings and River Dell got out of Emerson two innings early with a 16-4 win to advance to 6-3 on the season.
"I think we are right where we want to be. We bounced back from a tough loss yesterday [against Pascack Hills] and from a tough first inning today. We kept our spirits high," said Nader, who will study nursing at Villanova University next year. "Once we got the lead and kept adding on it made it easier to pitch with no pressure. I just had to throw strikes."
At the onset the game had that we-are-going-to-be-here-for-a-while kind of vibe. Krasas, another nursing student to be at Penn State University and the first hitter of the game, roped a triple to straightaway centerfield then scored on Grace Basil's safety squeeze for an early 1-0 RD lead.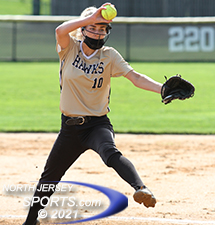 Caitlyn Nader did not allow a run after the first inning for River Dell, which improved to 6-3 on the season.
Then Emerson sent nine hitters to the plate in its first turn at bat with Falotico, Graham and Joya Mattera all driving in runs. River Dell answered in the top of the second when Cartelli, who had a big day at the plate from the No. 9 spot in the order, knocked in two unearned runs with a triple to the opposite field in right to get the Hawks back to within 4-3.
Just when it looked like Emerson might return serve in the bottom of the second, Krasas came up with "that" catch and the River Dell bats took over from there. Krasas scored twice in the top of the third, Basil, who took her first two at bats from the left side of the plate and her second two from the right, had a hit from both batter's boxes in the inning, the second of which drove in two runs.
Emerson (5-3), whose only other losses came in tight late inning situations against Northern Valley/Old Tappan and Midland Park, got multi-hit games from Falotico (2-for-3, R) and Mattera (2-for-3, RBI), Graham (1-for-3, RBI, R, 2B) and Bella DelValle (1-for-2, 2B, SAC) each had extra base hits and Tiffany Leuck (1-for-2) had the other hit for the Cavos.
River Dell got offensive contributions from every spot in the order. Krasas (2-for-3, 3 R, RBI, 2B, 3B, 2 HBP), Basil (3-for-3, 3 RBI, R, SAC), Isabella Molina (2-for-4, RBI, R, 2 2B), Samantha Campo (2-for-3, 3 R) and Cartelli (2-for-3, 3 RBI, 2 R, SB, 3B) all had multiple hit games. Gabriella DeGroat scored a run and drove in another, Sophia Firnino  (1-for-2, 2 R, 2 BB) reached base in all four of her plate appearances, Nader reach base safely twice and her courtesy runner, Samantha Yee, scored twice and Elizabeth Krautheim reached on a fielder's choice and scored in the fourth inning."
"This team has been battling all year playing against difficult competition. I know how great they can be and today was the first step toward becoming a great team," said River Dell head coach Brian Calabrese. "I have been preaching to hang in there, to play good defense and to be aggressive at the plate and the two captains, Krasas and Nader, have really been leading this team. We let one or two games get away, but I am happy with the way we are playing. We all expect more from ourselves because I know we are capable of it."
FOR MORE PHOTOS FROM THIS EVENT PLEASE CLICK HERE. TO BUY A COLLECTOR'S PRINT OF THIS STORY PLEASE VISIT 4-FeetGrafix.com.