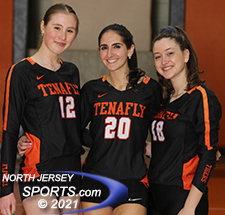 Tenafly's three seniors (fom left) Zuzanna Buchnajzer, Noa Ben-Ami and Danielle Kornkov, led the Tigers to their first state sectional title in volleyball since 2009.
TENAFLY – It was called Season 3, a made-up entity born of the pandemic that will, hopefully, never be heard from again. Traditionally a fall sport, volleyball had its start date pushed back into the winter, its schedule was limited and instead of playing down to individual state champions by group and then contesting a Tournament of Champions, a state sectional final would be the end game. Fans were limited and there was always a chance that a program could be shut down.
Tenafly's varsity roster consisted of just 10 players, 26 others opted out because of COVID. There were no team camps to prepare for the season and little in the way of varsity experience. It was in those circumstances and under those constraints that Tenafly managed to have one of its best volleyball seasons in school history.
After losing their season opener and after going 2-2 in their first four games, the Tigers went on some kind of run. They won 11 of their final 12 including all three matches in the abbreviated postseason. Playoff wins over Roxbury and Morris Knolls led to the chance of a lifetime, a one-off showdown on the road against Northern Highlands, the No. 1 seed in the North 1, Group 3 state sectional tournament and then the No. 1 team in the state according to the Star Ledger.
"It was an amazing feeling. It was one of the best feelings of my whole life just to get to play in that game," said Noa Ben-Ari, one Tenafly's three senior captains. "We had focused so much on bonding. During the state run we were so focused. We would watch film of all of the teams we were going to play and we knew them so well by the time we played them. We knew exactly where they were going to hit and that preparation really helped us."
It also helped that nobody told senior Zuzanna Buchnajzer, one of the best hitters in the state, that Northern Highlands was highest ranked team in New Jersey.
"I did not even know that they were No. 1. I did not find out until after the game and that was better because I just never had it in my mind that we were not supposed to win," said Buchnajzer, who will play at Quincy University in Illinois next year. "We were so close as a team and we were all thinking alike. The only thing we were thinking about was winning that game."
Buchnajzer had 14 kills in the section final to lead the offense, added 6 digs to bolster the defense and with a 25-19, 25-20 sweep on the road in Allendale, Tenafly won its first state sectional title since 2009.
"I think our biggest strength as a team is just being able to cheer each other up. Because we are so close and because we know each other so well, even if we lost a point we would huddle, go back to our spots and try to pick each other up," said Danielle Korenkov, the third in the trio of senior captains. "We were always able to get right back and keep a positive attitude."
Now in hindsight, it is easy to see where the momentum for the stretch run started to build. After a loss to perennial power Northern Valley/Old Tappan on April 9, Tenafly came right back the next day to beat Pascack Valley, the same team that handed the Tigers a loss in the season opener. That led into the postseason and not only did Tenafly, the No. 2 seed, win all three of its playoff matches, it did not lose a set in the process even against top-notch competition.
In the playoff opener, a 25-21, 25-19 sweep of Roxbury, Buchnajzer had 14 kills, while sophomore Reilly Teuerkauf, moonlighting as a volleyball player, had 6 kills and 3 digs. Teuerkauf's day job is as a basketball player as she has already scored over 1,000 career points in what amounts to about one-and-a-half years of varsity hoops. Ana Taufield, another sophomore, had 19 assists and 11 digs in that Roxbury win.
Then it was on to Morris Knolls, the No. 3 seed, which left the Tenafly gym on the short side of a 25-14, 25-13 sweep. Again it was Buchnajzer leading the way with 11 kills, but Teuerkauf played her supporting role beautifully again with 8 kills and 5 digs and another sophomore, Meghan Koehler, the daughter of head coach Jeff Koehler, spread 17 assists around the gym. Koehler had 21 assists in the final to help cap off a zany season that came as somewhat of a pleasant surprise to the head coach.
"We had an amazing team last year, but we graduated just about everybody except for [Buchnajzer] and Noa Ben-Ari, who played about half the game. Coming into this year we knew we would competitive because we had [Buchnajzer], one of the best players in the state, but we needed a lot of other players to step up," said Jeff Koehler. "It was all of my freshman coming up, this year's sophomore class, that we needed to really fill the gaps and they had played maybe one year total of real high-level volleyball. Reilly Theuerkauf, who ended up being my second best hitter, had played for maybe six months of her life. She is just a phenomenal athlete. I knew we would be competitive, but never did I really think state title. Last year was supposed to be the year, but it did not turn out that way."
And this year it did, for reasons that Ben-Ari was able to put into words.
"Since it was the season of Corona and because it was a way shorter season it actually helped us because every single practice we were just with the varsity team. In a normal season the JV would be in the gym too and it is a lot of kids, but this year it was just us working as a small team together," said Ben-Ari. "After the OT game we really shaped up because it made us realize that we could lose. Before that we were on a [seven-match] winning streak. After the OT game we knew that if we lost that the season was going to be over and it was going to be over forever. We got it together for the state run and now we have that memory."
FOR MORE PHOTOS FROM THIS EVENT PLEASE CLICK HERE. TO BUY A COLLECTOR'S PRINT OF THIS STORY PLEASE VISIT 4-FeetGrafix.com.