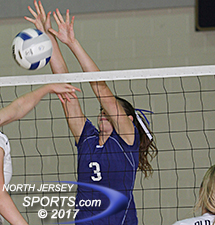 Ohr Yahalomi had a team-high 15 kills and added a block in Demarest's three-set win over rival Old Tappanon Wednesday.
DEMAREST – Northern Valley/Demarest's volleyball team overcame a ton of mistakes to get past district rival NV/Old Tappan to win in three sets and clinch a league title in Demarest on Wednesday afternoon.
"I don't know if I can comprehend that yet," said Demarest junior middle Ohr Yahalomi, "but I'm really glad that we can have that [banner] under our name."
"We worked so hard in the preseason and during the season," added junior setter Alicia Iafrate. "This is the first time we've beaten OT in a long time. It's so great for us. I'm so proud of us. Our hard work paid off. I love seeing the results of our efforts."
Demarest did not make it easy on itself, however. They served 10 balls into the net, which coach Beth Powell called "all mental," including nine in the second and third sets. They also had a combined 13 attack errors in the final two sets, after having only two in the first set.
"In the first game we always start off a little shaky and get into a rhythm and then play well," said Powell. "We played well in the first game and I thought they were a little tentative.
"In game two it was the opposite. The second game I didn't think they had the same sense of urgency. And they have to get that."
In that first game the Norsewomen shook off a 2-0 deficit, after Knights senior middle Alexandra Trouilloud pounded back-to-back kills, to tie the set, 3-3. Demarest senior opposite hitter/defensive specialist Erin Pah broke the tie with a pair of service aces and the Norsewomen never trailed in the first set again.
Senior defensive specialist Samantha O'Donnell began serving for Demarest with her team ahead 11-7 and she boosted the lead to 16-7. A few points later junior middle/opposite hitter Gianna Arias smacked a kill to give the Norsewomen a 20-9 lead and induce Old Tappan to use its final timeout. Demarest coasted from there to win the set 25-15.
Old Tappan immediately took charge in the second set, running out to a 5-0 lead thanks to the serving of senior libero Lizzie Chu, a co-captain. The Golden Knights continued to pour it on, seemingly scoring two points to every one point for Demarest.
"Old Tappan got rolling and played amazing in the second game," said Powell.
As the teams traded serving opportunities the Old Tappan lead continued to grow until senior Katherine Alleva blocked a Demarest shot for the winning point of a 25-14 second-set victory.
"We just got it into our heads so much because Old Tappan came back," Iafrate said of Old Tappan's lopsided win. "We were trying to get out of it, just trying to play our game but it wasn't working."
"I think that they just brought their game," added Yahalomi. "They're Old Tappan - they're a good team and they played very well."
The third game was a disjointed set, with the serve changing sides frequently. Old Tappan led early but Demarest fought back to take a 12-10 lead on a pair of kills by Yahalomi.
"In the third game we wanted to stay calm and relaxed," Iafrate said. "If we did that we would be fine."
Yahalomi and Iafrate worked well together throughout the match. Iafrate's setting was near perfect and her favorite target was Yahalomi.
"Usually it's about who has the hot hand or who is having a great game," Iafrate said. "They weren't touching her ball so I was setting her. Our middles are doing a great job. They keep us going during the game. I wanted to keep the ball on them. They're doing a great job and I trust them every time."
A few points later Knights junior Camryn Monfried pounded a kill to tie it 13-all. And so it went. Old Tappan regained the lead, 19-18, but then committed a net violation and it was 19-19. Demarest grabbed a two-point advantage, 23-21, but Old Tappan sophomore outside hitter Gianna Fasano ended a long point with a thunderous kill to cut it to 23-22.
A kill by Yahalomi earned the Norsewomen two match point opportunities but a net violation and attack error tied the set again, 24-24. Nevertheless, junior middle Sydney Woods crushed back-to-back kills and Demarest is the league champion.
"We just really battled it out," said Yahalomi. "We always say we believe in Demarest volleyball, we believe in ourselves and our teammates. Our back row was sacrificing their bodies, diving on the ground.
"We did a really good job of coming together and battling. We made it happen. We battled for every point; we communicated. Everyone knew what was happening and we were all on the same page. It means so much to me to beat them."
Yahalomi led all scorers with 15 kills and a block. Senior co-captain Ellen Hamlin had eight kills and junior Gianna Arias chipped in with six kills. Trouilloud had 11 kills, Fasano added eight kills and six digs while Monfried contributed seven kills and seven digs for Old Tappan.
Demarest remained undefeated at 13-0, while Old Tappan fell to 12-2. Each has a Round of 16 Bergen County Tournament game Saturday in Old Tappan. But Yahalomi will worry about that Saturday.
"We decided to take it one point at a time, one game at a time," she said.
TO BUY A COLLECTOR'S PRINT OF THIS STORY PLEASE VISIT 4-FeetGrafix.com.