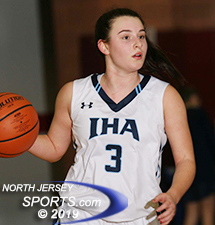 Brittany Graff contributed to the three-pointer shooting barrage by IHA that led the Blue Eagles past NV.Old Tappan, 55-42, and into the Bergen County final.
MAHWAH – In IHA's Bergen County quarterfinal win over Pascack Valley, Anna Morris and Emma Matesic were dominant down low. As the competition gets tougher with each round and teams keying on the Blue Eagles' 1-2 punch inside the guard play would have to complement them and open things up by knocking down shots from the perimeter. Facing a game Northern Valley/Old Tappan team, the Blue Eagles had a tough time creating some separation throughout the game until some clutch three-pointers provided the necessary breathing room.
Eliya Herriott, Brittany Graff, and Eden Plescia all canned three-pointers at key moments in the second half as second-seeded IHA pulled away late to advance to the Bergen County final with a 55-42 win over third-seeded Northern Valley/Old Tappan at Ramapo College in Mahwah.
"Teams often double down on Anna and Emma, we had to be aggressive and knock down shots," Graff. "When we hit those shots we're a pretty successful team because then teams have to play out there, which opens things up inside."
Both teams came out with lots of energy. It showed in an entertaining first quarter with the lead changing hands several times. Freshman Gina Gaccione nailed a three from the corner to put IHA up but Jackie Kelly answered with a three of her own as Old Tappan grabbed a 15-13 lead after one quarter.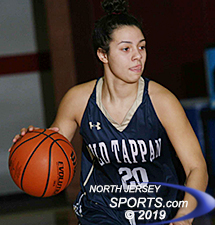 Gianna Saccoccio finished with 10 points for Old Tappan, which fell to 19-3 on the season.
IHA went back to what has been successful all season in the second quarter and made a concerted effort to get the ball inside. The Blue Eagles struggled to finish around the rim but they did consistently get to the foul line. Anna Morris hit four straight free throws as IHA took a 33-28 lead into the locker room.
Graff hit a three to open the third quarter, but the Golden Knights kept fighting to stay within striking distance behind the play of senior guard Noelle Gonzalez. They did everything they could to keep it close. IHA just had too much balance offensively with a Herriott three late in the third quarter followed by Plescia's three from the top of the key to start the fourth quarter that opened up a double-digit lead, 46-36, as the Blue Eagles returned to the Bergen County final for the first time since winning the title in 2015.
"Making threes, driving to the basket, getting to the line, those are things we had to do to get the win," said Herriott. "We all did what it takes to help the team in general, that's what it takes to get to the county finals."
Morris recorded her customary double-double with 18 points and 10 rebounds for IHA (20-1). Herriott added 3 and Matestic finished with 12 points. The Blue Eagles were dangerous from the perimeter all game long, hitting 50% from three-point range (7-14).
Gonzalez had 17 points with Kelly and Gianna Saccoccio added 13 and 10, respectively, for Northern Valley/Old Tappan (19-3).
IHA will have an extremely tall task in the Bergen County final next Sunday. Three-time defending BCT champ Saddle River Day will be waiting. It is an opportunity the Blue Eagles have been waiting for all season and now that time is finally here.
"We're been working towards Saddle River Day all season and we know there's no room for error," added Graff. "Every possession is important and we can't turn the ball over. We have nothing to lose and we hope to put it all together when it matters most."
FOR MORE PHOTOS FROM THIS EVENT PLEASE CLICK HERE. TO BUY A COLLECTOR'S PRINT OF THIS STORY PLEASE VISIT 4-FeetGrafix.com.