Kimmy Halpin hit four clutch free throws for Hasbrouck Heights, which held off a late charge in a 39-32 win at North Arlington on Thursday night.
NORTH ARLINGTON – Hasbrouck Heights' come-from-behind win over St. Mary could have been the turning point in the Aviators' season, but there was no way to really know what kind of impact that win might have until they were in another tight situation. Facing a much-improved North Arlington squad on Thursday night, Heights needed a boost down the stretch and for the second straight game senior guard Kimmy Halpin grabbed the reigns and kept the Aviators' season heading in the right direction.
Halpin hit four free throws in the final 26 seconds as Hasbrouck Heights held off a late charge from North Arlington to pull out a 39-32 win at North Arlington High School.
"We won this game with our defense," said Halpin. "Our team came together and we played good defense on their point guard in the second half to get them out of their rhythm. We're a really close team off the court and that helps with our communication on the court.
North Arlington point guard Samantha DiPopolo got the Vikings off to a good start. Her textbook pump fake led to a baseline floater that gave them an 8-6 lead. The Aviators answered right back with a short jumper from freshman Paige McGuire and a three from the corner by Halpin. That gave the Aviators the lead for good but it was not until the final minute when they finally put away a pesky North Arlington squad.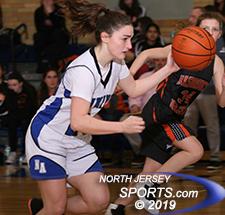 Samantha DiPopolo had 11 points, four steals, and four rebounds for North Arlington, which fell to 9-12.
Hasbrouck Heights led by four at the half. That lead doubled on consecutive possessions when turnovers led to layups by Devin Sonzogni and Halpin. The Vikings kept playing hard and did not go down without a fight. They went on a 7-0 burst capped by a three-pointer from Jennifer Garcia to slice the lead down to a single point, 23-22. They had a pair of chances to take the lead but could not get over the hump.
"We just turned the ball way too much," said North Arlington head coach Karissa DePena. "Those along with some missed layups hurt us, that ends up being the difference in a game that was winnable. Hopefully we can build from this and finish the season strong."
It appeared the outcome was in hand when Julia Koukoutsis scored inside to give Hasbrouck Heights a nine-point lead with just over two minutes to play. However, the Vikings made one last push.
Emily Cordova had a steal and a layup followed by a turnaround jumper from the wing to make it a one-possession game. With less than a minute to play, DiPopolo made a steal that led to a 2-on-1 breakaway but the pass was mishandled and went out of bounds. Halpin was fouled on the ensuing inbounds and nailed both ends of a one-and-one with 26 seconds left. After a missed shot, Halpin pulled down the rebound and once again drilled both ends of a one-and-one as the Aviators held on for a second straight win.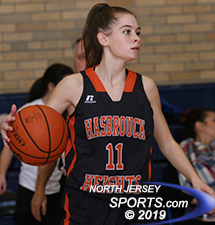 Paige McGuire finished with 6 points for Hasbrouck Heights, which improved to 11-7 on the season.
"I just pretended like they were just foul shots like in practice," added Halpin. "It's something we do every day. It's the easiest part of the game so I was relaxed and I was confident."
Halpin led all players with 17 points for Hasbrouck Heights (11-7). Koukoutsis and McGuire chipped in with eight and six points, respectively. DiPopolo had 11 points, four steals, and four rebounds for North Arlington (9-12).
Hasbrouck Heights will be an underdog in the upcoming North 1, Group 1 state sectional tournament as a No. 12 seed. They will hit the road to take on No. 5 seed Emerson in the first round on February 26. With the Aviators starting to peak at the right time, Kilgallen hopes this is the year they can make some noise and pull an upset or two.
"I think when we're composed with the basketball and play defense like we did tonight we're a pretty good team," said Kilgallen. "We're in a tough section but when we play our best for 32 minutes we feel like we can be right there even against a really tough team like Emerson."
FOR MORE PHOTOS FROM THIS EVENT PLEASE CLICK HERE. TO BUY A COLLECTOR'S PRINT OF THIS STORY PLEASE VISIT 4-FeetGrafix.com.