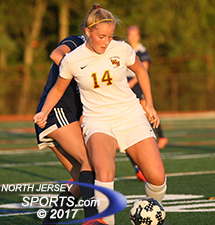 Kelly Fitzgerald had two goals an assist for Watchung Hills, which dealt Ramsey its first loss of the season, 4-0, on Friday.
WARREN – Ramsey has been one of the pleasant surprises this fall under new head coach Kevin Sabella. Unbeaten through their first seven games, the Rams have turned some heads in Bergen County. But a venture out west to play perennial state power Watchung Hills proved to more of a learning experience than anything else. Facing a team with talent all over the field, Ramsey's mistakes were magnified and the end result was not the desired one.
Outside midfielder Kelly Fitzgerald caused problems for the Rams' defense all night long. She finished with two goals and an assist as Watchung Hills put it all together and handed Ramsey its first loss of the season with a 4-0 triumph last night at Watchung Hills Regional High School.
"I thought it was huge for us to control the midfield the way we did, especially to start the second half," said Watchung Hills' head coach Brian Figueiredo. "We saw with Ramsey's speed up front that if they got behind us that we could be in trouble. It all starts in the midfield for any good team. When we win 50-50 balls and get shots on target, that's a good sign that we're playing the way we want to play."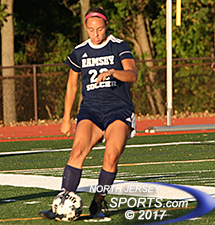 Lauren Chamberlain had one of Ramsey's best chances to score.
Ramsey hung with the Warriors step for step early on until one play changed the momentum completely. Fitzgerald collected the ball along the left side near the end line. With a defender in front of her, Fitzgerald used some nifty work on the ball to create some space. It was enough to bend a cross towards the back post that Julia Heilberg knocked home with 28:17 left in the half. Six minutes later, Fitzgerald doubled that lead with a great individual effort. She stole a potential clearing attempt in the Ram's defensive third of the field. The junior then wiggled her way between two defenders and ripped a shot just off the right post and in to make it 2-0.
"I was trying to get some space and put the ball in the upper 90, didn't go there but I'm happy it went in the net," said Fitzgerald. "We got off to a slow start tonight. But we played more relaxed and found feet more often once we got up a couple of goals."
Watchung Hills controlled possession for most of the half but the Rams did have a pair of quality scoring chances late in the first half and early in the second, both from Lauren Chamberlin. Ramsey finally got behind the Warriors' flat four in the back and it sent Chamberlin on a breakaway. Watchung Hills' lockdown defender Gianna Alfano raced all the way to block Chamberlin's shot to keep the Warriors' two-goal lead intact heading into the second half.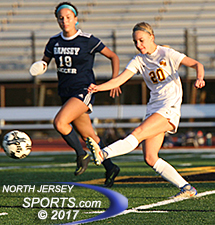 Katie Boehm and Watchung Hills improved to 4-2-1 on the season.
Once again, Ramsey came out strong to start the second half and nearly scored. Chamberlin's shot from the top corner of the box went inches wide of the far post. Just like in the first half though, Fitzgerald answered back. She headed home a cross from Lindsay Wolf to make it 3-0 in the 50th minute. Five minutes later, Wolf capped the scoring off a feed from Katie Boehm for the final margin.
The win was the third in a row for Watchung Hills (4-2-1). Emily Peters finished with six saves for Ramsey (4-1-3). The Rams will lick their wounds and look to bounce back in time for this weekend's Bergen County Tournament, where they are the No. 6 seed.
"We didn't come down here for a learning experience, we came down here to win but it didn't turn out that way," said Sabella. "But that's a great program with great kids and they are extremely well-coached. They were just better than we were tonight. We're disappointed with the way we played but that was largely because of how well Watchung Hills played. We have no choice but to take something from this game and put it behind us with a tough week coming up."
TO BUY A COLLECTOR'S PRINT OF THIS STORY PLEASE VISIT 4-FeetGrafix.com. FOR MORE PHOTOS FROM THIS GAME CLICK HERE!