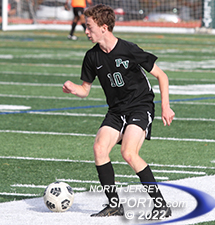 Ethan Schwartz's penalty kick in the 45th minute gave third-seeded Pascack Valley the lead for good in a 3-0 victory over Elmwood Park in the quarterfinals of the North 1, Group 2 sectional tournament.
HILLSDALE – The North 1, Group 2 boys soccer state tournament bracket has always been one of North Jersey's most competitive. Programs like Ramsey, this year's top seed and Glen Rock, a recent Bergen County champion, are stalwarts of the section, which has only gotten tougher over the years. Northern Valley/Demarest dropped down a few years ago and this season Pascack Valley has joined the fray. The
The Panthers won the North 1, Group 3 title in 2021, but are not getting the chance to defend it is they are currently making a run in their new surroundings.
Locked in a scoreless back-and-forth battle with sixth-seeded Elmwood Park, No. 3 Pascack Valley stuck to its style, using its strength along the back line to send runners forward where into positions where they could keep constant pressure on the goal.
Looking for any opportunity to break the deadlock, Pascack Valley pounced when it finally forced a mistake from an Elmwood Park defense that gave as good as it got for most of the first 45 minutes.
A short back pass from a defender left a ball bouncing in space. Shane Feder was the first to it and went one-on-one with Anthony Mitanoski, the Elmwood Park keeper who had only two bad choices: Let in the goal or, as the last man, commit a foul that came with a whole other set of consequences.
Contact was made as Feder went for the open net, so PV was awarded a penalty kick and the foul by the last defender, even if it is the goalkeeper, comes with an automatic red card. Ethan Schwartz converted the PK and Pascack Valley pressed its advantage from there on the way to a 3-0 victory and the state sectional semifinals.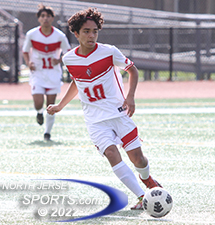 Andrew Rosario was right in the middle of some of Elmwood Park's most dangerous chances.
"It's never about trying to get goals for myself or trying to get shots off just to do it. It's about reading the game and trying to do what you can for the team," said Feder, whose non-stop motor on the flank repeatedly stretched the Elmwood Park defense. "When I saw that [back pass] I just tried to get there and make something happen. I was happy to set that [PK] up for [Schwartz]. I knew he would make it."

Schwartz buried the PK and is now a perfect 4-for-4 from the spot on the season, but getting there this time took a lot of doing. He tipped his cap to the visiting Crusaders, a worthy opponent.
"It was a difficult game because I saw a lot of our team in them. They are a technical side, but they are also really gritty and tough to break down. They are also dangerous on the counterattack," said Schwartz. "I don't want to say we were lucky because you make your own luck. We were fortunate on the bad back pass, but Shane took advantage of the opportunity and won the pen. He's been doing that all season, working hard and setting up chances for others."
The first half was bereft of goals, but was entertaining just the same and Pascack Valley nearly went ahead inside the first two minutes when Steven Gifford slid one just wide of the right post on one of the Panthers' first trips into the final third.
Elmwood Park (14-4) had its first real chance in the ninth minute when Andrew Rosario's cross found the head of Alex Hlawacz, who forced PV keeper Julien Pilet into his first save and then a scramble from the retreating defenders who had to see the ball around the post and out for a corner kick. In the 23rd minute Damain Halat was the trail in a three-pass combination before his shot just missed the left post.
Nolan Wasserman scored the third goal for PV, which will play No. 2 Glen Rock in the semifinals on Wednesday.
Pascack Valley's Michael Criscuolo came close on a header off a corner kick in the 26th minute and Adrian Pilet nearly handcuffed Mitanoski with a low skidder, but the EP keeper was able to keep his body behind the ball and keep the game scoreless in the 32nd minute.
The Crusaders wrapped two chances around the halftime break as Hlawacz sped up the left side and rolled a cross for Andrew Rosario, who forced Julian Pilet down to make perhaps his toughest save of the game in the 36th minute. Two minutes after the intermission, Omkar Singh had the time to line up a rip from 30 yards out that again for Pilet down, but just about two minutes later the sequence that led to PV's first goal played out and the game changed for good.
"We talked about halftime about what we could do better and that was putting some shots on frame," said PV head coach Luciano Cofrancesco. "We got a little lucky, we got that penalty kick and then it started to roll in our direction."
At just about the midway point of the second half Pascack Valley doubled its lead as Nolan Wasserman headed home a Feder corner kick and with just under five minutes to play Feder was rewarded after another hard-working run. He banked a low shot off the left post and in to cap the scoring and seal PV's spot in the semifinals against No. 2 Glen Rock, a 1-0 winner over and the alma mater of Cofrancesco.
"Their coach there [Matt Beverin] is a real good friend of mine and they have a great program there. We played them in the preseason as a scrimmage. We know what they do well and they know what we do well," said Cofrancesco. "There aren't going to be any surprises and we know we will have to play a complete game to win. It is going to be a good one."
FOR MORE PHOTOS FROM THIS EVENT PLEASE CLICK HERE. TO BUY A COLLECTOR'S PRINT OF THIS STORY PLEASE VISIT 4-FeetGrafix.com.