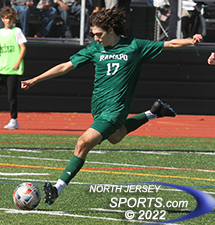 Damian Lisio scored the first goal for Ramapo, which advanced to the Bergen County Tournament semifinals with a 4-1 win over Garfield on Sunday.
FRANKLIN LAKES – Ramapo has been to the semifinals of the Bergen County Tournament in 10 of the last 12 seasons, has won the county title 14 times in its history and is the defending champion and top seed this year. Still, the Green Raiders never take their success, current or historical, for granted.
"Bergen County is so unique in that we have 55 high schools that play high school soccer. This county tournament has its own uniqueness because of that number and just to get in is a big deal," said Evan Baumgarten, Ramapo's head coach who has won 12 of those county championships. "Every year we are in it, no matter the result, we are honored to be a part [of it]."
Ramapo is a part of it and is making its customary deep run after hold off a challenge from Garfield. The Boilermakers battled to a first-half stalemate and answered even after Ramapo opened a two-goal lead before finally getting hit on a couple of counter attacks in the final five minutes as the Raiders pulled away for a 4-1 victory to grab their spot in Saturday's Final 4 where it will be joined by Bergen Catholic, Cliffside Park and Ridgewood.
Bergen Catholic pulled its second straight upset as it ousted No. 4 Ramsey, 1-0, in double overtime. Cliffside Park has come through the play-in round and denied Rutherford its first ever semifinal appearance with a penalty kick shootout victory and Ridgewood saved a late penalty to hold off Demarest in the nightcap, 3-2.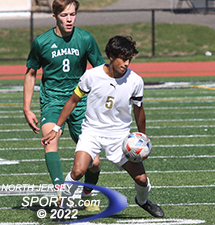 Keiver Galvis and Garfield had their moments in a game that was scoreless through 47-plus minutes.
It's been a competitive tournament since the outset and Garfield gave it a go. Rather than ceding possession and playing defense for the better part of 80 minutes, the Boilermakers tried to play with Ramapo in an open first half. Ramapo won seven corner kicks in the opening 40 minutes and forced Garfield keeper Jakub Piszczatowski into seven first half saves.
Damian Lisio, Albert Carelli and Ryan Dekorte all tested Piszczatowski with shots on frame orchestrated by Kevin McDonough in the midfield, but Garfield managed to keep the game scoreless into the intermission. It was not until Carelli found the keys to unlock the Boilermakers' back line with a perfectly weighted ball down the channel for Lisio, who deposited the game's first goal into the lower left-hand corner eight minutes into the second half.
"I got a ball down, I think it was [a pass] from Jayden [Onal], and when I stopped it a defender was on my back," said Carelli, a junior striker. "I turned past him, I saw Damian [Lisio] making a run in behind two defenders. I dribbled sideways and hit a little through ball and he was able to get the goal. That gave us momentum."
Still, Garfield did not fold and it was still a one-game game for the next 15-plus minutes until Ryan Dekorte got free up the left side and hammered one low and over the goal line for a 2-0 Ramapo lead with 16:48 left in the game.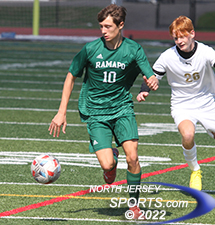 Ryan Dekorte scored what proved to be the winning goal for Ramapo, which will play Bergen Catholic in the semifinals.
"I got the ball from Jayden [Onal] and saw that there was space in front of me and I just dribbled at them," said Dekorte, also a junior. "I knew that they weren't going to step to me hard, they gave some ground and I just kept going."
Garfield pulled one back with 8:54 to play when Leland Gonzalez curled a free kick around the wall and just inside the opposite post to break up the shutout and the Boilermakers won two corner kicks in the next minute to further the suspense. The first was stuffed over the bar by Ramapo keeper Antonio Spina and the second was volleyed wide by Mateusz Domurat, who had come up from the back in support of the set piece.
Ramapo put the game away with two goals inside the final five minutes when MJ Dungo caused a traffic jam in front of the net and nudged the ball forward. Carelli arrived to bury the sitter to make it 3-1. Senior Dylan Bodart closed the scoring with a twisting run up the right side that forced Piszczatowski off his line. The Garfield keeper made the first save, but Bodart picked up the loose ball and finished from a tough angle.
"I thought we had our opportunities in the first half, but credit to Garfield for keeping it where it was. We kept at it in the second half and that is why I am proud of the kids because they just at it," said Baumgarten. "It wasn't the prettiest, but it doesn't have to be and we are happy to be moving on."
Ramapo improved to 9-0-1 with Bergen Catholic awaiting when the tournament resumes at Ramsey High School next Saturday.
FOR MORE PHOTOS FROM THIS EVENT PLEASE CLICK HERE. TO BUY A COLLECTOR'S PRINT OF THIS STORY PLEASE VISIT 4-FeetGrafix.com.