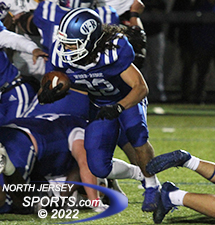 Antonio Loyola's 55-yard, fourth quarter TD run put the finishing touches on Wood-Ridge's first ever state tournament victory, a 44-28 won over Shabazz in the North 2, Group 1 state sectional opener.
WOOD-RIDGE – The first time Wood-Ridge ever won a state tournament football game was on October 28, 2022 and the starting quarterback in that game was Braden Negro. How does it feel to be the answer to a trivia question?
"It feels great. What a night," said Negro shortly after top-seeded Wood-Ridge finished off a 44-28 victory over visiting Shabazz on Friday night in the opening round of the North 2, Group 1 state sectional tournament. "I give all the credit to the [offensive] line. They played great, which allowed me to play great. Liam Kelly at left tackle, Gianfranco [Gentile], Dean Singh at center, right guard Mikey Marchitelli and right tackle Mikey Marchitelli. When [Gentile] got hurt Carlos Figuerdo and Kledji Elezaj filled in and stepped up. It was a total team effort and a great win."
According to Tony Albro, the Wood-Ridge Superintendent of Schools and also a former head football coach in the district he has been in since 1992, Friday night marked the fifth time that the Blue Devils have ever played a state tournament game and it was the first time they ever played at home. They lost last season in the opening round in Weequahic.
"In the '60s we got declared [state champions] a couple of times. I don't even know who declared us state champions, but they said we were state champions and that was it," said Albro. "In 1977, one of the first years that they actually played a state tournament, we were the only team to qualify for the playoffs and, again, we were declared the winner. This is definitely our first ever home state playoff game and as far as I can tell it is our first ever state tournament win. A great night."
That makes Joe Cutrona the first head coach in Wood-Ridge history to win a state playoff game. He took less of a nostalgic view of the evening as he saw all the flaws in Friday night's effort and knows there is little time to clean it up before the sectional semifinals with No. 4 Cedar Grove due in town next Friday.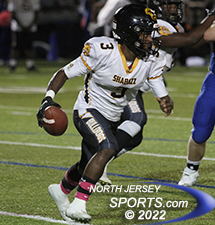 Shabazz QB Elijah Cohen ran for three scores and threw for the Bulldogs' other TD.
"We have to tackle better, we have to block better and that performance [tonight] is not going to win us a state title, I can promise you that. Yes we got the 'W,' but we have to get better," said Cutrona. "That was sloppy. Too many penalties, too many missed tackles, too many missed assignments and you can't have that if you want to keep going."
The challenge started right from the get-go as Shabazz took the opening kickoff and marched 80 yards for the game's first score. Senior quarterback Elijah Cohen hooked up with freshman Javon Swain three times on the march, the last time for an 11-yard score on a slant rout. Cohen then ran in the two-point conversion to give the visiting Bulldogs an 8-0 lead just over three minutes into the game.
Wood-Ridge responded with touchdowns on three of its next four possessions. Negro hit Nick Chromey for a six-yard score and Antonio Loyola scored from the one-yard line to help the Blue Devils to a 22-8 lead at the break. They upped that to 30-8 less than two minutes into the second half when Loyola scored from seven yards out.
"We are an undersized line, so we understand that we have to be faster than the guys across from us. We tried to get off the ball quicker and create some holes and we did that," said Kelly, Wood-Ridge's senior left tackle who protects the quarterback's back side. "There was a lot of pressure on us. We knew we had the chance to be the first team to ever win a state playoff game here. I felt confident because I watched so much film and we were all confident that we could get the job done."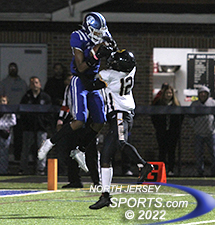 Leo Ramirez hauling in the final score for Wood-Ridge, which will host No. 4 Cedar Group in the semifinals..
Eventually Wood-Ridge did get it done, but Shabazz did not just fade away. The Bulldogs scored on consecutive possessions, the first time on a Cohen sneak from the one-yard line with 5:15 left in the third quarter and his three-yard run less than one minute into the fourth quarter. Cohen hit Kezah Hall with a two-point pass after that second score and Shabazz was back to within one possession, 30-22, with still 11:23 left to play in the game.
A couple of big plays down the stretch helped Wood-Ridge ease away for the win. Loyola ripped off a 55-yard TD run and Leo Ramirez out jumped a defender to haul in a 34-yard TD pass from Negro. Those scores came within a five minute span and pushed the Blue Devils into the state sectional semifinals for the first time in school history.
"This means a lot for this community. They are starving for success here, we are trying to give it to them this year and this goes a long way. This was our first home playoff game ever. It's our first playoff win ever. We were 0-4 in the playoffs before this so this gets the weight off our back, but we have to get better in a hurry for next week."
FOR MORE PHOTOS FROM THIS EVENT PLEASE CLICK HERE. TO BUY A COLLECTOR'S PRINT OF THIS STORY PLEASE VISIT 4-FeetGrafix.com.