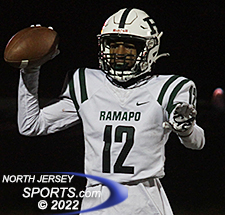 Nate Burleson caught two TD passes, incluiding the one that put Ramapo ahead for good, in a 30-22 victory on the road in Old Tappan..
OLD TAPPAN – By definition, Landon DiPrima is Ramapo's "back up" quarterback, the one who usually plays wide receiver when senior Jack Grusser is healthy and taking the snaps. The reality of it is a little bit different.
"It is a high class problem when Landon DiPrima is your back-up quarterback. He is outstanding," said Ramapo head coach Mike DeFazio. "We have the No. 1 quarterback in the state right there [in Jack Grusser] and maybe the second best one right here [in DiPrima]. We are very fortunate."
With Grusser nursing a high-ankle sprain, DiPrima ascended to the starting spot on Friday night on the road against Northern Valley/Old Tappan, which came in undefeated and had yet to be truly tested in any of its six dominant wins to start the season.
DiPrima had a bad first drive and that was brilliant for the 47 minutes that came after as Ramapo snapped its two-game losing streak in style with a 30-22 victory that puts that Green Raiders right back on track. DiPrima threw an interception on the game's first drive and Old Tappan turned it into a touchdown on its first play from scrimmage, but from then on DiPrima was certainly unflappable and just about unstoppable.
The junior signal caller led the Raiders on a 15-play drive on their second possession that ended with a short touchdown pass to Benjamin Robinson. He also threw a 66-yard TD pass to Nate Burleson and ran for an 85-yard score as Ramapo showed its intentions by taking 19-14 lead into halftime.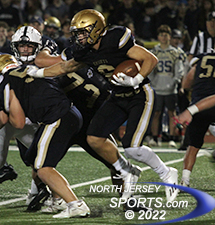 Old Tappan's Aidan Heaney ran for 110 yards and a touchdown.
"There was still 10 minutes left in the first quarter after that [Old Tappan interception and touchdown]. We had the entire game to play. We knew it was going to be a fourth quarter game right from the beginning and we were prepared to fight the whole game," said DiPrima, who ran for 107 yards in the first half alone. "We always have confidence in each other. After that first mistake we turned it around and we are ready to pick each other up at all times. That [15-play] drive really brought us together."
Old Tappan (6-1), which celebrated its Senior Night with a pregame ceremony, came in having outscored its previous six opponents by a combined score of 221-25 and looked like they might have regained control of the game early in the third quarter. The Golden Knights forced a three-and-out on Ramapo's first possession of the second half and Ronan Malady scooped up a blocked punt and ran it in. Tommy Caracciolo hit Jack Diggins with the two-point conversion pass and Old Tappan took a 22-19 lead with 7:28 left in the third quarter.
Ramapo, however, responded quickly. One play after DiPrima kept the drive alive with a third down scramble, he hit Burleson for the score that put the Raiders in front for good. Burleson, also a basketball standout who helped lead Ramapo to a state sectional championship in that sport last year, was double covered up the left sideline, but he slowed his stride, waited for the defenders to cruise by. He then hauled in the slightly underthrown ball and waltzed into the end. DiPrima hit Robinson with the 2-point pass that made it 27-22 Ramapo with 5:28 left in the third.
Ramapo's defense then took over as it held Old Tappan to a turnover on downs, a punt and two interceptions on its final four possessions of the night. Anthony Dabrowski's 38-yard field goal, which was set up by Ethan Moran's bruising 52-yard run up the right sideline, with 9:59 left in the game, was the only scoring of the fourth quarter.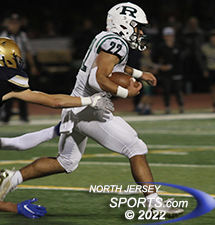 Ethan Moran picked up 89 yards rushing for Ramapo, which will close its regular season at home against Ridgewood.
Matt Bedrin's interception ended Old Tappan's final march into Ramapo (5-2) territory and Jack Dentz's INT on the final play of the game put the cherry on top of the Raiders' fifth win of the season.
Coming off an emotional week in which it dedicated its home field to its late head coach Drew Gibbs and lost in excruciating fashion to River Dell when it gave up a late lead, Ramapo seems to have collected itself and is ready for the stretch run.
"We had two very rough weeks. There were a lot of emotions going around and I think some of those emotions might have gotten into our heads a little bit and took away some of our ability to just play," said Moran. "That is why, I believe, that we struggled in the two games before this, but this week we all came back together as a team, a family, and we played the Ramapo way."
DiPrima finished 21-of-29 passing for 292 yards and three scores and he also ran for 166 yards on just 10 attempts. Moran added 89 yards rushing on 20 carries and Burleson finished with 156 yards receiving and two scores for the Raiders, who will close out their regular season with a home game against Ridgewood on Friday night.
It's the first time around for DeFazio, who took over the vaunted Ramapo football program at one of the most vulnerable times in its history. He is learning on the job, but can feel the community support that is hallmark of Raider Nation.
"There is tremendous support all around, just the facilities that we have, the resources and it has been great top to bottom," said DeFazio. "The admin, the parents, the players, everybody on staff and in the building; everybody has been supportive. Football, and sports as a whole, are very important [at Ramapo] and people give it that respect. It's great."
FOR MORE PHOTOS FROM THIS EVENT PLEASE CLICK HERE. TO BUY A COLLECTOR'S PRINT OF THIS STORY PLEASE VISIT 4-FeetGrafix.com.