Ryan Milnes scored 10 of his team-high 17 points in the third quarter of River Dell's 49-36 win over Midland Park in the opening round of the Bergen County Jamboree.
OAKLAND – Facing Midland Park makes for a tricky matchup. The Panthers possess one of the top players in Bergen County in 6-foot-8 senior forward David Luberoff and slowing him is a task the River Dell players knew would be difficult, but also one that they would have to come together in order to figure out. Early on Luberoff had his way and the Panthers' 2-1-2 zone with Luberoff patrolling the middle caused River Dell problems early on, but once they figured out how to beat the zone, the complexion of the game quickly changed in the Hawks' favor.
Matt Brunner's miraculous layup at the halftime buzzer capped a 12-0 run. Teammate Ryan Milnes took over in the third quarter with 10 of his team-high 17 points as No. 18 seed River Dell advanced in the Bergen County Jamboree's Round of 16 with a 49-36 first-round win over 15th-seeded Midland Park on Sunday afternoon at Indian Hills High School in Oakland.
"The second quarter we started pushing the pace more and we finished in the paint," said Milnes. "That really got us going and got us that halftime lead. We just kept it going in the second half now that we knew how to attack their zone."
Midland Park came into the game riding a five-game win streak and the momentum continued early on with a nice post move from Luberoff and a three-pointer from Kyle Martinkis to start the game. The pace in the first half was slow, which favored the Panthers. It allowed them to work the ball around until they could find Luberoff in positions where he could score. His putback of his own miss midway through the second quarter gave them a 13-9 lead. Having scored just nine points through the game's first 12 minutes, something had to change for the Hawks.
That change was a subtle one, but one that found success from that point on. The Hawks picked up the pace and moved the ball quicker around the perimeter. That caused the defense to adjust, which gave the Hawks more space to get the ball to Hamilton Roth in the high post. Once Luberoff had to step up and account for Roth, that opened up cutters along the baseline. It also brought Luberoff away from the basket. River Dell got offensive rebounds on three straight possessions late in the first half and eventually scored on all three trips. The biggest one coming with Brunner grabbed a loose ball with a tick on the clock. In one motion, he spun in the air from the wing and flipped up a shot that banked in at the buzzer to close out a 12-0 spurt and give River Dell a 21-13 halftime lead.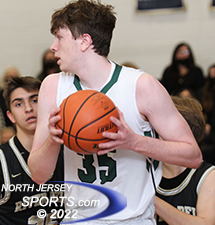 David Luberoff finished with 25 points, 14 rebounds, and five blocks for Midland Park.
"They had good mid-range shooters and a good gameplan to attack it, so when they got the ball in the middle it was tough to make the adjustment," said Luberoff, who has several Division 1 scholarship offers on the table. "It pulled me away from the basket and I wasn't in a good position to rebound because of it. This loss was tough, but it should wake us up a little bit. We're still shooting for a league title and see how far we can go in states. I think this is a good learning experience for us and we'll come back better because of it."
Luberoff scored on a three-point play to start the second half, cutting the lead to five. That is as close as the Panthers would come as the Hawks continued to pick apart the zone. Brunner answered with a three-pointer then Milnes took over, hitting all three of his third-quarter shots en route to 10 his team's 21 third-quarter points to put the game away, up 42-25 after three quarters.
Roth had the unenviable assignment of guarding Luberoff all night for River Dell (9-4). He battled him all game but also provided some offensive production with 14 points.
Luberoff led all players with 25 points, 14 rebounds, and five blocks for Midland Park (12-3).
The Hawks will ride a six-game winning streak into this week where they face Dumont and Westwood before getting a shot in the Jambo's Round of 16 against second-seeded Bergen Catholic. With everything to gain and an experience for a lifetime, the Hawks are brimming with confidence heading into that matchup.
"We want 'em," said Brunner. "Especially against a team like Bergen, every possession matters. They're right down the road and we want to show we can keep up with those guys."
FOR MORE PHOTOS FROM THIS EVENT PLEASE CLICK HERE. TO BUY A COLLECTOR'S PRINT OF THIS STORY PLEASE VISIT 4-FeetGrafix.com.