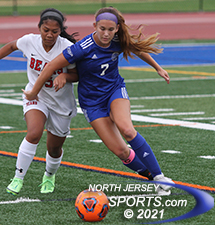 Demarest senior Victoria Constantine scored a hat trick as the Norsewomen pulled away from Bergenfield late in a 5-1 season opening victory.
DEMAREST – Having been established in 1993, the Northern Valley/Demarest girls soccer program has been steadily building, especially in the last decade, to the point that it has become a state sectional title contender. Last season it had maybe its best chance with a talented side and a top seed in what was called the Northeast B bracket in the slimmed down postseason.
There is no guarantee that the Norsewomen would have won the title that was eventually claimed by third-seeded Caldwell, but the part that still hurts is that they never got a chance. Just before they were to take the field in the opening round, the dreaded call came that the program was to be shutdown due to COVID exposure and there would be no postseason soccer.
"It was very frustrating last year that we did not get to play in the states. We were all hysterically crying on a zoom when we found out. One of our players already had her jersey on. We were ready to play," said Emily Holzer, a senior and four year contributor who recently committed to Lehigh University. "We were ready to get out there and we find out an hour before that we were not playing and that the season was over."
Taking nothing for granted this time around Demarest's nine seniors on the roster and four senior captains – Holzer, Victoria Constantine, Elizabeth Argenziano and Grace Hamlin – who are all four-year varsity players are ready to give it one final go at a sectional championship banner. The quest started on Thursday with a 5-1 win at home against a much-improved Bergenfield side.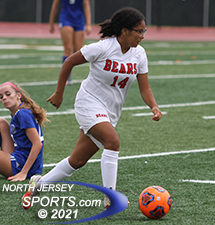 Bergenfield's Stephnaie Sulca tied the game at 1 just over five minutes into the second half.
"It is so important to us this season. We have all been contributors since we were freshmen and we have put a lot of time in, but the goal this year is to play as a team. We need people all over the field playing together, all 11 players playing as one," said Argenziano, who will play next season at New York University. "We need to connect passes through the midfield and we need to finish our chances if we want to achieve the goals we have set."
Finishing chances was not so easy against a Bergenfield team that has improved markedly under the direction of head coach Steve Palaia. Although Demarest had the advantage in opportunities and possession, it was still a scoreless game late in the first half as senior goalkeeper Isabella Loszynski threw herself around inside the penalty area.
Demarest needed a little senior leadership to help break the deadlock and that is something it has in abundance.
"There were like five minutes left [in the first half] and someone went down hurt. We got in a huddle and the four of us, the captains, talked about getting back to playing the way we were supposed to." said Hamlin. "We got back to one touch and it wasn't long after that that we executed. Everyone participated and we scored the goal."
The goal came in the 38th minute when Holzer, with possession, continued a run toward the endline before crossing to the back past from where Constantine headed home to give Demarest the 1-0 lead it took into halftime and it looked like that might open the floodgates as the Norsewomen continued to generate chances right up to the halftime whistle and then immediately after the restart, but Bergenfield continued to hang tough and actually got even just over five minutes into the second half.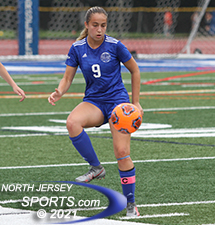 Emily Holzer scored twice and assisted on another goal for Demarest.
Junior striker Stephanie Sulca ran on to a long ball, touched it around the keeper and scored to pull the Bears even at 1. Bergenfield (0-1) has a lot of promise with sophomores Carolina Herrera and Chloe Fadri and freshmen Melanie Grace James, Brianna Ramos and Leila Sosa all contributing on Thursday against a talented and experienced Demarest team.
"It was actually kind of fun to play against them. We honestly were not expecting that and we might have come out a little too cocky because in the past it's been an easier game," said Constantine. "They are really improved, it was challenging to try to break them down and it took us a little while to find our groove."
Demarest did settle in eventually and when the goals started coming they did so in bunches.

Holzer scored on a cut-back cross from Ariel Goldberg to give Demarest (1-0) the lead for good at 2-1 in the 54th minute, Constantine touched one past Loszynski to make it 3-1 in the 62nd minute and then finished off her hat trick three minutes after that. Argenziano was taken down inside the penalty area and Constantine buried the PK with 15:09 left in the game. Holzer closed out the scoring on a breakaway with 8:26 remaining as Demarest got the new season off to a successful start.
It was a better win than initially thought as Bergenfield improvement was evident and the Bears are going to win their fair share of games this season.
"I went over to their coach to commend him. He is doing a great job with that group and they have gotten a lot better, they really have. It is really good for Bergen County soccer to see the game evolve like that where programs that were down have good coaches come in and make an impact," said Demarest head coach Brandon Silva. "As for my team there is a great cohesion within the group. They are very focused, they buy in, they took over the halftime talk today and I did not have to say anything. I stood there kind of like a proud dad. This group is really fun to be around and they are really fun to watch grow."
FOR MORE PHOTOS FROM THIS EVENT PLEASE CLICK HERE. TO BUY A COLLECTOR'S PRINT OF THIS STORY PLEASE VISIT 4-FeetGrafix.com.