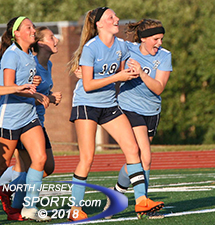 Kelly Moran gets a hug after her overtime goal made the difference in Waldwick's 4-3 win over Saddle Brook in the season opener for both teams.
WALDWICK – With an extremely young squad heading into the 2018 season Waldwick's girls soccer team knew there might be some growing pains in the early portion of the season. To get through those tough times the Warriors would have to lean on their more experienced players to create a formidable attack. After losing a lead late in the second half and headed to overtime against upstart Saddle Brook, the Warriors needed a spark to ensure their season began on a high note.
Waldwick senior Kelly Moran rose to the occasion with her bending 25-yard shot dipping just under the crossbar for the game-winning goal 4:12 into the first overtime as Waldwick earned a wild 4-3 victory on its home turf over Saddle Brook on Wednesday afternoon.
"We were adequately prepared for the heat and to play well in overtime," said Moran. "We were frustrated that we had the game and we let it slip away when they scored that third goal. I think that actually pushed us to work even harder in the overtime to make sure we pulled out the win."
Saddle Brook set the tone with a pair of quality scoring chances in the game's first four minutes, but it was Waldwick that got on the scoreboard first. Sophia Meller drove to goal and cracked a shot from close range. Falcons' goaltender Alexis Georgevich made a diving save but Tara Lambert was there to pounce on the rebound and knock it home for a 1-0 Waldwick lead in the 11th minute.

Less than three minutes later the Falcons struck back on a counterattack that was dangerous all afternoon. Ashley Georgevich took advantage of a miscue in the back and slipped a shot past Waldwick keeper Ashley Buschgans to even the score at 1.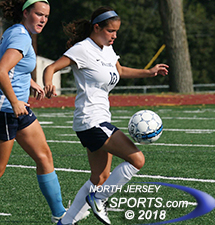 Ashley Georgevich scored two of Saddle Brook's three goals.
The score remained that way until Waldwick grabbed the lead early in the second half. Meller took a shot from the top corner of the box that went just over the fingertips of Alexis Georgevich and into the side netting for a 2-1 lead.
Once again on the counterattack the Falcons responded. Mia Lopez placed a through ball between two defenders right on the foot of a streaking Ashley Georgevich. The junior took it all the way to knot the score at 2 in the 55th minute.
The Warriors settled in after that and kept the ball in the Falcons' defensive third until finally breaking through on another goal by Lambert. From a tough angle along the goal line the junior lofted a shot inside the far post, putting Waldwick back ahead, 3-2, with 17:11 to go.
"It was a tough angle but I had the shot and I was looking to score," said Lambert. "It was back and forth the whole game. We made some mistakes today but we worked hard and overcame them."
Although they were struggling to string passes together and find an offensive rhythm in the second half the Falcons made up for that with sheer hustle. Another Waldwick misplay in the back proved costly as Anna Memija collected the ball and ripped a shot into the lower left-hand corner with 7:42 to play to tie the game at 3 and eventually force overtime.
Junior Tara Lambert had two goals for Waldwick.
With the heat becoming a huge factor down the stretch the Warriors knew they had to dig deep and take some chances in overtime if they were going to pull out the win. Moran took a touch into space from Ashley Lewis and saw enough of an opening to get a shot off. She struck it well as it bent over a leaping Georgevich and into the net with 5:48 remaining in the first overtime for her first goal since her sophomore year and Waldwick's first win of the season.
"There was nothing to lose so I just went for it," added Moran. "As long as I've been playing I've been told to shoot. I figured if went in great, if not we'd just keep playing."
Meller added two assists and Buschgans finished with six saves for Waldwick (1-0). Ashley Georgevich scored twice and Alexis Georgevich made 11 saves for Saddle Brook (0-1). The loss was a tough one for the Falcons, who, despite the loss, showed that the program is headed in the right direction.
"They've been working hard all summer and we showed that we'll fight right to the end," said Deandra Donato, who is in her inaugural season as Saddle Brook's head coach. "I'm proud of our effort and we're going to keep pushing forward. It's a tough loss but we held our own against one of the better teams we'll face all season. We hope this is a step towards being a competitive team and having a good season."
Starting the year off with a hard-fought win is always gratifying, but the Warriors know that there is still a long way to go and plenty of mistakes to correct moving forward.
"We're young but we have the talent to have a good season," said Moran. "Nobody expects anything of us with us being so young and that drives us to be better. We're excited to watch this film as a team. Even though we made some mistakes they were correctable mistakes. We really worked as a unit and I look forward to our team building off of this win."
FOR MORE PHOTOS FROM THIS EVENT PLEASE CLICK HERE. TO BUY A COLLECTOR'S PRINT OF THIS STORY PLEASE VISIT 4-FeetGrafix.com.