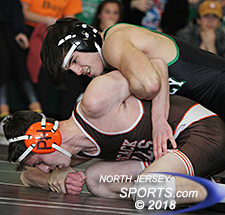 Stephen Soravilla (top) pinned in the final match of the night for Pascack Valley, which swept the final six bouts to claim at 42-25 victory over rival Pascack Hills on Friday night in Hillsdale.
HILLSDALE – Pascack Valley had gone from winning the first two matches of the night at home against rival Pascack Hills to dropping five in a row to fall behind by 14 home points in front of a hearty crowd on rivalry night in Hillsdale. It was not a comfortable spot to make a season debut or wrestle the first match of a career, but that was the situation that Pascack Valley freshman Drew Pettacia found himself in.
"To ask me if I thought we were going to be 9-1 is an unfair question because I did not even know what we had. I got the job so late that I did not know what to expect. When I took the job I didn't even know the kids' names," said Carcich, who was the athletic director at Passaic Valley last year. "I had to learn those first before I could worry about whether we would be 9-1 or not."
Carcich was a late addition and the lone holdovers from the team that won the program's first ever Passaic County Tournament title were Jake Belli and Pulast Thacker, the only two players on this year's roster that played any meaningful varsity minutes a year ago. It was a hasty arrangement, but the results speak for themselves and there is one word that has served as the basis for the relationship.
"The first day that I met him he put the word 'trust' on the board and from that moment on we have just trusted each other and we have built a great bond," said Belli, the crafty senior point guard. "From the basketball aspect, I love his 2-3 [zone] because it is so unique and it brings out the best in us."
The zone that Carcich teaches forces opponents to shoot it well from the outside to have a chance and Dwight-Englewood had trouble finding its range on Sunday. The Bulldogs were held to single digits in each of the first three quarters and never led in the game.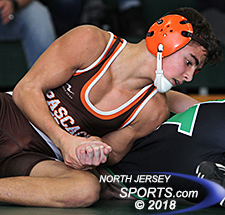 Max Martinez's majority decision at 120 pounds gave Pascack Hills its largest lead of the night at 25-11.
Pascack Valley, which was coming off a quality win against Clifton, won the coin toss and that played into its early advantage as it swept the opening three matches. Luke Pettacia's 3-0 win in a tightly contested bout at 170 got the night started. Alex Tsokanos posted a13-3 win at 182 and that was followed by perhaps the most anticipated matchup of the night at 195 where BCCA Holiday Tournament champion Tommy Chiellini topped Pascack Hills' Kevin McGee, the fifth place BCCA finisher, 16-3, at 182. That put PV up 11-0 in the team score before the Cowboys made their run.
Pascack Hills piled up 18 team points in the next three matches with Alex Kostantos pinning in the third period at 220 and Dom DiMassimo doing the same in the first period at 285. DiMassimo had the biggest turnaround of the night as he was one his back against Andrew Dembowski and nearly flat, before rolling through. It was a 12-point swing in the Cowboys' favor and it gave them an 18-11 lead that grew to 25-11 after Ben Bautista (9-2 at 113) and Max Martinez (16-5 at 120) victories.
It was not exactly where Pascack Valley, the defending North 1, Group 3 state sectional champion, wanted to be in terms of the scoreboard, but it was also not a time to panic. There were still six bouts left.
Bergen County champ Tommy Chiellini (top) won at 195 as Pascack Valley opened an early 11-0 lead.
"It was tight, but it was fun to be a part of this. We lost last week to Westwood, which is a big rival for us, and we kind of had a chance to avenge that loss against our other big rival. That is the way we looked at it and we were motivated," said Pascack Valley senior Matt Beyer, who did not technically get to take part as he was awarded a forfeit at 152 pounds. "Everybody on this team has the same goal and that is to win the state sections again. We all are wrestling like we want it and especially tonight. We got on a roll there at the end and everybody did their job. The guys who should not have gotten pinned did not get pinned, the guys who needed to get bonus points got bonus points and the ones who were supposed to pin their kids did, so it was perfect for us."
James Allmers won a physical bout at 145, an 8-4 decision, Beyer got his six points without breaking a sweat and Stephen Soravilla (160) picked up a second period pin to close out the match.
"When we lost to Westwood last week, and give Westwood all the credit because they wrestled their tails off. We did not wrestle well, they did and they flat-out beat us and I think it was a wakeup call for our group. We have high expectations. We won the section last year and these guys want to do it again," said Gallione. "We had been wrestling well going into Westwood, we did not that night and when we woke up Saturday we had a chance to turn our season around. We lost to Howell, but everybody loses to Howell and the way we competed was the way we should every time. I felt like if we competed like that every time that we would be OK. We did against Clifton and we won by 5, we did it here and it was a good win against a rival."
FOR MORE PHOTOS FROM THIS EVENT PLEASE CLICK HERE. TO BUY A COLLECTOR'S PRINT OF THIS STORY PLEASE VISIT 4-FeetGrafix.com.