Chris Gioia and the Rutherford receiving corps had a big night in a 39-13 win over Dumont in the North 2, Group 2 state sectional semifinals.
RUTHERFORD – Rutherford's Van Weber has solidified himself as one of North Jersey's top signal callers with a senior season for the ages. With a physical line in front of him and plenty of skill position weapons at his disposal, the 6-foot-3 right-handed gunslinger has been unstoppable all season long for the Bulldogs. Facing upstart Dumont in the North 1,, Group 2 semifinals, Weber showed just how dangerous he could be with time in the pocket.
Cole Goumas set the tone by running for a long touchdown on the Bulldogs' first play from scrimmage. Weber did the rest with a trio of impressive deep balls. All three went for touchdowns, two of them to Chris Gioia and another to Ryan Ward as top-seeded Rutherford cruised into the North 1, Group 2 final with a 39-13 win over No. 4 seed Dumont on Friday night at Tryon Field in Rutherford.
Rutherford has made a habit of setting a tone early in games. This game was no different as the Bulldog defense forced a three-and-out on Dumont's first possession of the game. Goumas then took a handoff on Rutherford's first offensive snap and ran through a gaping hole up the middle. That was all he needed as he split the two safeties and went 69 yards untouched to the house for a 7-0 lead just 2:35 into the game.
"Our O-line has done a great job all season so I wasn't really surprised that I had a hole like that to run through," said Goumas. "Whether it is running the ball or giving Van time to throw it all starts up front. At the end of the day, it's just a football game. We just have to go out and execute the gameplan."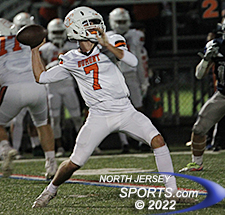 Anthony Piccinich helped lead Dumont to one of its best ever seasons which still has one game left to play against Tenafly on Thanksgiving.
Gioia stalled out a potential game-tying drive with a leaping interception then was rewarded on the other side of the ball. Weber showed why he is one of the state's top deep ball throwers with a perfect pass to Gioia up the right side. He used a pump-and-go to freeze the safety then dropped a perfect pass right over Gioia's shoulder, hitting him in stride for a 52-yard strike to quickly make it 14-0.
Dumont (7-3) has been one of the surprise stories in North Jersey this year coming from the Ivy Division last year to winning a state tournament game this season. The Huskies showed some fight late in the first quarter. They had their best series of the night late in the first quarter. On the latter of consecutive long pass plays, Anthony Piccinich hit Michael Gil on a crossing route with Gil going 24 yards for the score to trim the lead to 14-6.
Any hopes of a comeback were quickly dashed as Weber kept the hot hand going. On the Bulldogs' ensuing possession, he heaved a deep ball up the middle of the field. With single coverage on him, 6'4" junior Ryan Ward outleaped a defender to haul in the pass and wheeled to spin away from him on his way to a 71-yard TD.
"This biggest adjustment I made from last year to this year was with my eyes, being able to look off safeties and help give our receivers some more one-on-one coverage," said Weber. "I had to work at training my eyes and work on making better decisions. It worked out perfectly tonight and I felt pretty good right from the start of the game. As well as we played tonight, I still don't think we've played our best game. That is something we have to keep working towards for next week."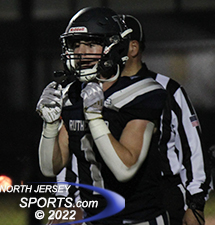 Cole Goumas and Rutherford will play Westwood in the section final.
After scoring a two-point conversion following Ward's TD, the Bulldogs created a pair of turnovers and scored twice late in the half to put the game away. Goumas scored his second rushing TD of the night, plunging in from two yards out, then sophomore Drew Carney took advantage of a fumble recovery by booting a career-long 40-yard field goal to all but lock up a section final berth by halftime with a 32-6 lead.
Rutherford (10-0) has been on a collision course with its North 1 Group 2 section final opponent, Westwood (10-0) all season. Neither team has seen much of a test throughout the season besides a reasonably close game for the Bulldogs in the NJIC championship game win over Wood-Ridge. After losing in the section final on their home field to Jefferson a year ago, the Bulldogs are thrilled about the opportunity to get another crack at the title.
"We have had an amazing season, but we have to get way better by next week if we want to be section champs," said Rutherford head coach Steve Dunn. "We haven't had a team really drive the ball down our throats yet this year. When we do let up scores, it's been mainly on chunk plays. That has to get cleaned up quickly. This team is having an awesome season, but we're on high alert that we have a lot of work to do this week. Group 2 is as loaded as I've ever seen it and we've got out work cut out for us, but we'll be ready."
FOR MORE PHOTOS FROM THIS EVENT PLEASE CLICK HERE. TO BUY A COLLECTOR'S PRINT OF THIS STORY PLEASE VISIT 4-FeetGrafix.com
---