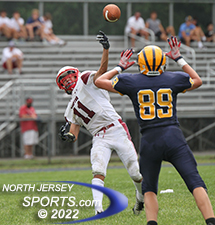 Angelo Fusaro threw a touchdown pass on a double reverse that stood up as the winning score in Pompton Lakes' 13-9 win over Saddle Brook in the season opener for both teams on Saturday.
SADDLE BROOK – In the first half, when his team struggled mightily to gain any traction on offense, Pompton Lakes head coach Scott Mahoney was muttering to his coaching staff over the headset and also to himself. His team needed to take chances if they were going to get in the end zone as both the Cardinals and their opponent, Saddle Brook, went into halftime scoreless. In that intermission, Mahoney called an audible.
The longtime head coach drew up a new trick play on the fly in case his team needed a spark. Down a point in the fourth quarter, Mahoney decided to make the call and trusted a pair of sophomores to execute it. Angelo Fusaro and Vinnie Stigliano were up to the task and connected when it counted most.
On a third-and-10 the Cardinals went for the trick play, a double reverse. Fusaro knew he was going to take a hit when he cocked his arm back to make the throw. It did not deter him as the southpaw threw a deep ball into traffic. Stigliano rose up between two defenders and did more than just come down with the ball. He stayed on his feet and shook off a defender to race to the end zone for the eventual game-winning, 38-yard touchdown as Pompton Lakes opened its 2022 season with a hard-fought 13-8 triumph over Saddle Brook on Saturday afternoon.
"We play hard football and we've played that way forever," said Mahoney. "(Saddle Brook) came right at us and they have some big, hard-nosed players. Our first scrimmage was what it was, then our scrimmage against Pequannock we played tougher, and then today we put forth a real solid effort."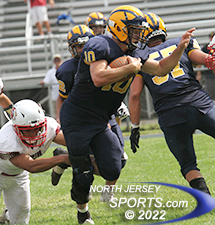 Greg Drelich scored the Saddle Brook TD and also ran in the two-point conversion..
Both teams had a bevy of young players in the lineup on offense. That showed in the first half as each team only crossed the 50-yard line once and neither got inside the other's 20-yard line as the game was scoreless heading into the locker room for halftime.
The Cardinals started to move the ball in the third quarter behind a balanced attack. Junior quarterback Joey Aungst hit fellow junior Justin Fazio on a key fourth-down conversion with a 10-yard completion to keep a drive alive. Several plays later, they connected again on a fade route with Fazio hauling in the pass while dragging his foot to stay inbounds on an 11-yard TD catch. Jesus Cruz kicked the PAT to give them a 7-0 lead with 4:27 remaining in the third quarter.
Saddle Brook with its old school rushing attack finally gained some momentum of its own on the ensuing drive. Quarterback Greg Drelich broke loose on a 40-yard run on the final play of the third quarter. He then followed it up by breaking a tackle in the hole on his way to a 13-yard TD run. The Falcons went back to him for the two-point conversion, and he delivered by stretching the ball out while being brought down for a successful conversion that gave Saddle Brook an 8-7 lead.
After giving up the lead, a young Pompton Lakes team could have been derailed after being forced to punt. That was not to be as Stigliano uncorked a 50-yard punt with no return to flip the field and the Cardinals quickly forced a three-and-out to get the ball back in Falcons territory.
"Pompton Lakes football is always about the defense setting up the offense," added Mahoney. "We got three fourth-down stops in the game, but that stop was the big one."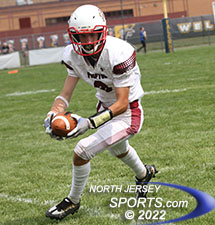 Justin Fazio scored the first TD for Pompton Lakes, which will play its home opener next week against rival Hawthorne.
The Cardinals were dealt a blow when Justin Bolt's TD run was negated by a holding penalty. Facing a third-and-ten from the Falcons' 38-yard line, Mahoney sent in the play and his squad got an instant jolt of energy. On the double reverse Fusaro received the pitch and looked downfield for Stigliano.
"That play was one that we wanted to run, and it was exciting to run a brand new play in a close game like that," said Fusaro. "I was looking for (Stigliano) the whole time. The defense played great today, and we wanted to step up and get a score for them."
He threw up a jump ball in his direction with Stigliano securing the catch then turning towards the sideline and racing to the end zone for a 13-8 lead.
"We had to find a way to score, when that pass came my way I knew I had to come down with it," said Stigliano. "I couldn't believe when I actually came down with it and I was still on my feet. Once I did I just had to go and was able to take it to the end zone. For a young team like us, this was a huge win."
Heading into their final drive, the Falcons had thrown only one pass in the game to that point. But they did surprise the Cardinals on a fourth-down when fullback Jaden Marrero dropped back and hit Alex Gomez all alone on a wheel route for a 36-yard gain down to the Pompton Lakes' 33-yard line with just over three minutes to play. However, on the very next play the snap went over Drelich's head for an 18-yard loss. The Falcons eventually turned the ball over on downs and the Cardinals ran out the clock to earn win No. 1 on the season.
Pompton Lakes (1-0) will try to stay unbeaten next week when they take on rival Hawthorne (0-1) in the Cardinals' home opener. Having graduated 18 seniors from last year's team and with just two seniors on the roster this season, there were expected to be some major growing pains. But with a win under their belt, Mahoney thinks this team can grow up quicker than expected into a contending football team.
"We have a ton of work to do, but to get a win like this is a step in the right direction," said Mahoney. "We're really young and we're learning. The positive sign is that each week we're getting tougher. We just have to keep working hard and keep getting better. That's all there is to it."
FOR MORE PHOTOS FROM THIS EVENT PLEASE CLICK HERE. TO BUY A COLLECTOR'S PRINT OF THIS STORY PLEASE VISIT 4-FeetGrafix.com
---