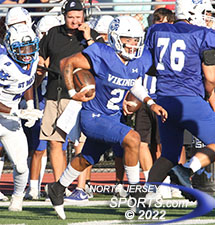 Devin Rivas accounted for four scroes, two passing and two on the ground, for North Arlington, which is 1-0 for the first time since 2015 aftera 42-12 win over St. Mary.
NORTH ARLINGTON – When Joe Borkowski took over as head coach at North Arlington before the 2021 season, he had his work cut out for him. Drawing interest in a Group 1 football program that has struggled mightily was an uphill battle to say the least. Even after a 3-6 season in his first campaign, Borkowski was filled with optimism. With the bulk of his starters returning and a strong work ethic from his players in the off-season, the Vikings came into the 2022 season determined to make strides towards an elusive state tournament berth.
The first step was a big thanks in large part to senior standouts Devin Rivas and Kyle Villani. Rivas, a dynamic dual-threat quarterback, threw for two touchdowns and ran for two more. Villani then put the game away with a pair of touchdowns, one offensive and one defensive, less than a minute apart in the fourth quarter as North Arlington notched its first season-opening win in seven years with a 42-12 triumph over St. Mary's of Rutherford on Thursday night at Rip Collins Field.
"We wanted to keep our foot on the pedal and keep moving," said Rivas. "We come ready to work every day and that showed with the chemistry tonight. If everybody did their job and we stuck together, we knew it would be a good outcome."
The Vikings set the tone on their first drive with a heavy dose of Rivas, who finished off the drive with a two-yard touchdown run. Ian Crudele scored on a jet sweep for the two-point conversion and an 8-0 lead.
St. Mary's needed just one play to whittle that lead down. Senior quarterback Damir Stone broke a tackle, made a cut, and was gone 80 yards to the house to make it 8-6.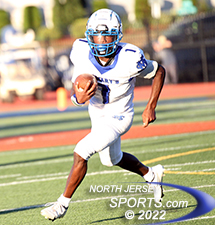 St. Mary quarterback Damir Stone ran for one score and threw for the other.
Rivas answered right back with a perfect back shoulder throw with Crudele making an over-the-shoulder catch along the right sideline for a 30-yard TD. Once again, the Gaels responded. On a fourth and 4 from the Vikings' 34, Stone broke a strong rush and rolled out to his right before lofting up a jump ball into the end zone. B.J. Cunningham outleaped a Viking defender and hauled in the pass for a touchdown that trimmed the lead to 15-12.
The Vikings were unfazed with Rivas and Co. running behind an offensive line that was getting a push off the ball all night. The Gaels were able to force a fourth-and-goal from the 3. Rivas was effective on a counter all night and was so again on a TD run to give the Vikings some cushion going into halftime with a 22-12 lead.
"I was very, very, very impressed with my O-line today," added Rivas. "We worked very hard on the QB counter action and it worked well today."
St. Mary's (0-1) was still in the game with two quality chances in Viking territory to make it a one-score game. However, a fumble derailed one possession and an Isaiah Alvarado sack for North Arlington ended another. That is when Rivas showed why he is one of the more dangerous small-school players in Bergen County.
Less than a minute into the fourth quarter, he dropped back then stepped up into the pocket to deliver a picture-perfect strike 40 yards down the field. Villani barely had a full step on one of the Gaels' cornerbacks, but it was the separation he needed. Rivas dropped the ball right into his hands in stride for a 58-yard score. Villani, who already had an interception earlier in the game, made another pick on a deep ball. This time he was able to stay on his feet and follow his blockers all the way up the right sideline and into the end zone to make it 35-12.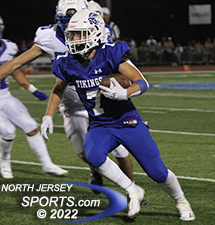 Sean McGeehan capped the scoring with a 25-yard TD scamper for North Arlington
"It was a perfect call and a perfect ball by my quarterback," said Villani. "He knows how to read the defense perfectly. On the pick, I saw the ball in the air and I knew it was an opportunity to get a pick and put more points on the board for us."
Sean McGeehan capped the scoring with a 25-yard TD scamper for North Arlington (1-0). The Vikings will try to make it two in a row next week when they play at home against Saddle Brook. With only four state playoff appearances in school history, this team has tunnel vision towards reaching a goal that seemed unattainable just a year ago.
"Making the states has been a goal of ours since last season ended," said Borkowski. "We've only made it four times in the history of our program and this team is really hungry to be number five. Feels good to get our first season-opening win since 2015. There was a great crowd here tonight and we did some good things. Still a lot of stuff we have to clean up, but we'll get right back to work and get ready for Saddle Brook next week." 
FOR MORE PHOTOS FROM THIS EVENT PLEASE CLICK HERE. TO BUY A COLLECTOR'S PRINT OF THIS STORY PLEASE VISIT 4-FeetGrafix.com
---