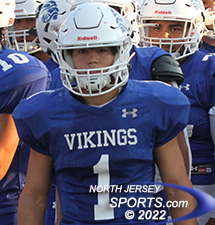 Undersized but not overmatched, Dante SanGiacomo has heloed lead North Arlington to its first 2-0 start since 2014 after a 33-16 win over Saddle Brook.
NORTH ARLINGTON – One look at Dante SanGiacomo screams Group 1 football player. The North Arlington captain would be considered, by most standards, to be an obviously undersized linebacker at 5-foot-4 and weighing in the ballpark of 140 pounds.
However, "most standards" cannot measure the size of player's heart and their desire to be successful. Leading Saddle Brook by just four points late in the third quarter, the Vikings needed to get a stop to regain control of the game. With his team looking for guidance, SanGiacomo was happy to provide it and took it upon himself to turn the game back in North Arlington's favor.
He made four consecutive tackles to thwart a Saddle Brook drive and finished with 10 tackles in the second half alone as North Arlington took the Falcons' best punch before delivering the knockout blow to earn a 33-16 victory on Friday night at Rip Collins Field.
"It doesn't matter that I'm 5'4" and 140 pounds, I have to provide for my team, and I have a job to do," said SanGiacomo, who had a team-high 113 tackles last year. "Everyone rallied to the ball after they scored that touchdown to start the second half. Our defense knew we had to step up. It doesn't matter about my size. I go into every game feeling I'm the hardest hitter out here. I'm there to be a leader to make plays."
North Arlington took the opening kickoff and quickly marched down the field in just over two minutes. Before the season Sean McGeehan was in a battle for the starting running back job. He seized control during the pre-season and that decision has paid off thus far. He bulled his way in from four yards out to open the scoring. On the Vikings' next drive quarterback Devin Rivas hit Ian Crudele for a five-yard scoring strike to make it 12-0.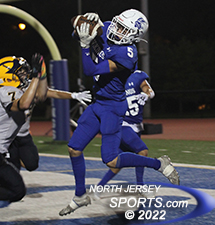 Ian Crudel hauling in the TD pass that put North Arlington up 12-0.
Saddle Brook (0-2) got on the scoreboard when Alex Gomez scored from four yards out with Jaden Marrero diving in for the two-point conversion to trim the deficit to 12-8.
With time winding down in the first half, Rivas engineered a late scoring drive. With pressure coming from the outside, Rivas stepped up in the pocket then took off for the end zone. He went 17 yards untouched to score with just 11 seconds left in the first half. Rivas followed that up by hitting Rob Carselda, who made a fantastic catch for the two-point conversion that put the Vikings up 20-8 at the half.
After missing the first half, Greg Drelich stepped into the Falcons' backfield to start the second half and made an immediate impact. He busted off a 50-yard run, then scored on the next play with Marrero once again plunging in for the two-point conversion to slice the lead to 20-16. A fumble on the Vikings' next offensive play gave the Falcons the ball back with good field position and a chance to take the lead.
For a team filled with offensive standouts it was the defensive who needed to step up and take over the game. SanGiacomo did that and more over the next two drives. He not only came up with four straight tackles to snuff out a potential go-ahead drive, but all four were on huge hits that whipped his sideline and the crowd into a frenzy. The latter of those forced a fumble and set the Vikings up to make it a two-score game.
"We have a lot of great guys who can carry us and I like being one of those guys," said McGeehan. "I wanted the ball in a pressure situation like that. Once I had in my hands, I knew I had to take care of it. The culture is definitely changing around here. The coaching really believes in us and we believe in them. It makes us work harder and stick together even when times get tough."
Faced with a fourth-and-5, the Vikings elected to go for it. Rivas rolled to his left and hit McGeehan for a completion to keep the drive alive. It would stay alive for one more play as McGeehan busted through the middle created by huge blocks from Thomas Luque and Isaiah Alvarado for a 25-yard TD.
SanGiacomo kept the hot hand going on defense by recording three more tackles to stall out the Falcons' next possession. Rivas put the game away on the next play, hitting Crudele on a post-corner route for a 24-yard TD.
North Arlington is now 2-0 for the first time since 2014 and just the third time in the past 20 years. The Vikings will face their toughest test of the season next week when they go on the road for the first time this season to face Hasbrouck Heights (1-1). It will be one of the biggest games in the history of the Vikings' football program. A win there will give them an opportunity to grab an elusive NJIC-Meadowlands Division crown. It is an opportunity that is not lost on a team and a program that has been counted out for some time.
"I'm happy to go into the Heights game 2-0, but we still have a lot of work to do," said SanGiacomo. "Our job is not done. We'll relax and enjoy this one tonight. Tomorrow it's right back to work. We'll work hard all week and hopefully we'll come out of the Heights game with that 'W'."
FOR MORE PHOTOS FROM THIS EVENT PLEASE CLICK HERE. TO BUY A COLLECTOR'S PRINT OF THIS STORY PLEASE VISIT 4-FeetGrafix.com
---