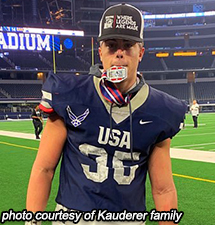 NV/Demarest senior Miles Kauderer capped his high school football career at The International Bowl in Texas last week.
ENGLEWOOD CLIFFS -- It's a circuitous route to Division 1 football that senior Miles Kauderer has taken. Englewood Cliffs to Bergen Catholic to Northern Valley/Demarest to AT&T Stadium, the home digs of the Dallas Cowboys. Miles Kauderer travelled that road and played no small part in Team USA's 29-15 victory over Canada in the International Bowl, which was broadcast live on ESPN3 from Arlington, TX last Wednesday.
Kauderer was part of USA Football's U-18 National Team squad, a 50-member strong group comprised of players from 45 different states. The roster included one other player from New Jersey, Toms River's CJ Niedzielski, and a host of players heading to big time college football programs like Seven McGee, University of Oregon commit out of Rochester, New York, who rolled up 198 all-purpose yards and was named the game's MVP.
"The most important thing is that I am honored to have a chance to play for my country. To have another high school game before moving on to college, that is great, too," said Kauderer, a couple of days before he left to take part in the 12th edition of the International Bowl. "To play an NFL stadium, that is a dream-come-true, too. It was our dream at Demarest. We wanted to get to MetLife [Stadium in the New Jersey High School playoffs] as a team, but that did not work out. Now to get to play where the Cowboys play in one of the best football stadiums in the world is pretty sick."
Kauderer has been on a football journey that started in the Englewood rec leagues. An Englewood Cliffs resident, Kauderer then chose Bergen Catholic as his first high school destination where he played on the freshman team. Next came the decision to switch to Northern Valley/Demarest as a tuition-paying student at the open enrollment school.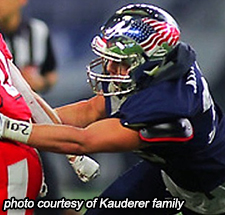 Miles Kauderer led Team USA with 9 tackles and also had a TFL in the International Bowl.
He was a contributor as a sophomore on the senior-laden Demarest team that lost a heartbreaker to River Dell in the North 1, Group 3 state sectional semifinals and then a starter in each of the last two seasons as the Norsemen qualified for the state tournament in 2018 and 2019.
"I started at Bergen Catholic and I don't think I felt like I ever really belonged. Being from Englewood Cliffs, we don't really have our own high school here. I had a couple of close friends who were going to Demarest and decided to go with them. The decision was not all about football," said Kauderer. "When I got to Demarest it was like a brotherhood there right from the beginning. It felt like home."
It turned out to be a perfect fit for Kauderer, who parlayed his high school accomplishments in a Division 1 collegiate future. He has committed to FCS Marist University and will sign his Letter of Intent on the February signing date.
Kauderer drew some extra attention from various other FBS and FCS colleges after his performance in the International Bowl, where he was Team USA's leading tackler with 9 and had a Tackle For Loss, but his commitment to Marist is rock solid. The Red Foxes have been on him since the beginning and he is determined to see it through.
"It is not only that [Marist] is a Division 1 school that I will have a chance to play at, it's an opportunity that they are giving me to do so many other things. We went up last week to just walk around campus by ourselves, me and my dad, and the school is just a perfect fit for me and what I want to do," said Kauderer. "I want to study marketing and sports management and they have strong programs. Football wise, I feel like it is somewhere that I can come in and grow as a player and then take over a spot and make my own path."
No matter how far his football journey takes him, it has already included one cool pit stop at the International Bowl in 'The House That Jerry Jones Built.'
TO BUY A COLLECTOR'S PRINT OF THIS STORY PLEASE VISIT 4-FeetGrafix.com.