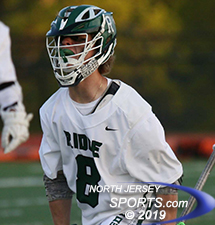 Chris Crapanzano scored a fourth-quarter goal then won a crucial draw for Ridge which handed Ridgewood its second loss of the year, 5-4, on Saturday night.
BASKING RIDGE – With the talent, depth and experience that the Ridgewood boys' lacrosse possesses it is not often when the team looks across the field and virtually a mirror image of itself. Such was case the case on Saturday night when the Maroons traveled to face undefeated Ridge. In a game where neither team gave an inch defensively, it came down to which could execute the little things better and take advantage of rare miscues.
Ridge middie Chris Crapanzano scored a fourth-quarter goal then won a crucial draw that allowed the Red Devils to keep their unblemished record intact and hand Ridgewood its second loss of the year, 5-4, in front of a raucous crowd at Ridge High School in Basking Ridge.
"We knew what type of battle we'd get from a team like Ridgewood and it feels great to get a win against them," said Crapanzano.
The game started slow with both teams feeling one another out. Neither team had a shot on goal for the first seven minutes before Jake Hoffman put the first goal on the board. Gavin Peene nearly tied it last in the first period but his shot was saved by Ridge goalie Connor Hackett. He alertly scooped it up and hit Jack Perry streaking up the middle of the field for an odd-man rush. Perry then fed Sean Eversen for the goal to give the Red Devils a 2-0 lead after one period.
Ridgewood got more aggressive in the second quarter and got on scoreboard with a goal by Jack Kraemer to cut the lead to 2-1 at halftime.
Ryan LaForty made 7 saves for Ridgewood, which was named the No. 1 seed in the Bergen County Tournament on Saturday.
On the first possession of the second half Hoffman struck for his second goal of the game to give Ridge a two-goal lead. From that point on the Maroons controlled the tempo during the third period. Will Mollihan backed a defender down then scored from a tough angle. Then with 1:21 to go in the period he once again backed a defender but a double team came. Mollihan saw it coming and hit a cutting Eugene Choo for the tying goal. The Maroons then forced a turnover and had a chance for the last shot of the period, but they immediately turned the ball back over and it proved costly. Michael Zima took a pass from Eversen and scored with 22 seconds left to give Ridge a 4-3 lead heading into the fourth period.
Ridge got a much-needed insurance goal when Crapanzano ripped a low laser through traffic and into the lower right-hand corner to make it 5-3. Choo answered for Ridgewood with the ensuing draw control being of the utmost importance with the final minutes of regulation winding down. The ball was loose when Crapanzano rolled between two Ridgewood players and somehow came up with the ball with the Red Devils running some clock.
The Maroons had one last chance when they gained possession with 1:20 to play. Mollihan had a shot in the slot that went just wide. With 25 seconds left, Ridge's Wes Hudkins forced a turnover that iced the game and sent the Red Devils into celebration mode.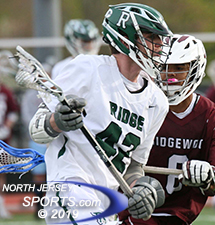 Michael Zima's goal gave Ridge a 4-3 lead heading into the fourth period.
"You have to give all the credit to our defense, they stood on their heads today and came up with a lot of big stops," added Crapanzano. "We tried to take advantage of all of our possessions because we couldn't afford to give any away against Ridgewood. It's an amazing feeling and we want to keep this going."
Hackett finished with a career-high 13 saves for Ridge (9-0).
Ryan LaForty stopped seven shots for Ridgewood (7-2). The Maroons have arguably the state's toughest schedule. That continues this week with tilts against defending Group 3 state champ Northern Highlands on Tuesday and Bergen Catholic (7-1) on Thursday.
"This is definitely a tough loss but we have to regroup quickly with a couple of tough games ahead of us," said Ridgewood head coach Mike Pounds. "I'm proud of our effort today but we just didn't finish the scoring chances we had. When you play good teams you have to score on those opportunities. We're not happy by any means and we have to execute better or we'll be in another tight game."
FOR MORE PHOTOS FROM THIS EVENT PLEASE CLICK HERE. TO BUY A COLLECTOR'S PRINT OF THIS STORY PLEASE VISIT 4-FeetGrafix.com.