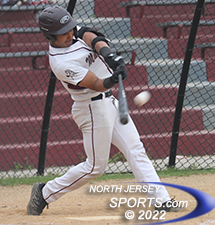 Juan Peralta's lead off home run gave Clifton all the offense it needed in a 10-0 win over Passaic on Monday.
CLIFTON – A pitcher who throws a gem? Check. Scoring in every inning? Check. Playing error-free ball in the field? Check. Handing the opposing team their first loss in league play? Check. Clifton marked off all these boxes and it added up to an important win, yet when the final run crossed the plate to put the mercy rule into effect the celebration was tempered a bit. With the expectations raising the each passing win the Mustangs now do not just expect to win, they expect championship-caliber play every time out.
Juan Peralta's leadoff homer was all the offense needed as southpaw Kyle Rogers was dealing all game long. The junior K'd 11 batters in a four-hit shutout as Clifton overcame numerous baserunning miscues to move into a tie atop the Big North-Liberty Division with a 10-0, six-inning victory over Passaic on Monday afternoon at Nash Park in Clifton.
Passaic (5-3) had a chance to score came in the top of the first inning. With a pair of runners in scoring position, Rogers never wavered in his approach. He took advantage of the large strike zone and punched out back-to-back hitters to end the threat.
Peralta then stepped to the plate for the Mustangs in the bottom half of the frame and put them in front with one swing of the bat. He sat on a 2-2 curveball on the outer half of the plate and hit a solo shot over the fence in right-center field to make it 1-0.
"I saw their pitcher was throwing me a lot of off-speed stuff so I figured he was going to throw me another curve with two strikes and I was ready for it," said Peralta.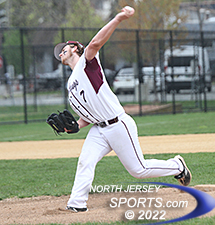 Clifton's Kyle Rogers threw a four-hit shutout with 11 strikeouts.
Clifton added another run in that inning before adding two more runs in the next two innings on RBI singles by Carlos Nunes and Connor Reed. Amidst all of that, the Mustangs ran into two unnecessary outs on the bases and also pulled back a bunt on a safety squeeze forcing Reed to be easily tagged out at the plate. Even though the Mustangs held a 4-0 lead after three innings, there was only silence in the dugout.
"We need to be better than that," said Clifton head coach. "We can't make the mental mistakes we made today if we really want to make runs at county and section titles. All season we've been getting great pitching and we've hit the ball pretty well. But we're still leaving runners on base and we ran ourselves into way too many outs today. We need to have more timely hits and clean up the mental errors. We've been talking all season about what we need to do to be a championship team. Now it's time for us to step up and cut down on some of the mistakes we made today."
That could have come back to bite them as the Indians once again put runners at 2nd and 3rd before Rogers induced a fly ball to get out of the jam. He helped in own cause in the bottom half of the fourth with a two-run single that helped break the game open and move the Mustangs into a three-way tie atop the Big North-Liberty with Passaic and Passaic County Tech, who they split two meetings with last week.
"The most important thing to me as a pitcher is winning that 0-0 pitch and the 1-1 pitch," said Rogers. "When you win those battles then you can throw whatever you want and they don't expect what's coming."
All nine players in the batting order for Clifton (9-2) had a hit and seven of the nine scored at least one run. Rogers picked up his fourth win as many starts with a four-hit effort, two walks, and tied a career-high with 11 strikeouts. Battery mate Angel Urdaneta had a pair of RBI singles, including one to end the game.
The two teams will meet again on Wednesday with the Mustangs hoping for the same end result but a cleaner path to get there.
"We have to do the small stuff better than we did today," added Rogers. "That's the kind of thing that shows up if you want to go deep into the season and make runs in county and state tournaments. We'll learn a lesson from this game and we'll clean things up."
FOR MORE PHOTOS FROM THIS EVENT PLEASE CLICK HERE. TO BUY A COLLECTOR'S PRINT OF THIS STORY PLEASE VISIT 4-FeetGrafix.com
---