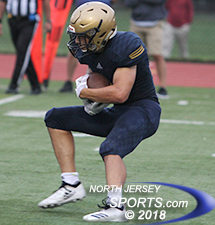 Niko Orecchio scored the first and last of Old Tappan's four touchdowns, both on three-yard runs, as Old Tappan improved to 2-0 with a 27-13 win over Ridgewood.
OLD TAPPAN – A couple more rotations of the ball and Ridgewood would really have been in good shape. The Maroons, who were playing their season opener, were on the road at Northern Valley/Old Tappan, a team that got its first game jitters out last week and a program riding a 13-game winning streak, were hanging in there. Down just one score, Ridgewood was chasing a rolling punt that was destined to pin the Golden Knights to the goal line.
Having let the punt bounce was a mistake, but Johnny Lohrer made up for it by grabbing the second hop, getting what he could out of the return and keeping his team from having to worry about its own goal act as an extra defender on a drive that had the potential to finally put away a worthy opponent. What Lohrer started on his own 17-yard line, Niko Orecchio finished 3:50 later from the Ridgewood 6.
Orecchio snuck through the left side of the line, Daniel Hwang added the extra point with 1:36 left and Old Tappan tallied all 14 points that were scored in the fourth quarter of a 27-13 win, their 14th straight dating back to last year's undefeated run to the North 1, Group 4 state sectional title.
"We did not have the advantage of field position on that last drive, so we just knew that we had to fight for every yard. We had to go the length of the field to close out the game and that is what we did," said Lohrer, a senior two-way starter. "This was a tough matchup against a good team and we had to fight through. We got a test that we needed, we got the win and now it is on to the next one."
The next one is a big one on the road at Wayne Hills and Old Tappan will make the trip with its winning streak intact.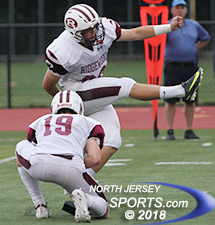 Ridgewood's James Hogan kicked field goals of 29 and 31 yards.
"We were able to take over the line of scrimmage a little bit there in the fourth quarter," said Old Tappan head coach Brian Dunn. "The way we have been playing in the preseason and last week we have been able to score a couple of quick ones. We weren't getting that on [Ridgewood]. They made us work really hard the whole time. They were fundamentally sound, tough and they didn't give us a lot of openings."
There was no scoring either way through the first quarter and most of the second. The deadlock was not broken until Old Tappan sophomore JC Baratta broke through on special team. A bad snap forced the Ridgewood punter to vary his steps, which left enough time for Baratta to barrel through and block the kick to set the Knights up in plus territory and Orecchio scored the first of his two touchdowns with a three-yard plunge. Hwang's extra point made it 7-0 with 2:16 left in the second quarter before Ridgewood drew to within 7-3 on James Hogan's 29-yard field goal with 18 seconds left in the half.
Hogan struck again with a 31-yard field goal for the first points of the third quarter as Ridgewood crept to within 7-6 before Old Tappan finally hit a couple of big plays in the passing game. Senior quarterback Drew Dippolito laid one up the right side line that junior John Caracciolo outraced a defender for and then, on the very next play, Dippolito hit Lohrer in stride down the seam for a 36-yard TD. Ridgewood blocked the extra point to stay within 13-6 with 6:02 to go in the third quarter before drawing even less than three minutes later.
"I got off the line and I got an outside release. I saw Drew release the ball and I thought it was going to be a little too far in front of me," said Caracciolo, a junior, said of his catch that set up OT's second score. "I just lowered my head, kept running and eventually got under it. I don't remember much else, but I came down with the ball."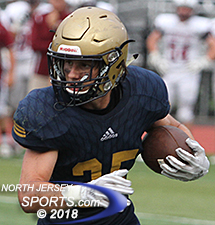 Johnny Lohrer caught a TD pass and ran for another score for Old Tappan, which will visit Wayne Hills on Friday night.
Ridgewood's Wing-T offense is not designed for the big play, but the Maroons' constant misdirection and ground-focused attack can trick the secondary to peek into the backfield and when that happened with 3:27 left, quarterback William Mollihan threw a strike up the right side line that Tommy Borque hauled in for a 46-yard score that tied the game at 13.
"We were up against a good team and we were 13-13 going into the fourth quarter, but we couldn't finish," said Ridgewood head coach Chuck Johnson. "[Offensively] how many second-and-15s did we create ourselves? Too many long yardage situations and, as you know, we are not a big make-up-long-yardage offense. We have to stay on schedule and we did not stay on schedule."
Old Tappan's offense was not at its sharpest either as the Knights had two passes intercepted in the game after not being picked off even once all of last season. But when crunch time set in, Old Tappan, which has just two returning starters on the offensive line (senior Jackson Downey and junior Pat Passalacqua) started punching holes in the Maroons' front seven. Without Chris D'Amico, the bruising between-the-tackles senior running back who was injured in last week's win against Northern Highlands, the Knights moved the ball on the ground with Lohrer and Orecchio picking up the slack.
It was from the 'Wildcat' formation with Lohrer taking the direct snap that Old Tappan (2-0) went in front for good with a six-yard touchdown run with 11:49 to play in the game. The Knights sealed it with the signature 83-yard drive that ended with Orecchio's second three-yard score of the game with 1:36 to go and Caracciolo put the cherry on tap by intercepting a pass on the final play.
"We were looking for that one play to get the momentum going and that catch that Johnny [Caracciolo] made really got us going. It was next play from there, we scored on the next one and we finally got our rhythm," said Dippolito. "Now we can focus on Wayne Hills. It's a big game, it is a rivalry game and we are going to get work preparing."
Ridgewood (0-1) will try to even its record on Friday night at home against Irvington.
FOR MORE PHOTOS FROM THIS EVENT PLEASE CLICK HERE. TO BUY A COLLECTOR'S PRINT OF THIS STORY PLEASE VISIT 4-FeetGrafix.com.