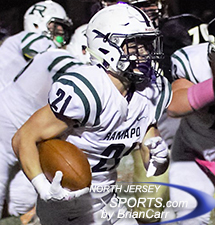 Shane Brancaleone's touchdown with 7:59 left in the game all but wrapped up Ramapo's sixth straight win, a 23-20 win at previously unbeaten River Dell.
ORADELL -- In a game matching two of North Jersey's premier public school programs with two of the best dual threat quarterbacks in the area, it was Ramapo running back Shane Brancaleone who came through with what turned into the game-winning score with 7:59 left in the fourth quarter. The Green Raiders hung on from there to run their winning streak to six straight while handing River Dell its first loss of the season, 23-20, on Friday night in Oradell.
"We feel we have a bunch of player makers. We just want to get the ball to everyone, so we can all make plays," said Brancaleone. "[On the touchdown], my offensive linemen gave me a great hole, I just dove into the end zone."
While it was Brancaleone that finished off the victory, the two quarterbacks, Ramapo's A.J. Wingfield and River Dell's David Estevez, were also as good as advertised. Wingfield had key runs on the team's game ending drive to seal the win, including a 16-yard dash on a third-and-7 in River Dell territory. That first down came with less than two minutes left and set up the Raiders to run out the clock.
Wingfield also had a two yard touchdown run at 6:56 in the second quarter to make it 13-7 and the Raiders never trailed after that.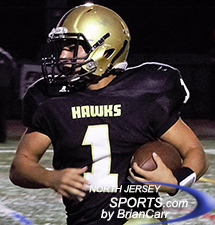 River Dell QB David Estevez ran for two scores and threw for another.
"AJ played great, the offensive line gave him time, the receivers got open," said Brancaleone.
The other Wingfield brother on the field was Matt, who made a big defensive play when he knocked down an Estevez pass on 4th & 1 from the Raiders 35 with 2:35 left in first half.
"Matt's play was huge for us," said Brancaleone. "It gave us so much momentum. It gave us the opportunity to go up two possessions."
The Raiders turned that stop into an Alex Deleo 24-yard field goal on the next to last play of the half, giving the Raiders a 16-7 lead at the intermission.
River Dell took the second half kickoff and drove to the Ramapo 10, but was stopped on fourth-and-6 and the drive stalled well within field goal range.
The Hawks quickly got the ball back as they stopped the Raiders on three plays, their only three offensive plays in the third quarter. This time the Hawks cashed in with Estevez connecting with Holden Broderson for a 27-yard touchdown pass, converting a third-and-7 and getting the Hawks to within three at 16-13 early in the final quarter. The Raiders answered with Brancaleone's TD to go back up 23-13.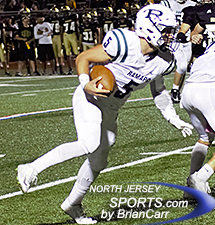 AJ Wingfield's second quarter TD run gave Ramapo the lead for good.
Estevez was in on all three of his team's scores with two rushing touchdowns – a one-yard run in second quarter to tie the score at 7-all, and a three-yard run late in fourth to make score 23-20 --  in addition to his touchdown pass.
"David Estevez is a special player," said Ramapo head coach Drew Gibbs, "I think AJ (Wingfield) proved he was a special player as well in North Jersey. He can run the ball, he can throw the ball."
The Raiders got the momentum early in first quarter and took control of the game when running back Luke Ragone scored on a six-yard touchdown run at the five minute mark of the opening quarter. The key play on that drive was 61-yard run by Brancaleone, who had seven carries for 99 yards in the first half.
With the win Ramapo takes over first place in power points in the North 1, Group 3 playoff bracket with River Dell, the reigning section champ, dropping to second .
"If feels great to beat River Dell because they knocked us out of the playoffs last year," said Brancaleone, "If we meet them in the playoffs it will be a great game just like this one."
Next week:
RiverDell has Northern Highlands at home on Friday, October 27 and Ramapo travels to Caven Point to play Hudson Catholic on Saturday, October 28.
TO BUY A COLLECTOR'S PRINT OF THIS STORY PLEASE VISIT 4-FeetGrafix.com. FOR MORE PHOTOS FROM THIS GAME CLICK HERE!