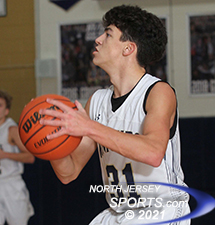 Junior Frank Dercole had a hand in all 10 points in a decisive 10-0 run that gave Old Tappan some separation in a 56-49 victory over Westwood on Saturday afternoon.
OLD TAPPAN -- There is nothing "regular" about the 2021 high school basketball regular season, but for a few hours there on Saturday afternoon, Northern Valley/Old Tappan's boys hoops team got a reprieve from the adversity. Having endured two different two-week shutdowns, the Golden Knights had played just four times all season and had practiced just four times in 31 days.
For those reasons and more, a 58-49 win over Westwood was welcomed return to action and a fitting way to celebrate Senior Day amid season interruptus.
"It felt good just to be back in the gym. We had only played three games and it has been so tough on these kids, so it was just good to have all of the kids playing," said Old Tappan head coach Craig Ferrara. "It's been a rough stretch, but the kids have tried hard to keep their spirits up. They are watching film, we met on zoom every day and they were staying prepped. It paid off today because I thought we played pretty well considering the limited practice."
Senior Alex Passante scored on Old Tappan's first possession of the game to help the Knights settle back in and it was a back-and-fourth first quarter and Westwood scored all of its points from the behind the three-point line to take a 9-8 lead before buckets by Passante and Jack Jaeger gave the home team a 12-9 lead after the opening period.
Old Tappan lead by as many as seven in the second quarter, and had a 30-26 lead at halftime, but Westwood surged by early in the third quarter. Tyler Jackson scored on consecutive trips and Jack Santulli made a free throw as the Cardinals opened the second half with a 6-1 spurt to take a 32-31 lead, but Old Tappan junior Frankie Dercole turned the momentum back in his team's favor for good.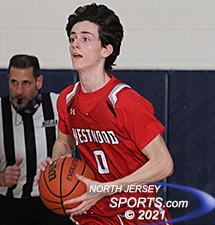 Westwood's Jack Santulli made four 3-pointers and finished with a game-high 20 points.
Dercole had a hand in all 10 points in a 10-0 run that took Old Tappan from one point in arrears to a 41-32 lead with 3:07 left in the third quarter and the Knights never gave back the lead. Dercole putback a missed shot, scored on the fastbreak, assisted on two consecutive Passante baskets and then made a pair of free throws all in the span of 2:43 to give his team some breathing room.
"When Frankie gets hot you just have to feed him the ball because he knows what to do with it," said Ferrara. "He knows when to go to the rim, he knows when to pull up for a 3 and he knows when to set up his teammates. He is a good player and he really got us going with his good decisions in the third quarter."
Westwood did sneak to within two points late in the stanza. The Cardinals ran off seven straight points with Edwin Fakik tipping in a missed shot, Robbie Carcich nailing a 3-pointer and Calvin Park making two free throws to make it 41-39, but Tom Kelly drained a 3-pointer to push Old Tappan's lead back up to five points heading into the final period and senior Jack Jaeger made consecutive 3s from just about the identical spot on the wing to open the fourth.
Jack Santulli made the first of his two fourth quarter triples to snap the Westwood skid, but Dercole answered with one of its own to make it 53-42 with 4:19 left and the Cardinals never get closer than a two-possession game the rest of the way.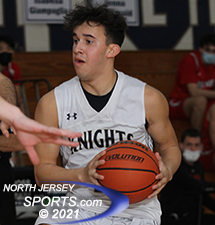 Old Tappan senior Jack Jaeger scored 8 o fhis 13 points in the fourth quarter.
"Our guys always give good effort, but I thought Old Tappan out-toughed us, quite honestly and they deserved to win," said Westwood head coach John Michael Santulli. "They were playing only their fifth game of the year, it was their Senior Night, it obviously meant a lot to them and they played better than us. Our guys played hard, but Old Tappan certainly deserved to win today."
Westwood (6-7), which is on course to play its full allotment of 15 games in this start-and-stop season, was led by Jack Santulli, the senior point guard, who finished with a game-high 20 points which included four 3-pointers and perfect 6 of 6 from the free throw line. Jackson added 10 points, Matt DeMarco scored all 8 of his points in the first half and Park (4 points), Carcich and Fakik rounded out the scoring for the Cardinals.
Old Tappan showed surprisingly little rust and plenty of unselfishness. Dercole (14 points), Jaeger (13 points), Kelly (13 points) and Passante (12 points) all finished in double figures, point guard Jon Mangano (4 points) ran show efficiently, Drew Maier made a bucket off the bench and Dylan Heaney and Alex Butti each contributed on the defensive end.
"The other day Coach [Ferrara] pointed out that we have had five practices in 33 days and we knew Westwood was a good team, so it is a tribute to coach that he was still able to find a way to get us prepared to play. He got us ready and we executed out here today," said Passante. "With everything else going on it was so nice to just go out and compete. We went out there trying to win and that is the only thing we were thinking about for a change."
FOR MORE PHOTOS FROM THIS EVENT PLEASE CLICK HERE. TO BUY A COLLECTOR'S PRINT OF THIS STORY PLEASE VISIT 4-FeetGrafix.com.