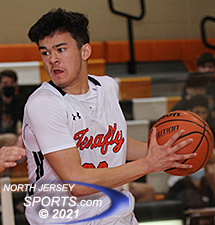 Senior Eddie Ward scored 10 points for Tenafly, which has now won three straight and four of four of its last five games after a 51-39 win over Caldwell on Saturday.
TENAFLY – Its season did not start on time and when it did it was not with a full strength team. It was understandable while Tenafly stumbled out of the gate, but the Tigers embraced the uncertainty rather than succumbing to it.
We did not have our full team for the first two weeks. Eddie Ward, one of our key seniors, missed the first three weeks and that was a big whole to fill because he is so fast and we were also without the [Betzalel-Chanich] brothers [Ido and Amit], too," said Tenafly head coach Jeff Koehler. "I am so proud of the way we navigated through the beginning of the season, we are healthy now and we are doing all right."
Defining "doing all right": With a near wire-to-wire 51-39 victory over Caldwell on Senior Day on Saturday afternoon, Tenafly has now won four of its last five games and climbed over .500 for the first time this season at 4-3.
"We have been playing well together as of late. We are sharing the ball more, we are communicating on defense and we are best friends off the court, too, and I think that really contributes to winning basketball," said John Celli, Tenafly's junior forward who finished with a game-high 20. "I think you need good chemistry on an off the court to pull out victories like this. We trust each other."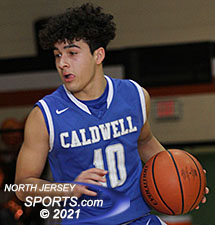 Cristian Talavera made three of Caldwell's four 3-pointers and finished with a team-high 15 points.
Celli and Ward (10 points) were the only two Tigers to finish in double figures, but everyone that stepped on the floor in the home white jersey contributed in some form or fashion. Ido Betzalel-Chanich stepped up at a pivotal point in the second quarter.
Tenafly scored the first five points of the game and then got a 3-pointer from Celli to close the first quarter with an 11-8 lead. Caldwell led only twice in the game and for a total of just 24 seconds. Brendan O'Donnell's driving layup with 6:14 left in the second quarter gave the Chiefs a 12-11 lead that was erased at the other end by a Celli slash to the basket.
Caldwell tried to turn the tide again with two Ryan Lawrence free throws that made it 14-13 before Betzalel-Chanich stepped up. The senior left-hander rose up at the top of the key and knocked down a 3-pointer. Betzalel-Chanich scored all five of his points in a 43-second span to take Tenafly from a one-point deficit to an 18-14 advantage with 4:50 left in the first half. The Tigers led the rest of the way.
"I have been working very hard and I have confidence in my shot. We were going back-and-forth with some so I really wanted to give us some momentum," said Betzalel-Chanich, one of four seniors on the Tenafly roster along with Ward, Johnny Coppolino and Tristan Pitt. "After that little run I feel like we got rolling and we have been rolling as a team. We have won three in a row now and we want to continue to go in the right direction."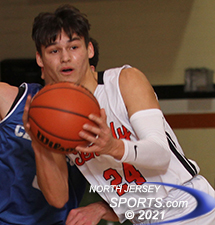 Johnny Coppolino, one of four seniors honored on Senior Day, finshed with 7 points for Tenafly.
Tenafly led 21-17 at halftime, but did not really start to pull away until late in the third quarter. Caldwell's Cristian Talavera scored five straight points, the last three on a 3-pointer with 3:44 left in the period, to draw the Chiefs to within 25-24. Celli answered with a 3 from the wing and junior Bobby Kwon then scored on the fastbreak with 36 seconds left in quarter, the first transition bucket for either team in the game, to give Tenafly a 31-24 leading heading into the fourth.
Celli nailed a 3-pointer 1:03 into the final quarter to give Tenafly its first double digit lead and the Chiefs never got closer than seven points the rest of the way.
"Last year it was such a struggle for us to close out games. We got a little bit nervous toward the end of games, but this year I feel like we just stronger and more confident," said Celli. "[Junior point guard] Ben Roberts is a great ball-handler, Johnny Coppolino has really stepped up as a senior and Eddie Ward, too. All of those key guys coming back this year really helped mature us and it is showing up at the end of games now."
Talavera (15 points) and O'Donnell (12 points) were Caldwell's two double-digit scorers. Ray Zamlot (6 points), Lawrence (3 points) Rocco Checchetto (2 points) and Tyler Krisinski, who made a free throw, rounded out the scoring for the Chiefs, who were a combined 9 of 17 from the free throw line.
Celli and Ward combined for 30 points, Coppolino and Reilly Benowitz finished with 7 points apiece, Betzalel-Chanich had all five of his points in that one spurt and Bobby Kwon had the other two points for Tenafly, which made eight 3-pointers in the game. Celli had four of those treys and Benowitz made two.
Now back on the positive side of break even for the season, Tenafly heads into a tough week that includes two games, home and away, against Teaneck and another against Bergenfield.
"Teaneck twice and Bergenfield, that is going to be tough for sure, but we have everybody back and we have found a little bit of a rhythm," said Koehler. "Teaneck is going to be in direct contrast to [Caldwell], but as long as we take care of the ball, make layup opportunities and play good team defense then I think we will give ourselves a chance."
FOR MORE PHOTOS FROM THIS EVENT PLEASE CLICK HERE. TO BUY A COLLECTOR'S PRINT OF THIS STORY PLEASE VISIT 4-FeetGrafix.com.