Saturday, January 28, 2017
By Cory K. Doviak
NJS.com Editorial Director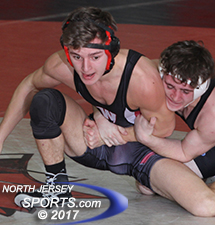 Senior Justin Hirstius won a swing bout at 132 pounds and every point counted for Westwood, which ended Pascack Valley's nine-match winning streak with a 36-22 win on Friday night.
TOWNSHIP OF WASHINGTON – It was a throwback kind of night as two resurgent public school wrestling programs with intertwined histories got after it in a pretty-close-to-packed gym on Friday night with both trying to build momentum for the state playoffs. Westwood, which had won its 10 nine dual meets of the season and three straight since that streak was snapped last weekend, was hosting Pascack Valley, which came in riding a nine-match winning streak of its own.
It was expected to be close, there were a couple of toss-up matches that figured to make the difference and Pascack Valley head coach Tom Gallione, after winning the toss, did everything he could with his lineup to apply maximum pressure to the home team.
"Pascack Valley swung for the fences. They weighed in everybody up a weight class, so they shifted away from Trent Furman at 120, they weighed in [Robbie] Natelli at a weight above and moved their 126 [James Allmers] down to go against Furman," said Westwood head coach Paul Castellini. "They shifted everyone up from 120 to 145 and they made their move there. It was a good move by Tommy [Gallione] to get his lineup as strong as it could be against us."
The night started in the traditional fashion with the 106-pounders up first and all of the shifting in the lower weights meant there was a lot on the line in the first few bouts. Westwood swept the first three with Furman providing three bonus points with a pin at 120, but Pascack Valley closed the gap in the middle and actually edged in front in the team score with five matches left to wrestle. Westwood responded by taking four of those last five and improved to 13-3 on the season with a 36-22 victory in its home gym.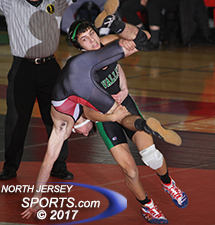 Robbie Natelli got Pascack Valley its first points with a 3-2 win at 126.
When a dual is that hotly contested there are always a couple of matches to look back at that tipped the balance one way or the other. One of those came at 132 pounds where Westwood senior Justin Hirstius was locked in a 2-2 tie after two periods against PV's Nolan Shields before escaping midway through the third and getting a takedown with 38 seconds to go to seal a 5-2 win and a six-point swing in the Cardinals' direction.
"I just had to give it my all and towards the end I was getting really tired. I had to dig down deep in that third period because it was a close match all the way," said Hirstius. "It's mental. You have to tell yourself that you are not tired and to just keep going. We have been rivals with them since, I guess, wrestling has been a thing here and this was a big win. Everyone was talking up this match, we had a lot of people here and it was fun to be out there wrestling tonight."
Ty Pfeufer (106), Julian Robles (113) and Furman got the Cardinals off early with three straight wins to make it 12-0 in the team score and Hirstius' win answered Natelli, whose 3-2 win at 126 got Pascack Valley on the board. Then it really started to tighten up as Matt Beyer pinned in 3:32 at 138, Tommy Chiellini edged Chris Dugan, 4-2 in overtime, in the most entertaining match of the night at 145, Jake Prusha posted a 14-4 majority decision at 152 and William Morris used a third period escape to score the only point in his victory at 160.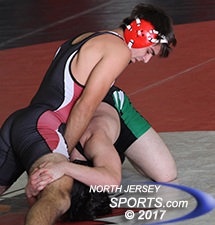 Griffen Massey got Westwood three key points with a 4-2 win at 182.
When that four-match run was over, Pascack Valley had a 19-15 lead and it looked like that swing bout at 145 could make a big difference for the Indians. In that one, Chiellini rode out the second period from the top to take a 2-1 advantage into the third period and had a 4-2 lead late in the third. At the end of the mat and with the buzzer just about to sound, Dugan pulled off a takedown just in the nick of time to even the score and force the extra session. Chiellini got refocused, however, and got a takedown late in the one-minute extra period to gain the win.
Pascack Valley's lead was short-lived, however, as Ardan Fernandez pinned early in the second period at 170 to give Westwood the lead back for good at 21-19 and Griffen Massey made it stick by winning another one of those toss-up matches, 4-2, at 182.
Massey trailed 2-1 early in the third period after Jack Tsokanos got a takedown, but he escaped to even the score with 1:28 left. After a couple of near-miss scrambles, Massey turned a shot that got in on his legs into a takedown of his own for the decisive points with 32 seconds left.
"Going into the third period my plan was to get the takedown and be aggressive. I wanted to score and put the pressure on him," said Massey. "But then he got the take down to put me behind, so that plan didn't work out. I knew I had to escape to tie it and when I did I knew it was a new match from there and I just had to win the last minute from the feet."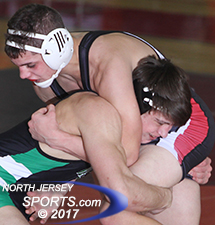 Pascack Valley's Jake Prusha (right) got the Indians a bonus point with a 14-4 win at 152 pounds.
Casey Lewis got PV its final points with a 5-0 win at 195, but Westwood's Benny Dahdah ended the drama with a pin one minute into the 220-pound match top clinch for the Cardinals. Pascack Valley (11-4) ceded the final match of the night to make it a 14-point final spread, but it was much closer than that and the Indians, without a senior in the lineup, put on a good show even if they came out on the short end.
"The best way for us to try to beat them was to move everyone up and I know the kids wanted head-to-head matchups with the districts coming up, but they understood that right now it is team first. They wanted to go after the win as a team tonight and they accepted the challenge," said Gallione, who returned to the gym where he spent a lot of time as a kid when his father, Jim, was the Westwood head coach. "For two young teams this was a great match and it was great to be a part of. The place was packed and this is the atmosphere you want when you are wrestling on a Friday night."
That win belongs to Westwood, which entered its Saturday morning tri-match with a 13-3 record and a lot of momentum heading toward to the state tournament.
"We knew they were coming in on a hot streak winning nine in a row, they got their guys back off of [transfer] eligibility with Chiellini and Arloro, who unfortunately was not able to go tonight. We knew we were going to have our hands full and we overcame some adversity to get a win against a very good opponent," said Castellini. "This was a great night for Bergen County wrestling, a great atmosphere and just fun to be a part of."
CLICK HERE FOR MORE PHOTOS FROM THIS GAME. TO BUY A COLLECTOR'S PRINT OF THIS STORY, PLEASE VISIT 4FeetGrafix.com.