Saturday, February 13, 2016
By Rich Barton
NJS.com Staff Writer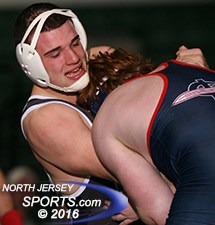 Chris Armagno came up with a third period pin to turn the tide in Passaic Valley's favor for good as the Hornets won thier first state sectional title since 2015 with a 34-30 victory over Governor Livingston on Friday in Little Falls.
LITTLE FALLS – Wrestling in front of his home crowd with a section title on the line is something Passaic Valley senior Chris Armagno never thought he would be able to experience. But when Governor Livingston upended top-seeded Nutley in the North 2, Group 3 semifinals on Wednesday and the Hornets topped Voorhees in the other semi, Armagno's dream of being part of a team wrestling for a championship in its own home gym was one step closer to a reality.
However, as the 195-pounder took the mat, the Hornets were in danger of falling too far behind. Passaic Valley was down by 12 points and Armagno was trailing heading into the third period knowing he needed to make something happen.
Armagno did just that with a double-leg takedown and pin in 4:29 that swung the momentum back in favor of the Hornets. Jeremy Galletta provided the finishing touches with a pin at 132 pounds to clinch No. 2 seed Passaic Valley's first section title in 11 years with a 34-30 victory over fourth-seeded Governor Livingston on Friday night in the North 2, Group 3 final in Little Falls.
"This is unreal. It's what we've worked for all year and it feels great to be section champs," said Galletta.
Governor Livingston was riding a hot streak with quality wins over West Essex and perennial power Nutley in the first two rounds of the states. Andrew Galitelli got the Highlanders off to a hot start by earning some bonus points. In line to win by decision with a workman-like performance, he was not satisfied with just three points. The senior was able to hit a cradle and get the pin with just 13 seconds remaining in the third period for a 6-0 lead.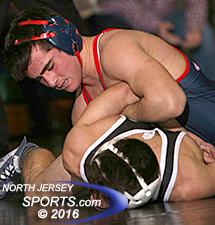 Andrew Galitelli got Governor Livingston off to a good start with a pin in the opening bout of the night.
Chris Bottone's pin at 182 pounds doubled the Highlanders' lead to 12 when Armagno came onto the mat at 195. He took an early lead against Gov. Livingston's Jack Blasch, but tried a risky move late in the second period that nearly ended in disaster. Blasch caught him and used the leverage for a takedown to tie the match before eventually taking the lead. Armagno was undeterred by the deficit going into the third period and kept coming forward. He quickly hit a double-leg takedown and used his upper-body strength to score the pin that sliced the 12-point lead back in half. The win an memorable one for several reasons as it was also the 100th of his career and he did it not just for his teammates, but for his coach as well.
"Coach [Joe] Benvenuti's wife just had a baby the other night and I know he wanted me to wrestle well, I did this for him and for my team," said Armagno. "I felt I had a strength advantage, but (Blasch) was a tough wrestler and he didn't make any mistakes. I knew I couldn't make a stupid move to beat myself and I had to hit a good shot to beat him. I just stayed poised, I hit a double and got him to his back."
A major decision by 106-pounder Kenny Kirwin and a first-period pin from Greg Sabbak gave the Hornets their first lead of the night, 25-21.
Governor Livingston's Nicholas Mele cut the lead down one with a 4-2 decision at 120 pounds but the Hornets responded with two straight wins to close out the match.
Jeremy Galletta's pin sealed the win for Passaic Valley, which will wrestling in the Group 3 state semis in Toms River.
Jordan Sconciafurno took an early lead then had to fight off his back before scoring an exciting 12-9 win at 126 to set up the clinching pin.
With Passaic Valley holding a four-point lead and just two bouts left, Galletta knew he just needed to win to give the Hornets a long-awaited section title. Galletta got a takedown moments into the second period and turned for a pin in 2:18 to send his teammates, his coaching staff, and the packed home crowd into a frenzy as the Hornets won just their third section title in the history of the program.
"There was a big crowd going and everyone was really hyped up, especially me," said Galletta. "I felt like I got robbed of a win the other night against Voorhees and I was pretty down about it. Coach Benvenuti told me that everything happens for a reason and to focus on what is in front of you, not what's in the past. I kept that inmy mind the entire match and I had to get this win for the team. I knew my match was going to be a big one tonight; I just didn't know how big."
Passaic Valley (14-8) will head down to Toms River to wrestle in the Group 3 state semifinals on Sunday. With nothing to lose, the Hornets are excited of just letting this moment sink in before letting it all hang out against the best of the best.
"To be a captain of a team that is a section champion and heading down to Toms River is more than I could have ever imagined out of this season," said Armagno. "No matter who we get down in Toms River, we're going to wrestle with confidence and wrestle hard. I still can't believe that this is all happening. It hasn't happened in a long time here and we're happy to be the team to bring home the trophy."
CLICK HERE FOR MORE PHOTOS FROM THIS GAME. TO BUY A COLLECTOR'S PRINT OF THIS STORY, PLEASE VISIT 4FeetGrafix.com.