Saturday, February 13, 2016
By Cory K. Doviak
NJS.com Editorial Director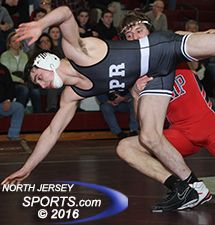 Michael DiBella won the first bout of the night at 160 pounds and Emerson/Park Ridge led wire to wire in a 44-19 victory over High Point in the North 1, Group 2 state sectional final.
PARK RIDGE – At some point it figured that High Point, one of New Jersey's most storied and successful high school wrestling programs, would make a stand. The Wildcats fell behind early when, starting at 160 pounds, Emerson/Park Ridge got three straight victories from Michael DiBella, Jonah Schechtman and Jordan Giacomelli, the last a third period pin and were in real danger of being run over.
Was Kevin Lewis' win at 195 the rally starter? Nope. How about the forfeit awarded to Devin Flannery at 106 followed by Maverick Liebl's major decision at 113 that got High Point back to within five team points? Was that the start of the comeback? Nope.
Instead those High Point victories were mere speed bumps and Emerson/Park Ridge rolled right over them at full speed. It was really never all that close as the Owls (as we will call them in this story because they wrestled in the Park Ridge gym) were dominant in a 44-19 victory that gave the co-op program its first state sectional title since 2003.
It was a long time coming and a no-doubter. Emerson/Park Ridge (21-2) will now face North 2 champion Lenape Valley (14-9) in the Group 2 state semifinals on Sunday in Toms River in an 11:30 a.m. start.
"We came into the season knowing that we could be very good, but the key was we have five freshmen in the line-up and you just didn't know how they were going to react to varsity wrestling. They were good eighth-graders, but that didn't mean they were going to be good on varsity," said longtime head coach Stan Woods. "They have just been phenomenal all year. This team is hard-working, it has a great attitude and they set it as their goal to go down there [to Toms River] and win it all."
Maverick Liebl had on of High Point's four wins, a 9-1 decision at 113 pounds.
It was Michael DiBella who started it all as he set the tone with three first period takedowns in the opening bout of the night at 160 pounds. DiBella was dominant from the neutral position all match long and posted an 11-5 victory to give E/PR the lead for good, 3-0.
"I was a little nervous, but I knew I had to start things off right for the team. I wanted to give everybody some confidence and I knew that all I had to do was win to really get us going," said DiBella, a senior. "I wasn't in high school yet, but I remember when I was in eighth grade the seniors had a heart-breaking loss against Kittatinny [31-27 in the North 1, Group 1 final] and it feels good to kind of be able to redeem that loss for them now."
Jonah Schechtman, one of those five freshman starters, double EP/R's lead to 6-0 by holding on for a 9-7 win at 170 and Jordan Giocomelli's third period pin at 182 made it 12-0 before High Point got in the board with Kevin Lewis' 8-3 win at 195.
Looking back at it that was High Point's chance to make it a match as the next two bouts were closely contested. E/PR's Shane Carcich, who weighed in a 184-plus, bumped all the way up to 220. Giving up some size, Carcich used his quickness to stay out from under Cliff Rutter Carcich scored takedowns in both the first and second periods and added a reversal and another takedown in the third to grab the 9-5 win. After a scoreless first period at 275, E/PR's Dom Petillo escaped with 32 second left in the second period and then rode out the full two minutes from the top position in the third period to take a 1-0 win.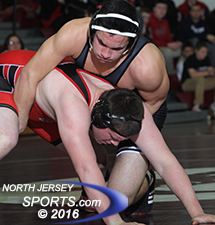 Shane Carcich (top) bumped up to 220 and won for E/PR, which will wrestle Leanape Valley in the Group 2 semifinals on Sunday in Toms River.
Instead of being back in it, High Point was trailing 18-3 and E/PR had plenty of breathing room to withstand what came next. The Owls than conceded a forfeit at 106 and Maverick Liebl win a major decision at 113 to get the Wildcats closer at 18-13, but Luke Mazzeo and Paco Robles pretty much put an end to the festivities shortly after. Luke Mazzeo, a freshman, won in dominant fashion, 16-5, at 120 and Paco Robles added a 16-3 victory at 126 to make it 26-13.
Two bouts later Gabe Robles pinned with 30 second left in the second period at 138 to clinch the victory and the trip to Toms River. High Point conceded the final two bouts via forfeit.
"I had to get my mindset right because I knew I had to win at least to seal the deal and take us down to get a chance at a state title. Once I got that takedown [with 14 seconds left in the first period] I knew I was in control and then I just started hunting for more team points," said Gabe Robles. "This is huge. We haven't done this in I don't even know how many years and to get down to Toms River is amazing, but we are still not done. We still have two more matches and we want to take it all. We want to bring home the state championship and that is what we are going down there for."
CLICK HERE FOR MORE PHOTOS FROM THIS GAME. TO BUY A COLLECTOR'S PRINT OF THIS STORY, PLEASE VISIT 4FeetGrafix.com.