Raegan Germano allowed just two hits and struck out 11 and also had two hits for NV/Old Tappan, which beat Bergnefield, 14-0, in the opening round of the North 1, Group 3 state sectional tournament.
OLD TAPPAN – It's only mid-May almost every softball team in the state is already playing under the premise that any game it plays from here on out may be its last with the lone exceptions being those still involved in county tournaments. The state tournament has been moved up this season, so the sense of urgency is real.
"The fact that our season could end so quickly, so abruptly, it pushes us to do better every single game," said Northern Valley/Old Tappan senior Tina Chugranis. "It's also really exciting. Before every game we are all 'In it' and locked in and ready to play."
Chugranis was certainly locked in on Tuesday in the opening round of the North 1, Group 3 state sectional tournament. After Bergenfield pitcher Kayla Porter retired the first two batters of the bottom of the first inning on just two pitches, Chugranis ran the count full and then unloaded on a home run that changed the course of the game. He bomb over the left field fence gave Old Tappan the lead for good in what turned into a 14-0 victory that took just one hour and 22 minutes and fourth-and-a-half innings to complete.
The third-seeded Golden Knights, looking for their first state sectional title since 2017, will host No. 11 Northern Highlands, a 2-1 upset winner on the road against No. 6 Sparta, in the quarterfinals on Thursday before the showdown with Ramapo in the Bergen County Tournament semifinals on Saturday.
Having just played Bergenfield on Friday in a game that was close through five innings in the finale of the league schedule, Old Tappan did not want to leave it late this time around.
Kayla Porter had one of the two hits for Bergenfield, which finished a resurgent season with a 12-12 record.
"We talked today about being a bit more prepared, having just seen them we had to be quicker to make the adjustments. The other day we were only up 2-0 through four [innings]. We exploded late, but you don't want to rely on that in a tournament game," said NVOT head coach Melissa Landeck. "I give a lot of credit to Bergenfield. They are a well-coached team, [head coach] Nick [Pampaloni] is doing a great job and they compete, so we just talked about being a little bit quicker to get going today."
Old Tappan (21-5) really got it in gear in the bottom of the second inning led by the bottom of its lineup. The Knights' 6-9 hitters – Raegan Germano, Amelia Plescia, Grayson Housley and Mia Ferrero – strung together four straight singles with Plescia and Ferraro each driving in runs as the lineup flipped. Isabella Chugranis (1-for-2, 2 R, RBI) then drew a walk, Olivia Cataldo (1-for-4, 3 RBI, 3 R, 3B), the senior shortstop who picked up the 100th hit over her career last week, knocked in a run with a groundball and that was followed by Tina Chugranis' two-run single.
It was 6-0 after two innings and OT batted around again in the third inning to expand the advantage to 11-0 and tacked on three more in the bottom of the fourth to finish off a stat stuffing day at the plate. Tina Chugranis (4-for-4, 2 HR, 2 2B, 5 RBI), Germano (2-for-2), Housley (2-for-3, HR, 2 RBI, 2 R) and Ferraro (3-for-3, 2 RBI, 2 R), batting out of the No. 9 hole, all had multiple hit games for the Knights, who improved to 21-5 on the season.
"This was great. I have never had an opportunity like this before and the girls on this team have been really supportive of me. It was good to contribute and gain some confidence," said Ferraro, a freshman who first varsity at bat on Opening Day resulted in a grand slam. "Playing with the older girls on this team, girls who have done some much in high school, really motivates me. I look up to them and they really inspire me to try my hardest every day."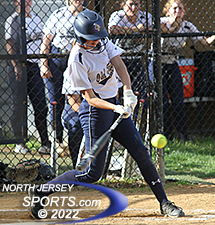 Freshman Mia Ferraro had three hits, scored twice and drove in a run for Old Tappan, which will play Northern Highlands in the quarterfinals.
Amongst Ferraro's inspirations are the five seniors that make up the core of what has been a roller coaster era for Old Tappan softball. Germano, the Chugranis twins, Cataldo and first baseman Josephine Morales were all freshmen on the varsity roster when Old Tappan when its first-ever Bergen County championship in 2019. Germano was the winning pitcher in that game. They never got to defend that title because of the loss of the 2020 season to COVID and now they are back for one last run before at least three of them head off to play in college.
Germano (5 IP, 0 R, 0 ER, 2 H, 11 K, BB), who was dominant in Tuesday's win allowing just a pair of singles to Porter and Kayla Savoia, will play at Roger Williams University. Isabella Chugranis is heading to St. Peter's University, Cataldo has signed at the University of Chicago and Tina Chugranis and Morales are now showing some late interest in collegiate softball.
It's been a great run for a tight-knight group that still has everything left to play for.
"It definitely feels different doing it as a senior," said Tina Chugranis. "We just want everybody to rally together, have fun and be happy. We want to enjoy the time we have left together and see what we can accomplish."
FOR MORE PHOTOS FROM THIS EVENT PLEASE CLICK HERE. TO BUY A COLLECTOR'S PRINT OF THIS STORY PLEASE VISIT 4-FeetGrafix.com.