Saturday, June 4, 2016
By Rich Barton
NJS.com Staff Writer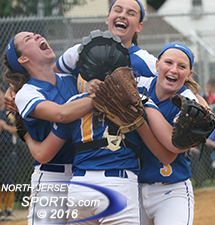 Butler celebrated its second sectional title in the last three years after a 3-0 win over Saddle Brook in the North 1, Group 1 final on Friday afternoon.
SADDLE BROOK – Back in 2013, when Saddle Brook and Butler walked off the field after Saddle Brook's 4-0 win in the North 1 Group 1 quarterfinals both teams knew that they would cross paths again. Saddle Brook was an already established Group 1 power with Butler just trying to find its way behind a talented freshman class. Fast forward to 2016 the two teams came full circle on Friday at the very same field with a section title at stake.
This time it was Butler, led by all-state pitcher Larissa Spellman, that had experience on its side and plenty to prove. No pitcher in New Jersey has been hotter than Spellman over the past month and, once the Bulldogs got her an early lead, Spellman took care of the rest.
Kayla Carr's two-run single in the top of the first inning gave Spellman all the run support she needed. The senior right-hander twirled a one-hitter and led Butler to its second North 1, Group 1 title in the past three years with a 3-0 triumph over top-seeded Saddle Brook at Helen Smith Elementary School.
"We talked about when we lost here three years ago in the states, we talked about how far this program and especially how far these seniors have come," said Butler head coach Brittany Marion. "That loss, losing 1-0 in the state final in Toms River two years ago, having an unfortunate loss to Cedar Grove in the section final last year, motivated us to get back here again. The drive and poise we've showed this year though is beyond where we've been in the past few years."
Before the Falcons even had a chance to bat the Bulldogs took control of the game. Spellman helped her own cause with a leadoff double off the fence in right that missed being a homerun by less than a foot. With one out an error put runners on the corners and Taylor Russnak got plunked by a pitch to load the bases. With the infield drawn in, Carr stepped to the plate and lined one back up the middle to score both Spellman and Aleks Apkarian to give Butler a 2-0 lead.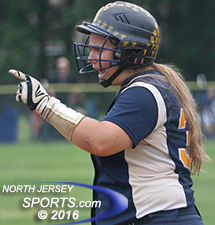 Morgan Santora had the lone hit for Saddle Brook, which finished the season with a 26-5 record.
"With the bases loaded and only one out I knew that she couldn't walk me so I was a little less stressed with the situation," said Carr. "I had a great hitter in Kellie Faber behind me and that gave me confidence to just swing away. The pitch was in my zone and I hit it up the middle."
They had a chance to tack on another run in the second with a runner in scoring position and two outs. Saddle Brook shortstop Lex Deperi did not allow that runner to cross home plate with a leaping catch to save a run and end the inning.
Spellman was on cruise control with four consecutive strikeouts before running into trouble for the only time in the game. She walked DePeri and Morgan Santora to put the tying run on base. Spellman settled down quickly to strike out the next batter on three pitches to leave those runners stranded.
"I was pretty mad after walking two batters and I had to get us out of it," said Spellman. "I had to stay within myself and just focus on getting the next batter. It's like one redemption year after another for us and this is our last chance at getting that redemption. Our seniors know that this is our year and we had to seize the moment."
The Falcons' defense has been a pleasant surprise all season long. Unfortunately, it fell apart at the worst possible time with consecutive errors in the fifth leading to Melissa Konopinski scoring an insurance run to make it 3-0.
Spellman had everything working all game long and struck out the final two batters to give Butler a second North 1, Group 1 section title in the past three years and move the Bulldogs one step closer to their ultimate goal of a Group 1 state title. She tossed her 17th shutout of the season and has not allowed a run since April 30th. Spellman had just the two walks, gave up one hit, and 12 K's for Butler (27-2).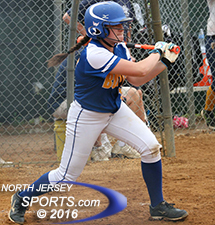 Kayla Carr drove in two runs in the opening inning to give Butler the lead for good.
Taryn DiGiacomo, a four-year starter, pitched well in defeat for Saddle Brook (26-5). She used a devastating change-up to keep the Bulldogs off-balance for most of the game. The Kean-bound senior allowed five hits, two walks and struck out seven strikeouts. None of the three runs she allowed were earned. Santora broke up Spellman's no-hit bid with one out in the seventh with a single to center.
The Falcons were disappointed and there were plenty of tears in the dugout following the loss. When a team gets deep into the state tournament though, sometimes you just have to tip your cap to an opponent that played better on that particular day.
"Against a team as strong as Butler with a pitcher like Spellman in the circle everything has to break right," said Saddle Brook head coach Darren White. "Falling behind in the first inning really gave Spellman confidence and she took advantage of it. You can't simulate what you're going to see from a pitcher like her. Every run is at a premium and we just gave away too many extra outs that cost us. Having graduated our entire infield and our 2-3-4-5 in the lineup and to win 26 games the next year is a tremendous accomplishment and I'm proud of how well we played this year. Today, we just ran into a great team and an outstanding pitcher who executed better than we did."
CLICK HERE FOR MORE PHOTOS FROM THIS GAME. TO BUY A COLLECTOR'S PRINT OF THIS STORY, PLEASE VISIT 4FeetGrafix.com.