Friday, May 20, 2016
By Cory K. Doviak
NJS.com Editorial Director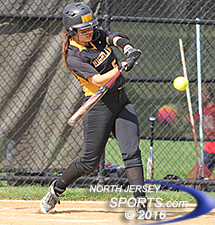 Alexa Barca had two hit, drove in one and scored another for West Milford, which closed its regular season with a
5-1 win at River Dell on Thursday.
ORADELL -- When this weekend is over both West Milford and River Dell will head into two of the toughest public school state tournament brackets in all of New Jersey. Before doing so, however, there were some regular season loose ends to tie up on Thursday afternoon in Oradell. For West Milford, it was a matter of making sure that it was completely past the disappointment it experienced early in the week when it took DePaul down to the wire but eventually fell short in the Passaic County championship game. Playing their fourth game in four days, the Highlanders had a chance to fully rebuild their resolve by ending the regular season on a three-game win streak.
For River Dell, it was more of a special occasion as it honored the Class of 2016, a group of five set to be acknowledged for their contributions to the program with Senior Day festivities. Both teams were all smiles when it was over as River Dell's players posed for pictures before hitting the postgame spread, but it was West Milford that had the satisfaction of a 5-1 victory to carry it over on the long bus ride home.
"It has been a struggle because this is our fourth game in four days, but we wanted to play them after a letdown in the Passaic County final. I wanted to make sure my girls came back strong and they have. They are resilient," said West Milford head coach Nikki Gwinnett. "I felt for my girls because they really motivate themselves and they really wanted to win a county title. The expectations were high, but when it didn't happen you have to remind them that, at the end of the day, it is only high school softball and it is there to be enjoyed. A three-game winning streak now is a nice way to bounce back heading into the states."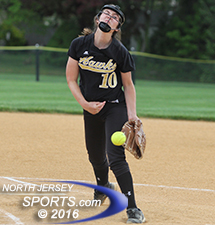 Lauren Brown allowed just one earned run and also hit a triple for River Dell.
River Dell was playing with an altered line-up as it honored its seniors and also because injuries have hit the Hawks. Kayla Rosado, the senior first baseman and a first-team All Bergen County selection last season who will play at Monmouth University, is out with a sprained ankle and Ashley Bernardo, the everyday designated hitter, is out with a concussion.
West Milford used an error to help double the lead it took in the top of the second inning. Alexa Barca set the table with a lead-off single up the middle and Alex Fiorenza also singled before Erin Carter moved both runners up a base with a sacrifice bunt. Natalie Marzalik drive in the game's first run with a single out of the No. 9 spot in the order and Fiorenza then scored on a passed ball to make it 2-0.
Meanwhile, West Milford's defense was airtight behind sophomore hurler Jessica Perucki. After back-to-back two-out singles by Emily Egazarian and Julianna Bigami, Fiorenza, the Highlanders' second baseman, made a nice running catch on a looping line drive to rob Michaela Byrne of a base hit and River Dell at least on run. Kate Principato led off River Dell's fourth inning with a single and went to second on Emily Gamper's sacrifice bunt, but West Milford centerfielder Jessica Utter turned a flyball into an 8-4 double play to end the threat.
The Highlanders then pieced together a two-run rally in the top of the fifth to give themselves some breathing room. Paige Masiello was hit by a pitch leading off and stole second, but was still at second base with two outs when River Dell starter Lauren Brown (7 IP, 5 R, 1 ER, 7 H, 8 K, 4 BB) ran into some tough luck. A swinging strike three that should have gotten her out of the inning went bad when Makenzie McGuiness beat the throw down to first base that would have completed the out and the inning. Masiello, who had moved up a base on a pitch that reached the backstop, scored and Barca (2-for-4, RBI, R) then made the extra out hurt again when she singled to score McGuiness, who had stolen second.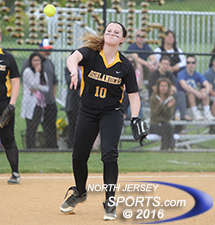 West Milford's Jessica Perucki, just a freshman, went the distance on a six-hitter and struck out 6.
"West Milford is a good team and Lauren [Brown] did a good job in the circle for us today, but we have to buckle down on defense," said River Dell head coach Mike Garibell. "We are not going to score a lot of runs, so we have to stay close and come up with a timely hit or two when we can. Today we gave away a couple of runs that cost us."

West Milford added another unearned run in the top of the sixth and it defense did the rest in style. River Dell had something going in the bottom of the inning after Brown ripped a triple into the right centerfield gap with two outs, but when the next hitter, Principato, tried the other side of the centerfielder, the result was much different. Utter got a great read, sprinted to her right got there just in time to pull off a back-handed, snow cone catch just a few feet in front of the wall for the third out.
River Dell got its lone run of the game in its final turn at bat when Gamper, a promising freshman, tripled leading off. She would eventually score on a wild pitch, but not before Perucki turned in another defensive gem. She picked off Egazarian's screaming line drive back to the circle for the first out. A walk to Bigami and a hit by Byrne with two outs had the tying run in the Hawks' on deck circle, but Perucki (7 IP, 1 R, 1 ER, 6 H, 6 K, 1 BB), a freshman, got a called strike three to end the game to send West Milford (21-3) into the stacked North 1, Group 3 state sectional tournament bracket with it confidence restored. The Highlanders, the No. 2 seed, will open at home against No. 15 Garfield with defending champion Sparta looming in the top half of the bracket. With three seniors in the starting lineup – Erin Carter, Peyton Porch, Fiorenza – in the starting lineup surrounded by a solid supporting group of underclassmen, the Highlanders have a good mix and will be a tough postseason out.
Freshman Emily Gamper hit a seventh-inning triple and scored the lone River Dell run.
"In a bracket like ours you never know what is going to happen. There are so many good teams. We have Garfield in the first round, the winner of Roxbury/Paramus would not be an easy game if we win the first one and then we would probably see Sparta if we get through to that first round," said Gwinnett. "Then you have [Northern] Highlands on the other side, Indian Hills on the other side and West Essex…it's loaded, but it is going to be fun. We are looking forward to getting started."
River Dell (13-10), although one classification lower, is in no easy bracket either. The Hawks are the No. 9 seed in North 1, Group 2 and open with a tough one on the road at No. 9 Pequannock. With teams like Dumont, NV/Demarest, Mahwah and Jefferson all packed in there, too, any and every postseason win would be hard-earned.
"If you notice, everybody is beating everybody this year and there is no one dominant team. Softball is a game, and we have seen it over and over this year especially, where anything can happen," said Garibell. "You just have to play good defense, pitch well without walking people and then take your chances when you get them offensively. The formula is no secret, it is just going to be the team that can do it the most consistently for the next couple of weeks that is going to win."
CLICK HERE FOR MORE PHOTOS FROM THIS GAME. TO BUY A COLLECTOR'S PRINT OF THIS STORY, PLEASE VISIT 4FeetGrafix.com.