Monday, April 18, 2016
By Rich Barton
NJS.com Staff Writer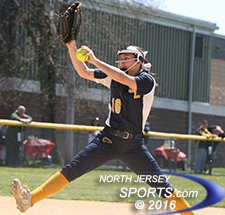 Taryn DiGiacomo scattered seven hits and struck out 13 without issuing a walk for Saddle Brook, which improved to 6-0 with a 10-1 win over New Milford at the EDSAF Tournament on Sunday.
EMERSON – This season marked the first time in quite a while that longtime Saddle Brook head coach Darren White did not exactly know what to make of his team. With a slew of players either switching positions or making their first appearances on the varsity level, expectations were tempered but optimistic. And they have risen steadily as the Lady Falcons have dominated the opposition.
Even when matched with another strong Group 1 team in New Milford, it was Saddle Brook that proved that the strong start has been no fluke.
Morgan Santora roped a two-run double in the first inning to set the tone. Alexa Bufi gave herself a great birthday present an inning later with her first career varsity homer, a three-run shot, and Saddle Brook cruised to a 10-1 victory over New Milford on Sunday at the EDSAF Tournament held at Emerson High School.
New Milford was also on a hot streak, having the wildest game in North Jersey this season on Saturday night when it rallied from an eight-run deficit to down Bergenfield, 15-14. That game appeared to take a lot out of them though as Saddle Brook wasted no time getting going.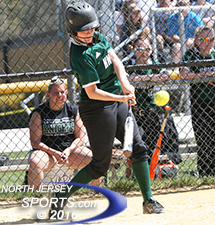 Kristen Bevacqua had two hits for New Milford, which was coming off a wild win over Bergenfield on Saturday night.
Speed demon Vanessa Archibold reaching on a bunt single and Lex DePeri drew a walk in the bottom of the first inning. After a batter's interference call was made against Taryn DiGiacomo, her battery mate picked her up. Santora roped a long double off the fence in left to score both Archibold and DePeri for a quick 2-0 lead.
"No matter who we play it's always huge to jump on our opponent early," said Santora. "We try to prepare for every single game the same way and be as consistent as we can possibly be."
New Milford got consecutive singles from Lexi Monroy and Kristen Bevacqua to start the top of the second. Remarkably, those were the first hits DiGiacomo surrended all week. The senior southpaw got herself out of the jam with back-to-back strikeouts and a pop out to DePeri at short to end the threat.
The bats stayed hot for the Falcons in the second inning with four two-out hits. DiGiacomo beat out an infield single to drive in a run and Santora followed with a run-scoring single. Two batters later, Bufi stepped to the plate just trying to make good contact. She did more than that by roping a ball to left that appeared catchable off the bat. But the ball was hit so hard that it hooked towards the left-field line and carried past the left fielder's glove. With a good jump out of the box Bufi, a senior third baseman, came all the way around to score for a three-run homer that made it 8-0.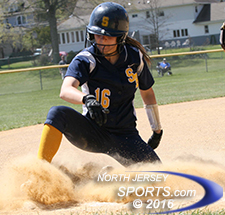 Lex DePeri scored in the first inning for Saddle Brook, which has been red-hot to start the season.
"I've had a bit of a rough streak at the plate so I just wanted to hit the ball hard," said Bufi. "When I saw the ball get past, I just took off and I was really happy when I crossed the plate."
DiGiacomo scattered seven hits with one earned run and 13 Ks without issuing a walk for Saddle Brook (6-0). Santora paced the offense going 3-for-4 with three RBIs. Bevacqua and Monroy each had two hits with Bevacqua driving in the only run for New Milford (7-2).
With Saddle Brook firing on all cylinders much earlier than expected, the key for the next two weeks before the Bergen County Tournament begins will be how they Falcons deal with their early success. How well they manage that will likely manage how dangerous of an out they will come tourney time.
"We are so close on and off the field that once we get on the field it just translates well because we're confident that we'll be in the right spot and pick each other up," said DiGiacomo. "We want to keep going and do all the little things that have gotten us off to a good start. If we can eliminate errors, get dirty, and keep hitting the way we have been so far we'll be fine."
CLICK HERE FOR MORE PHOTOS FROM THIS GAME. TO BUY A COLLECTOR'S PRINT OF THIS STORY, PLEASE VISIT 4FeetGrafix.com.