Tuesday, April 12, 2016
By Rich Barton
NJS.com Staff Writer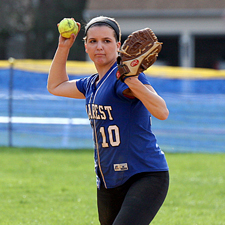 Senior Veronica Corcoran had a single then stole a base and scored the game's first run in the bottom of the first inning to set the tone for Demarest's 9-0 win over Tenafly on Monday.
DEMAREST – As a freshman last year, NV/Demarest's Makenzie McGrath stepped into the pitching circle late in big games with the hopes of merely throwing strikes and letting her defense make the plays behind her. A year later, McGrath has emerged from being a game-managing type of pitcher to one that can be dominant regardless of the opponent. So far this season McGrath has helped lead her team to convincing wins over perennial Bergen County/Group 3 powers NV/Old Tappan and Indian Hills as the Norsewomen have staked their claim as legitimate title contenders.
But even after those two big wins McGrath and Demarest showed no signs of complacency with Tenafly coming to town looking for a signature win of its own. McGrath allowed just one infield hit and struckout 14 batters as the Norsewomen stayed unbeaten on the season with a 9-0 victory on Monday afternoon in Demarest.
Veronica Corcoran got her team going with a single and a stolen base to get into scoring position. McGrath helped her own cause by looping an RBI single that landed just inside the right-field line to give her team a 1-0 lead.
"We always want to start strong and bring it every single game," said Demarest's Veronica Corcoran. "We were always the one hunting other big teams in the county and now we're one of the ones being hunted. With (McGrath) in the circle, we know if we can put up a few runs in the first couple of innings that it will give her a huge boost and that's really all she needs with the way she's been throwing the ball."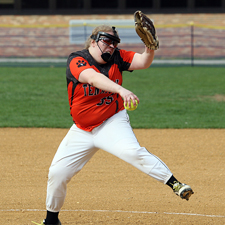 Tenafly senior Megan Zaccario allowed just one earned run in the loss.
McGrath attacked the strike zone all game and was effective from her first pitch to her last. Between the first and third innings she struck out six consecutive batters. Matching her nearly pitch-for-pitch, however, was underrated Tenafly senior Megan Zaccario who over that same span struckout five straight batters.
The old-fashioned pitcher's duel didn't last though as Tenafly's defense did not give the FDU-Madison bound Zaccario the necessary help behind her to stay with one of the top teams in North Jersey. Although Demarest mustered just one hit (a bunt single by Claudia Mattes) over the third and fourth innings, the Norsewomen took advantage of seven errors over those two frames to cross the plate seven times for a commanding 8-0 lead.
"We're a really young team and we're still just learning the game," said Tenafly head coach Megan Williams. "Our goal is to be in as many games as we can all while still learning the fundamentals.
"I think the way we started the game against one of the best teams in the county is a huge motivating factor. When you don't control the game and make routine plays against a team like Demarest, it's tough to come back from."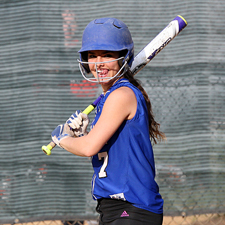 Demarest's Haley Pontillo.
It was more than enough run support for McGrath, who only allowed two batted balls to reach the outfield the entire game.
After allowing three runs to Indian Hills in the first inning on Sunday, McGrath has settled in to toss 13 consecutive scoreless innings for NV/Demarest (6-0). Veronica and Victoria Corcoran each scored twice.
Zaccario took the loss for Tenafly (1-2-1) but allowed just one earned run. She gave up just three hits with five walks and nine strikeouts. Pinch-hitter Silvia Acosta had the lone hit for the Tigers on a leadoff single in the sixth.
There is no time to rest for the Norsewomen who have two big games over the next two days. They face a vastly improved Teaneck squad before facing defending Bergen County champion Northern Highlands on Wednesday.
"The bar has been raised and we've set higher goals for ourselves," said McGrath. "We have some big wins already and we're playing with confidence right now.
"I'm more comfortable in the circle now than I've ever been and I'm used to the competitiveness more than I was last year. I totally trust the defense behind me and we've been doing it with the bats too. We have the players and a plan in place to achieve all of our goals, now we have to go and execute that plan."
CLICK HERE FOR MORE PHOTOS FROM THIS GAME. TO BUY A COLLECTOR'S PRINT OF THIS STORY, PLEASE VISIT 4FeetGrafix.com.