Saturday, April 9, 2016
By Rich Barton
NJS.com Staff Writer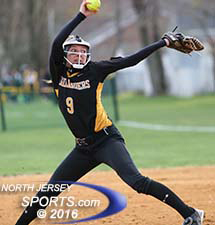 Paige Masiello scattered seven hits, walked two and struck out five and also went 2-for-4 at the plate as West Milford improved to 4-0 with a 7-2 win at Passaic Valley on Friday afternoon.
LITTLE FALLS – The West Milford softball team has been quite a surprise so far this season and not because they are winning games over good competition. That they have been doing for decades, but with an 11-run inning against Wayne Hills and a 16-run frame against Fair Lawn, the Highlanders have spoiled themselves a bit with their torrid bats in a pair of five-inning wins.
Facing a Passaic Valley team hungry for an upset, West Milford had to get back to the fundamentals that have made it such a successful program for so many years. Pitching and defense with a few timely hits along the way is the proven formula for success.
Paige Masiello and Peyton Porch had back-to-back two-run singles in the top of the sixth to break the game open and West Milford stayed unbeaten on the season with a 7-2 victory over Passaic Valley on Friday afternoon in Little Falls.
"I think we've done a great job of having quality at-bats, but today we had to put it all together and not just rely on having one big inning," said West Milford head coach Nikki Gwinnett. "This is a very balanced, very tough-minded team we have. We have great pitching, we play well defensively and the balance we have in our lineup makes us dangerous all the way from one through nine in the order."
After that school-record 16 runs in the third inning at Fair Lawn earlier this week (remarkably, all of them coming with two outs), the Highlander bats stayed hot in the first inning. Jessica Utter slapped a leadoff double to center. A single off the bat of Porch was booted in the outfield, which allowed Utter to score. Jessica Perucki followed with an RBI double to the fence in right-center to stake Masiello to a two-run lead before the Hornets even got up to bat.
Catcher Nicole Groh knocked in one of the two Passaic Valley runs.
Masiello cruised through the first four innings, allowing just two batted balls to reach the outfield. Passaic Valley's Alyssa Bernardo matched her by quieting the West Milford bats until the Hornets nearly broke through in the bottom half of the fifth inning.
With two outs and nobody on, Bernardo slugged a triple to right-center. Alyssa Ortiz and Rachel Ward both drew walks to load the bases and put the tying runner in scoring position. When things got tough, Masiello responded by striking out the next batter to end the threat.
"I knew I had to get that out and I focused on throwing the first strike," said Masiello. "Once I got ahead in the count I tried to throw different pitches in different spots to keep the batter off-balance."
"We had opportunities in the fourth and fifth innings, we just couldn't get that one hit," said Passaic Valley head coach Kathy Hill. "I thought we hit the ball well against a tough pitcher but we couldn't string them together when we needed them. I think as a whole there is a lot of improvement to be made. I think we've come a long way since the first day of practice but there's still a long way to go. If we keep getting better day by day we'll come around."
After an RBI single by Erin Carter earlier in the inning, Masiello helped her own cause with a one-out, two-run single to left to make it 5-0. Porch capped the scoring for the Highlanders with a two-run single of her own to all but put the game away.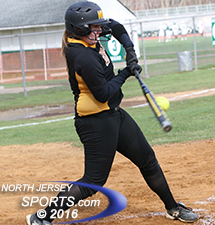 Peyton Porch had two hits for West Milford, which will get a stiff test next week with games against Lakeland and defending county champion DePaul.
Masiello scattered seven hits, walked two and struck out five to pick up the win for West Milford (4-0). She also went 2-for-4 at the plate. Utter reached base three times and scored twice. Natalie Marzalik and Peyton Porch each had two hits for the Highlanders, who got at least one base hit from all nine starters. They also received stellar defense up the middle of the infield from shortstop Abby Porch and second baseman Alex Fiorenza.
Passaic Valley (1-3) fought hard and battled all the way until the end. Down to their last strike, the Hornets averted a shutout on an RBI single by Gabriella Liberti. Nicole Groh also drove in a run with a base hit.
West Milford now will look ahead to a pair of big games in a 24-hour span next week. They face long-standing rival Lakeland on Monday before squaring off against defending Passaic County champ DePaul at home on Tuesday. It will be a measuring stick of just how far this year's Highlander team can go and they are ready for the challenge.
"We've gotten off to a really good start and our confidence is building going into next week," added Masiello. "We've been working really hard and we'll keep working hard to try and reach our goals. Our defense has been great and we've been hitting the ball really well. I'm hoping that we can keep this up and go really far this season."
CLICK HERE FOR MORE PHOTOS FROM THIS GAME. TO BUY A COLLECTOR'S PRINT OF THIS STORY, PLEASE VISIT 4FeetGrafix.com.