Sunday, May 15, 2011
By Rich Barton
NJS.com Staff Writer
Tori Feorenzo allowed just four hits, walked one, and struck out three as Paramus (21-2) won its 12th straight game, 9-1, over Ridgewood in the quarterfinals of the Bergen County Tournament.
WASHINGTON TOWNSHIP – While watching both her team blow a lead and lose in the Bergen County Tournament quarterfinals last season and then come back later in the month to win a section title, Paramus' Stephanie Huang felt a sense of frustration after both games. Sitting out her sophomore season with a torn ACL, Huang had to first watch her team lose without being able to help in the county tournament and then had to watch her team win a section title without being a big part of the euphoric celebration.
It only fueled her fire to come back this year and be a part of championship team. Facing rival Ridgewood on Saturday in the Bergen County quarterfinals, Huang made sure there would be no letdown right from her first at-bat.
Huang took an outside pitch and rocked it over the right-field fence for a leadoff homerun in the bottom of the first inning, but her day was far from over. She added a pair of triples and went 4-for-4 with four runs scored as top-seeded Paramus cruised to a surprisingly easy 9-1 triumph over No. 8 seed Ridgewood at Immaculate Heart Academy.
"We really wanted this win and I'm just happy I could contribute," said Huang. "Last year was really tough to not be able to help. It's a bittersweet feeling because we did so well, but I wanted to be on the field contributing. It has been a really long process for me just to get back on the field. But our whole team has worked so hard and we're getting close to seeing the rewards for our hard work."
Huang set the tone for the game by going with an outside fastball from Ridgewood's Nicole Hroncich and depositing it inside the right-field foul pole for a leadoff solo shot and a 1-0 lead.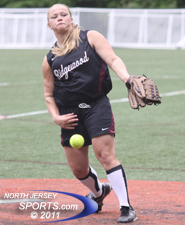 Nicole Hroncich and Ridgewood fell to 14-5 with the loss.
"I was just looking for something good to hit and got a good pitch," added Huang. "I like the outside pitch and I was able to drive that one."
Huang wasn't the only standout player for Paramus on this day as senior first baseman Victoria Vergona also was wielding a hot bat. In the bottom of the third, a bunt single by Huang and a fielder's choice put Shayna Brock on base. Vergona then lined a triple to right that scored both runners before an error allowed her to score for a 4-0 lead.
"We got knocked out this round last year and we didn't want that to happen this year," said Vergona. "Our whole team was so pumped up and we were determined to hit the ball well today. I think once Steph (Huang) hit that homer to lead things off, we knew we could do this. I felt comfortable in the batter's box all game and just concentrated on hitting the ball hard."
Vergona added an RBI double an inning later and capped the scoring with a run-scoring single. That was more than enough run support for right-hander Tori Feorenzo.
The St. Peter's College-bound senior allowed just four hits, walked one, and struck out three as Paramus (21-2) won its 12th straight game. Huang finished a double shy of the cycle, tripling in her last at-bat. Vergona, who will play next year at Lafayette College, also had a fantastic day at the plate finishing a homer shy of the cycle and going 3-for-4 with 4 RBI and two runs scored. Shayna Brock and Taylor Boffalo also drove in runs for the Lady Spartans.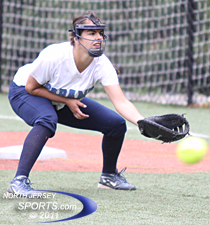 Victoria Vergona and Paramus will play defending champion Indian Hills in the semifinals.
Teresa Funk drove in Christina Bicks with the lone run for Ridgewood (14-5). Paramus dealt the Maroons bookend losses both at the start and the end of a 12-game winning streak.
Paramus now advances to Bergen County semifinals against fourth-seeded Indian Hills, which came back from a one-run deficit to beat Ramsey yesterday, 3-2. While the Spartans admittedly played a great game, head coach Brian Hay is well aware that he team needs to play equally as well, if not better, if they are to advance to the county final.
"I think we learned our lesson from losing on this field in this round last year," said Hay. "I thought we showed great discipline at the plate and we have been preaching that all year. Kids like Steph, Vergona, really all of them have worked so hard to get to this point and to be in this spot.
"Bottom line, this is the grind and what we've been working towards all year. There are no days off from here on out. We set lofty goals for ourselves and we're two steps away from one of them. These kids are dead-set in trying to reach those goals and I have no doubt we will give it everything we've got to get there."
FOR MORE PHOTOS OF THIS EVENT OR TO BUY A COLLECTOR'S PRINT OF THIS GAME STORY, PLEASE VISIT 4FeetGrafix.com.